Zendaya and Andrew Garfield have been popping up in the news lately because they just did a Variety Actors on Actors interview together. It was a nice pairing because they obviously admire each other but also because the pair had a huge, emotional scene together in Spider-man: No Way Home that made everyone on and off-screen cry. That and the accompanying photo shoot to the Variety interview was insanely hot – oh my gawd. However, they also had some really fun quotes and stories, the whole thing is charming, and you can watch it here.
One of quotes from the interview is from multi-hyphenate Zendaya who squashed music fans dreams when she said music would only ever be a side thing for her. But the reason will speak to many of us: boundaries. Zendaya said she opts for acting over music because being a mainstream musician means never doing anything else. As an actor, she's able to retreat from the world of being an actor but being a proper pop star is all consuming.
Zendaya won't be putting her pop star career on "Replay" anytime soon.

Speaking to fellow actor and Spider-Man star Andrew Garfield for the cover of Variety's Actors on Actors issue, Zendaya revealed the reason she mainly chooses acting over music — aside from the occasional soundtrack cut.

During a discussion about fame and projections placed on actors in the spotlight by viewers, Zendaya, 25, told Garfield, 38, her thoughts on pop stardom.

"I was talking to Sam [Levinson] about this earlier. I was like I don't know if I could ever be a pop star," she said. "It's because as an actor, there's a level of anonymity that I get to have, which I really like."

"And I get to sort my stuff, whatever that is, through a character and nobody needs to know about it. Whereas in other forms and other mediums, it's all you all the time," continued Zendaya. "I like the idea that somebody else, meaning Rue [from Euphoria], gets to take on that stuff and I can…"

"Boundaries," interjected Garfield.

"Yeah, boundaries. Learning what's for me," explained the former Disney Channel star.
Could you imagine getting to choose between being an actor or being a musician? Do you know how talented you have to be to choose between to two most fantasized about careers? I understand where Zendaya is coming from, though. Not just that it must be exhausting to not be able to walk away from your job, but Zendaya's thoughts confirm what we've been hearing from Halsey and others. Promoting a music career isn't just writing songs, recording, and singing them to people anymore. Now there's viral stunts, meet and greets, tour documentaries, etc. It really does seem like you spend virtually all your time supporting the music, possibly even more than creating it. I am absolute crap at marketing, I'd never make it as a pop star even if I could sing. I think we need to be careful with the access we're requiring of our stars. They're going to burn-out.
As hot as Zendaya and Andrew were together, you know there's only one man in my heart for Zendaya. (Tom. It's Tom Holland.) And she melted social media down last week when she posted a birthday wish to him. She picked the cutest black and white candid of the two of them. But what fans could not take was her caption, which was *sighs* perfect: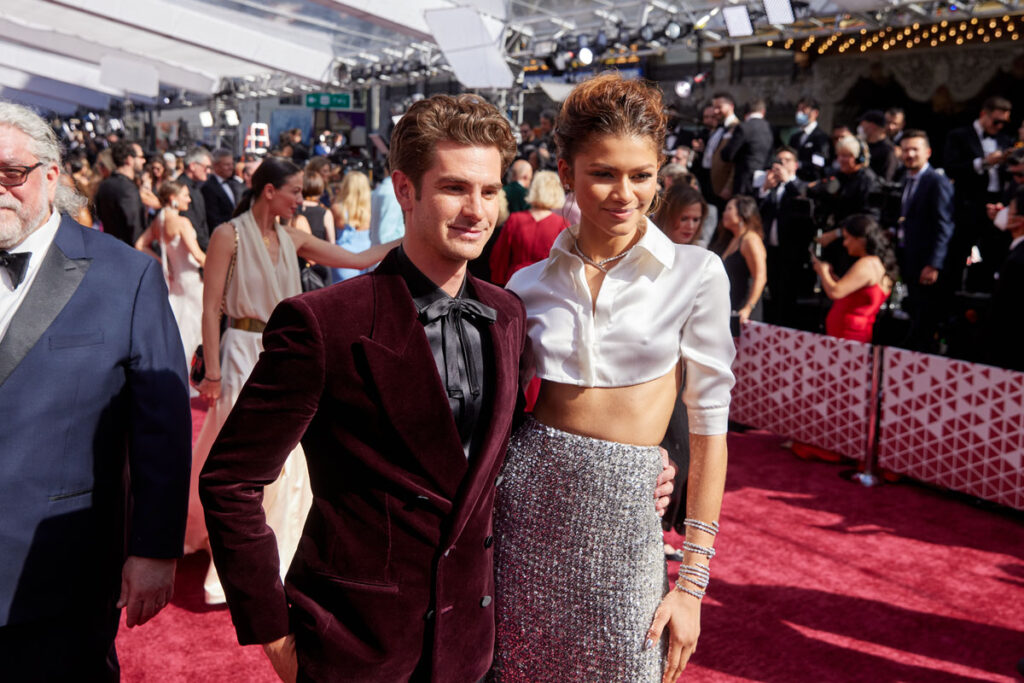 Oscar® nominee Andrew Garfield and Zendaya arrive on the red carpet of the 94th Oscars® at the Dolby Theatre at the Ovation Hollywood in Los Angeles, CA, on Sunday, March 27, 2022.,Image: 673491798, License: Rights-managed, Restrictions: ©A.M.P.A.S. All rights reserved., Model Release: no, Credit line: DL / Avalon
Zendaya arrives on the red carpet of the 94th Oscars® at the Dolby Theatre at Ovation Hollywood in Los Angeles, CA, on Sunday, March 27, 2022.,Image: 673503370, License: Rights-managed, Restrictions: ©A.M.P.A.S. All rights reserved., Model Release: no, Credit line: LCY / Avalon
Zendaya Coleman attends the 2022 Vanity Fair Oscar Party Hosted By Radhika Jones celebrating the 94th annual Academy Awards at the Wallis Annenberg Center for the Performing Arts on March 27, 2022 in Beverly Hills, California,Image: 673570881, License: Rights-managed, Restrictions: , Model Release: no, Pictured: Zendaya Coleman, Credit line: – / JPI Studios / Avalon
Photo credit: Instagram and Avalon Red