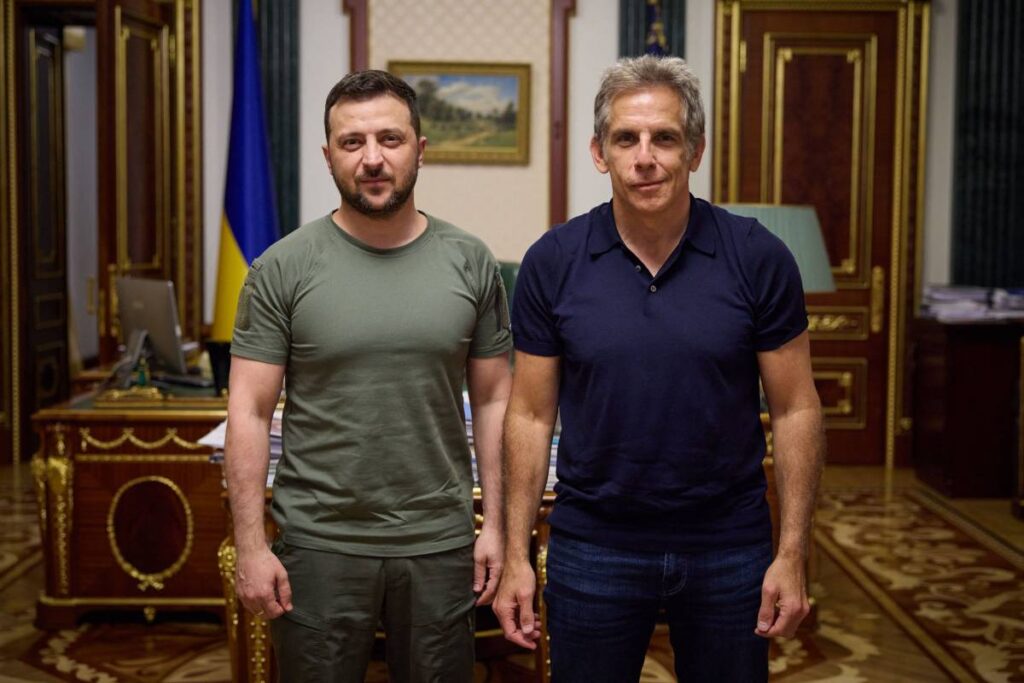 For all the random facts I know about celebrities, I am shamefully unaware who's a UNHCR Goodwill Ambassador. That's something I admire, so you'd think I would know more about it. I did not realize Ben Stiller was a Goodwill Ambassador, but he is and made a visit for World Refugee Day. Ben traveled to a Ukrainian refugee center in Poland, followed by a meeting with President Volodymyr Zelensky in Ukraine. Ben walked with a UNHRC representative through Irpin, which has sustained terrible damage, and spoke to residents of that area who survived the invasion. He was visibly moved both by President Zelensky's leadership and the devastation these people have endured. In a video posted to Twitter, Ben spoke of how much being there affected him. He noted that we think it looks bad on TV, but we have no idea how bad it really is.
Ben Stiller met with Ukraine President Volodymyr Zelensky in Kyiv on Monday.

The Hollywood actor and director visited Ukraine as a UNHCR Goodwill Ambassador and met with Zelensky after touring occupied settlements in the Kyiv region, the Ukraine leader's official website said in a press release.

In a video that appeared on Twitter, Stiller and Zelensky warmly greeted one another before they sat down to discuss the plight of refugees in the war-torn country displaced by an invasion by Russia and its military. "You're my hero!" a beaming Zoolander star said at one point as his visit marked World Refugee Day.

"It's one thing to see this destruction on TV or on social networks. Another thing is to see it all with your own eyes. That's a lot more shocking," Stiller told Zelensky. "What you saw in Irpin is definitely dreadful. But it is even worse to just imagine what is happening in the settlements that are still under temporary occupation in the east," Zelensky said in response.

Zelensky and Stiller discussed support for temporarily displaced persons in Ukraine, as well as those in Poland, with whom Stiller had visited on Sunday. Zelensky also emphasized the violation of the rights of Ukrainians forcibly deported to Russia, including children.
The fact that they referenced Ben as "a beaming Zoolander star" when they quoted him calling Pres. Zelensky his hero, forced me to hear him saying that in Zoolander's voice. Like, even a Focker reference would have given that comment more weight. Although I wouldn't criticize Ben if he had been so starstruck he went into character upon meeting Pres. Zelensky. The value of Ben's visit and the attention he's bringing to these people is amazing. And incredibly important. While we've seen heartening stories of people finding refuge in other countries, there are still many left in Ukraine, homeless or living without power or sustainable environs. In the video, posted below, Pres. Zelensky talked about the importance of reminding people about the war. He said he recognizes that it's not going to be discussed every day, but having people like Ben (and Angelina Jolie, Liev Schreiber, and Sean Penn) come and bring attention to their plight helps with their resistance efforts.
I know they take every precaution possible, but it must be somewhat dangerous to travel into a warzone. There are a bunch of people using the fact that actors are in the streets as an example that they're overhyping the devastation of the war. First of all, how do you overhype a war's devastation? It's war for Pete's sake! Secondly, it's easy to discount bravery from behind a keyboard there, tough guy. I think what these Goodwill Ambassadors are doing is incredible. Maybe it's at little risk or maybe much risk, it doesn't matter. And I hope it reminds Pres. Zelensky and the Ukrainian people that we haven't forgotten about them.
You can donate to UNHCR Refugee fund here.
🇺🇦 Ben Stiller, the Hollywood actor, has met Volodymyr Zelensky in Kyiv and revealed how the Ukrainian leader has inspired him

Read more: https://t.co/hTp6c3ItFM pic.twitter.com/mb8urXolET

— The Telegraph (@Telegraph) June 21, 2022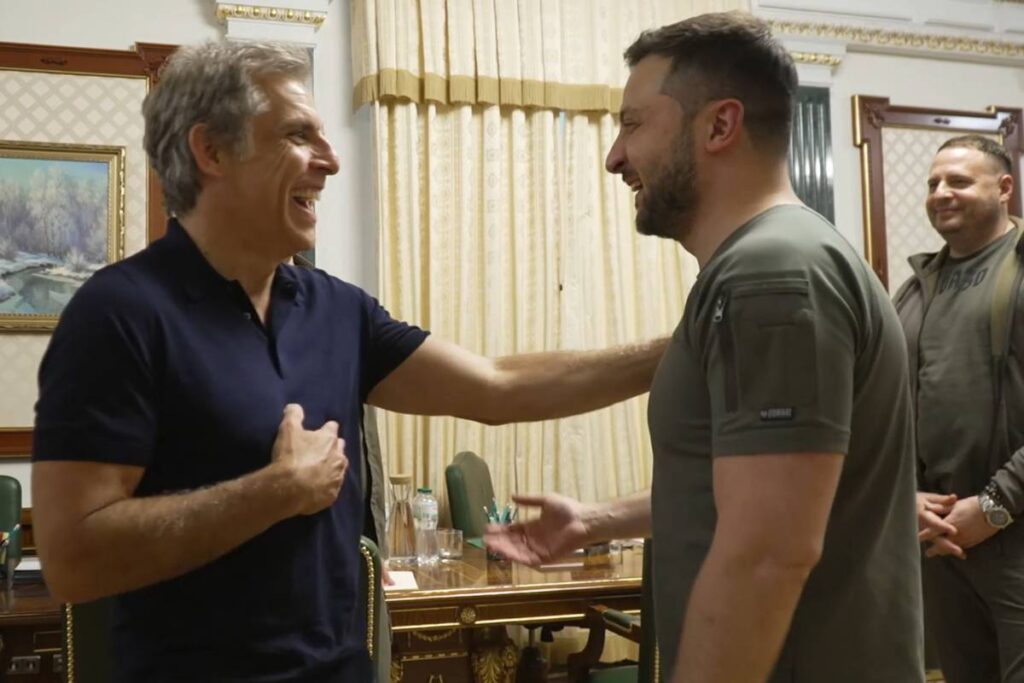 Photo credit: InStar Images, Twitter and Instagram