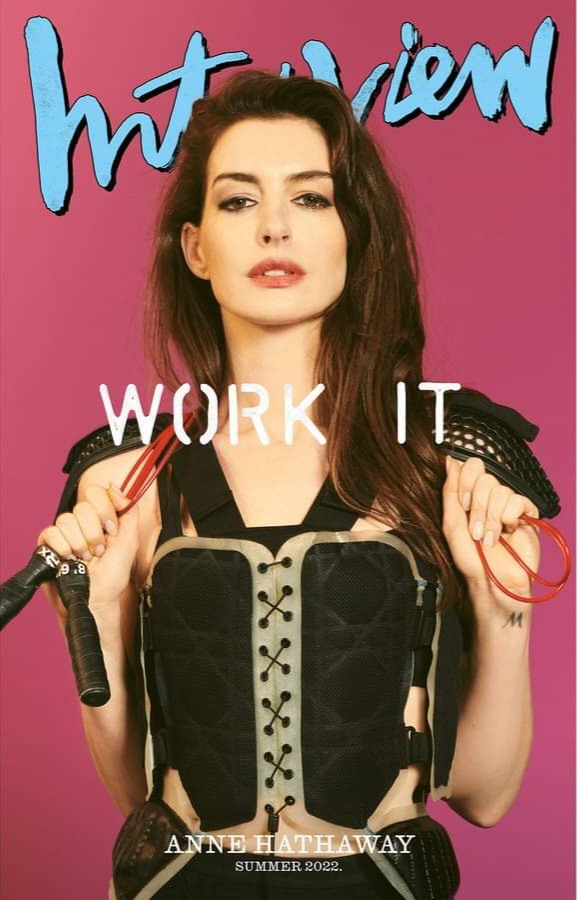 Anne Hathaway covers the summer issue of Interview Magazine, mostly to promote her various projects this year, including Armageddon Time and WeCrashed. Anne is really different these days, right? She has a really different energy, a maturity, like she's entirely come into her own and she is completely comfortable in her own skin. It's lovely to see her so confident and on-her-own-terms. Instead of getting one of Anne's famous friends to conduct the interview, the magazine got a dozen of Anne's famous friends to submit questions and Anne answered them. This was done before the Dobbs decision, which overturned Roe v. Wade. I say that because she references the fact that the decision will soon come out during her interview. Some highlights:
Her favorite part of working on Rachel Getting Married: "The long and the short answer is everything, but it's the gift of Jonathan Demme. It illuminated, in the most brilliant, ultraviolet way, that I've always nailed it. It came at a moment in my life when I was so ready. I had lived just long enough that I was ready to burn everything that didn't serve me to the ground, and I was still so very impressionable that I was able to take in what was fortifying and inspiring, and there is no one better than Jonathan Demme to work with, period. The memories from that are etched in me in such a psychedelic way. The people that I was with were beyond extraordinary. I'll never forget it and I don't know that I'll ever actually be able to capture it in words so I should probably stop talking.

What feminism means to her. "In this moment in particular, it exists on multiple levels. It is the definition of a human being that believes in equality for women, but I would add for all genders. And feminism as a movement is of course complicated, but also should be moving towards the concept of feminism not being provocative.

What problematic or canceled person's art does she still secretly love: "Aziz Ansari. I think Master of None is one of my favorite modern romantic series. Yeah.

Who has great BDE right now? "Right now, Lizzo's got it. Billie Eilish for sure. Harry Styles, obviously. Trying to think. Those that can figure it out and run with it and do it. Christopher John Rogers. I love what he's doing right now in fashion. I'm so deeply a fan. I think this interview has been giving goddess energy. Michelle Yeoh also has big goddess energy.

What really makes her mad: "Currently, what makes me really angry is that I can look at a newspaper and on the front page, see that there are plans in place to overturn Roe v. Wade next to an article about how there's a baby formula shortage, which has reduced the availability of baby formula by 43 percent. And what makes me angry is the people that are cheering for the overturning of Roe v. Wade, will not have a conversation about that point in the future when those two stories intersect. And the people who have been working so hard to overturn Roe v. Wade have done so without making any effort at creating a more fair, just, and equitable society, and affordable, by the way, in which to have children. I'm not someone who likes shaming people, but like I said, I'm angry.
The reason the anti-choice people haven't used their time, money and energy to create a fair, just and equitable society is because fostering a good environment in which to raise a child has never been the goal. The goal was and is control. Control over women. Control over women's bodies. Patriarchy. That's it. All of the "we care so much about the lives of babies" was nothing but a means to an end. While Anne doesn't like "shaming people," she should start. Start shaming all of these people. Start getting into their lives, their motives, their finances, their secrets. If half the population doesn't have the right to privacy and bodily autonomy, then neither does the other half.
Cover & IG courtesy of Interview.