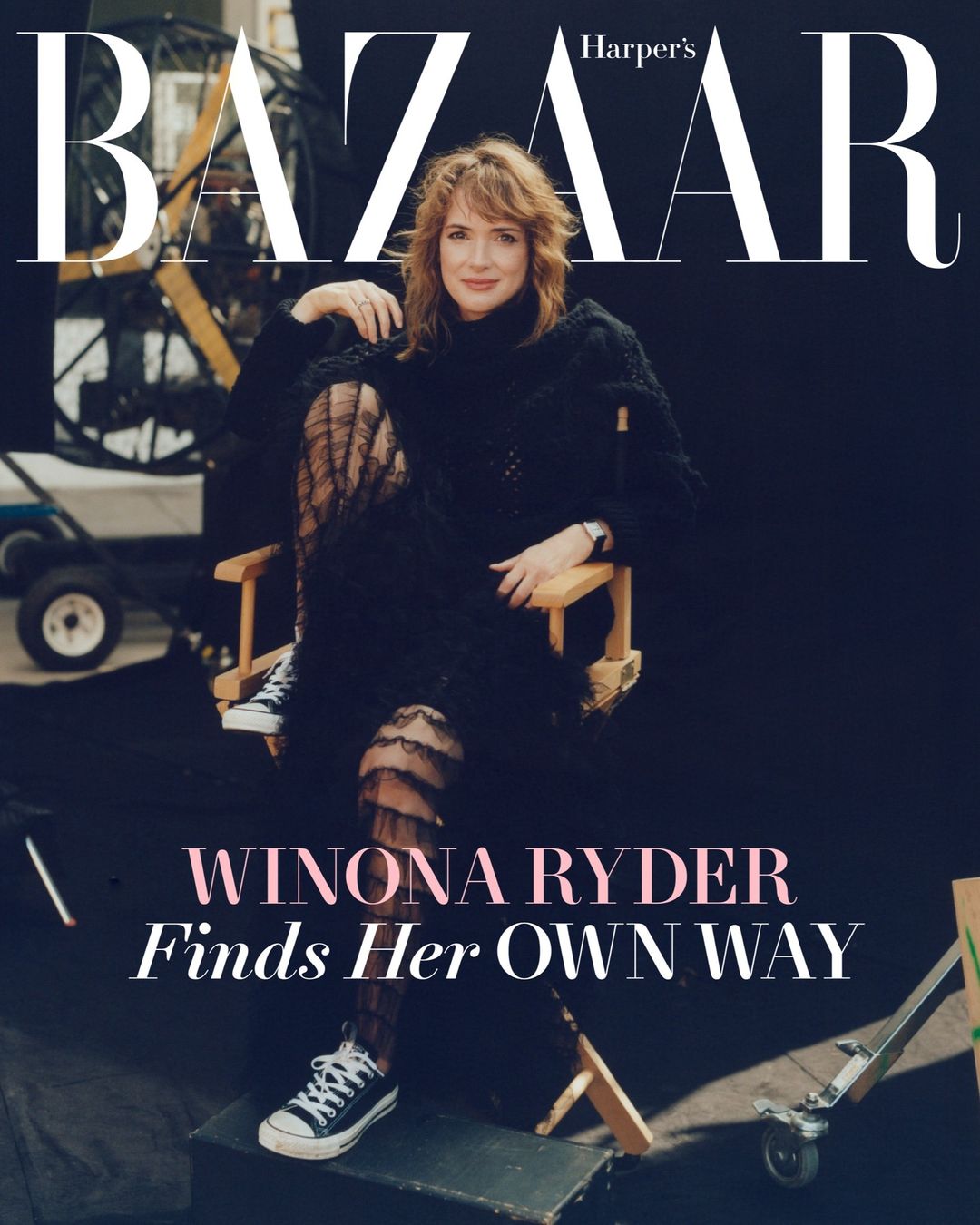 Winona Ryder covers the latest issue of Harper's Bazaar, mostly to promote Stranger Things. The fact that Winona has been able to have a career resurgence in her 40s – and now 50s – is so pleasing to me. She is one of the best actresses of her generation, and I love that she's on one of the most popular Netflix shows and that she's still popular within the industry. She's also a mentor to the young actors on Stranger Things, and those kids really look up to her. As it should be! Winona talks about all of that and more in Bazaar. Some highlights:
She was overwhelmed in the first part of her career: "Being talked about, being reviewed … realizing that someone could pause you, could rewind you? It was so overwhelming."

Fame and money didn't insulate her: "I know it's kind of like 'Oh, poor Winona.' But when you're in pain, pain is pain. But that [realization] took me a while. This business is brutal. You're working constantly, but if you want to take a break, they tell you, 'If you slow down, it's going to stop.' And then it did slow down. So then you're hearing,'It's going to be impossible to come back.' And then that changes to 'You're not even part of the conversation.' Like, it was brutal."

The breakup with Johnny Depp in the early '90s: "That was my Girl, Interrupted real life. I remember, I was playing this character who ends up getting tortured in a Chilean prison [in the 1994 drama The House of the Spirits]," says Ryder, who credits "an incredible therapist" for encouraging her to imagine being gentle to a younger version of herself. "I would look at these fake bruises and cuts on my face [from the shoot], and I would struggle to see myself as this little girl. 'Would you be treating this girl like you're treating yourself?' I remember looking at myself and saying, 'This is what I'm doing to myself inside.' Because I just wasn't taking care of myself."

Michelle Pfeiffer tried to help her: "I remember Michelle being like, 'This is going to pass.' But I couldn't hear it. I've never talked about it. There's this part of me that's very private. I have such, like, a place in my heart for those days. But for someone younger who grew up with social media, it's hard to describe."

Disappearing after her shoplifting conviction: "I definitely retreated. I was in San Francisco. But I also wasn't getting offers. I think it was a very mutual break."

The early 2000s: "It's so interesting when you look at the early aughts. It was a kind of cruel time. There was a lot of meanness out there…. And then I remember coming back to L.A. and—it was a rough time. And I didn't know if that part of my life was over."

Mentoring the kids on Stranger Things: "I want the kids to understand, this does not happen," she says of being on a show so zeitgeisty that people are clamoring for your attention. "This is really unusual. And I'm always telling them, 'The work is the reward!' Because when I was that age, it was so hard to enjoy the fruits of my labor."

She's been dating fashion designer Scott Mackinlay Hahn for five years: "We have so much in common. We connected on so many levels. But it was amazing that he's not in this business…. I really did try to keep it quiet." (Hahn is so far removed from showbiz that when he first met Ryder, he didn't even recognize her. "He thought I was Milla Jovovich," Ryder says, laughing. "He told me I was great in The Fifth Element.")
Damn, imagine not recognizing Winona Ryder! Are we sure this guy is legit? The way she talks about him, you can tell she's grateful to be with a generational peer. He's 51 years old, she's 50 years old. They have the same cultural Generation-X references and worldview. That's really nice. I love that Winona is telling the Stranger Things kids "the work is the reward, don't expect everything to be a hit," because someone needs to tell them that. I hope they're listening! She's also right about the industry back in the 1990s and early '00s. That is what women were told, that if they stopped working for a year, they would never come back, that people would forget them. Gwyneth Paltrow taking a year off, Julia Roberts taking a year off, those women were the outliers – and honestly, they were "allowed" to take that time away because of their enormous fame.
Cover & IG courtesy of Harper's Bazaar.