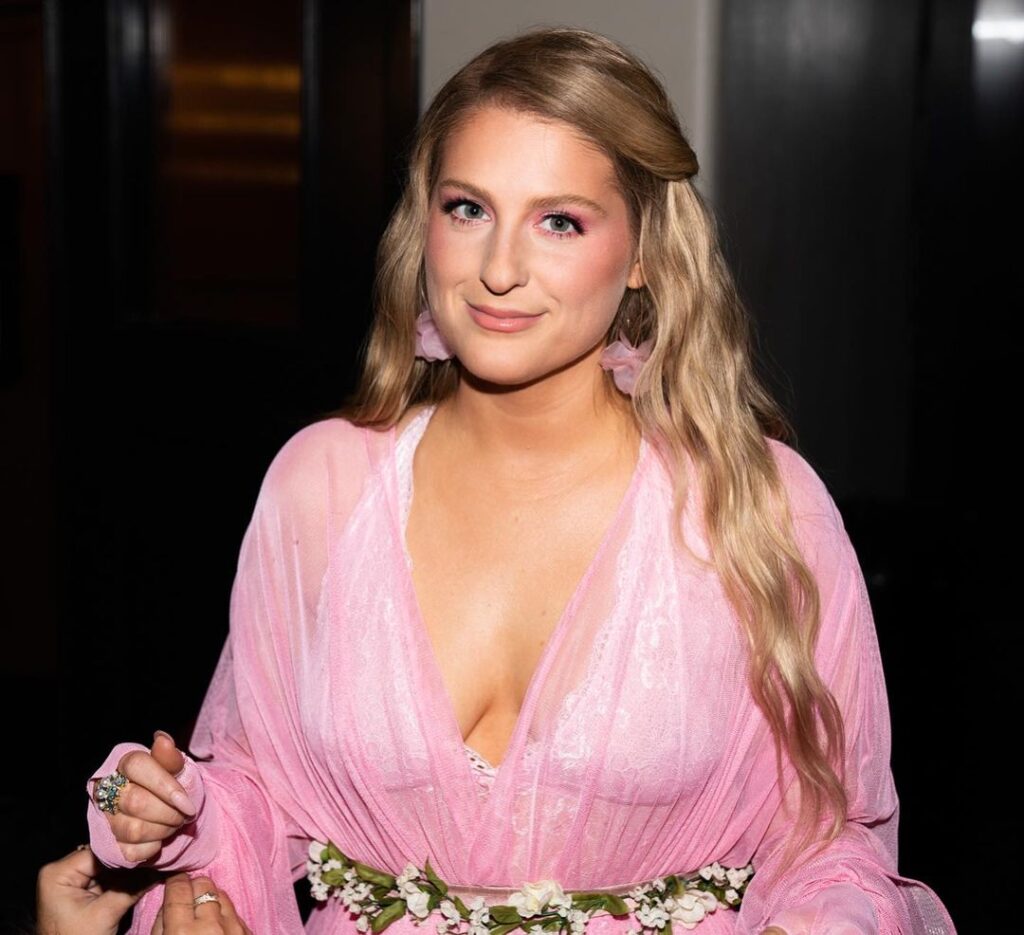 Meghan Trainor has a new album coming out in October. Takin It Back is her fourth album, but the first she's written since she had her son Riley. The first single that dropped is Bad for Me and it's a departure from Meghan's usual stuff, both in sound and message. Meghan was just as surprised as us by Bad for Me but once she started writing it, she couldn't stop. The song is based off a real event in which her therapist told her to write a letter to someone, but they didn't respond. She turned her heartbreak into this song. The odd part for Meghan is how personal it felt to share the story with the world. She said that normally she's an open book but when it came to Bad for Me, she hesitated, mainly because she didn't want to hurt the other person involved.
Bad for Me is raw for her: It's my Adele moment [laughs]. I wrote it about real events that happened to me. I really had a moment with my therapist where I wrote a letter to a family member and I sent it to them, and I thought that was perfect, but I got no response still, so it was heartbreaking. And then I wrote the song, the chorus, immediately. I did not think it'd be the first single ever. But it felt too powerful and big to not try to go first with it, to also reintroduce people to Meghan, the mother—we have emotions and they're relatable.

She's an open book: It is so weird for me because I'm an open book and I tell everyone everything. But this one is personal because there's someone else involved. And usually I tell every detail, and this one, I want to keep that private for their sake. I don't want my fans going and finding them. So it's weird to walk on eggshells. Immediately when people even heard snippets of it, they all go, "Oh, it's about your brother, Ryan." Because everyone knows that we went through a rocky part in our relationship, but no, it's not about him.

Songwriting now vs. then: It's bizarre. I was a total different person obviously back then, and I didn't even have a life yet. Now it's almost 10 years later, and I've been through so much and had a baby and life is extra precious now, I want to live forever. I love who I am now, and I love where my family's at now. So there's more depths to my lyrics and I've gotten better at singing too. I was trying to write timeless records.

On being a working mom: I'm lucky enough that I can work from home and see my baby. It made me really just respect mamas who work even more. I'm lucky that I get to see him. And I talked to my therapist about it. I was like, "What is this guilt I have of not being with my kid and anger that I don't get to see him?" And she's like, "Oh, that's what every mom goes through. It's called being a working mom." And I was like, "This is bull—-." But it's part of the gig.
I have a couple of thoughts. The first is that Meghan is far more generous than me. If I write a therapeutic letter, putting my feelings on the line and that person doesn't bother to respond, you can expect me to go scorched earth on them. One day you'll open up this website and there will be a post titled "Hey @$$, my phone number hasn't changed" by Hecate and the rest will be a profanity laden verbal flaying of whoever done me wrong. The second thought is that anyone who repeatedly brings up that she likes to poop next to her husband doesn't need to qualify that she'll "tell everyone everything." I tease Meghan about telling us so much but as you all know, I'm the same way, so I understand her (save for my bathroom habits, of course). And writing is such a great outlet for open-bookers. As she indicated, this album takes on a different feel because she's a new mom. Her perspective has changed and it will be interesting to hear how that comes across. Musically, Meghan said she's returning to her Do Wop roots. Bad for Me is the exception.
As a song, I kind of like Bad for Me. With all due respect to Meghan, who I like as a singer, the song hits when Teddy Swims comes in, though. And for as much as Meghan is calling herself an open-book, she's not telling who the song is about. The only thing she said above is that it wasn't her brother Ryan. That doesn't narrow it down much. I like Meghan but I don't know enough about her to know who to guess. But now I'm invested. Is this going to be our new He's So Vain? Did Warren Beatty not write Meghan back?!
Photo credit: Instagram and Getty Images