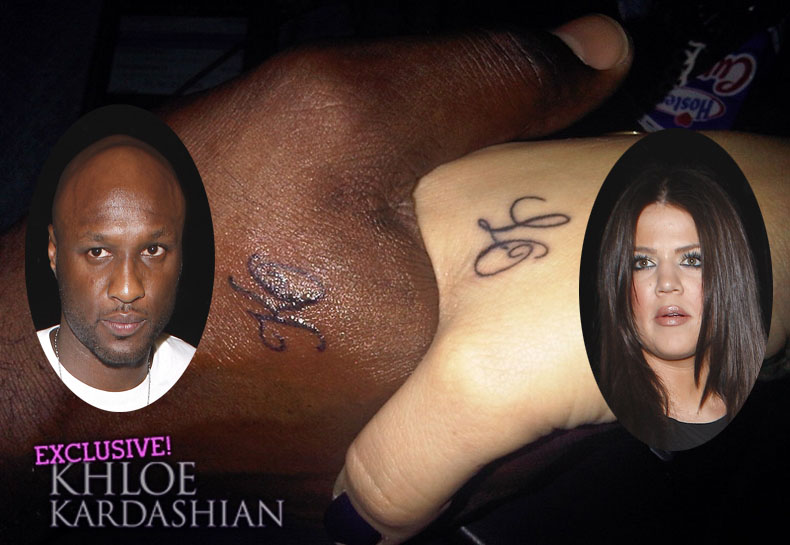 I know there's no proven correlation between getting a tattoo for your lover or spouse and splitting up – marriages pretty much have a 50/50 chance. It just seems like people stupid enough to get tattoos for each other that aren't strictly symbolic always end up stuck with an obvious reminder of their ex indelibly marked on their body. For those with the money, they can opt for painful laser surgery.
Khloe Kardashian and Lamar Odom, who haven't received much media attention in a whole two weeks, decided to get each other initials tattooed – on their hands. Because tattoos prove that you love the person. Just ask Mel B, who told Larry King that the impulsive tattoos of each other's names that she and Eddie Murphy got two weeks after meeting each other proved that they were "very much in love and wanted to have a family together." Murphy later broke up with her by saying in a TV interview that he wasn't sure the baby she was pregnant with was his. To be fair, Mariah Carey and Nick Cannon got tattoos for each almost immediately too, and they're still together a whole year and a half after their quickie wedding.
Khloe described the decision to get tattoos as an impulsive one, just like everything else this couple does:
They may not have escaped on a honeymoon yet – but Khloe Kardashian and Lamar Odom are still celebrating their recent nuptials. On Saturday, the duo got new tattoos of each other's initials, the reality star writes in a new blog post.

"When we were at dinner, I just knew I wanted a tattoo for Lamar in the web of my hand," Kardashian writes in the post. "Once we got to the shop we decided on getting each other's initials. I got "LO" in cursive on my right hand and he got "KO" on both hands."

Kardashian, who already has "I love you" tattooed in her father's handwriting on her wrist and a cross and angel wings with the word "father" written above it tattooed on her back, says the new ink is especially meaningful since it "symbolizes something or someone that is important to you." – Brian Orloff
[From People]
Despite Khloe and Lamar's latest stupid move, they have as good a chance at making it as any other couple gunning for a reality show who got faux-married a couple months after meeting each other. While we've heard that Khloe and Lamar have finally agreed on the terms of their prenup, we haven't heard that they've made their marriage legal yet. I'm sure they'll be releasing the news as soon as it happens.
Tattoo photos from Khloe Kardashian's website. Check out the hostess wrapper in the background. Heads are from a photo from WENN and dated 10/21/09.