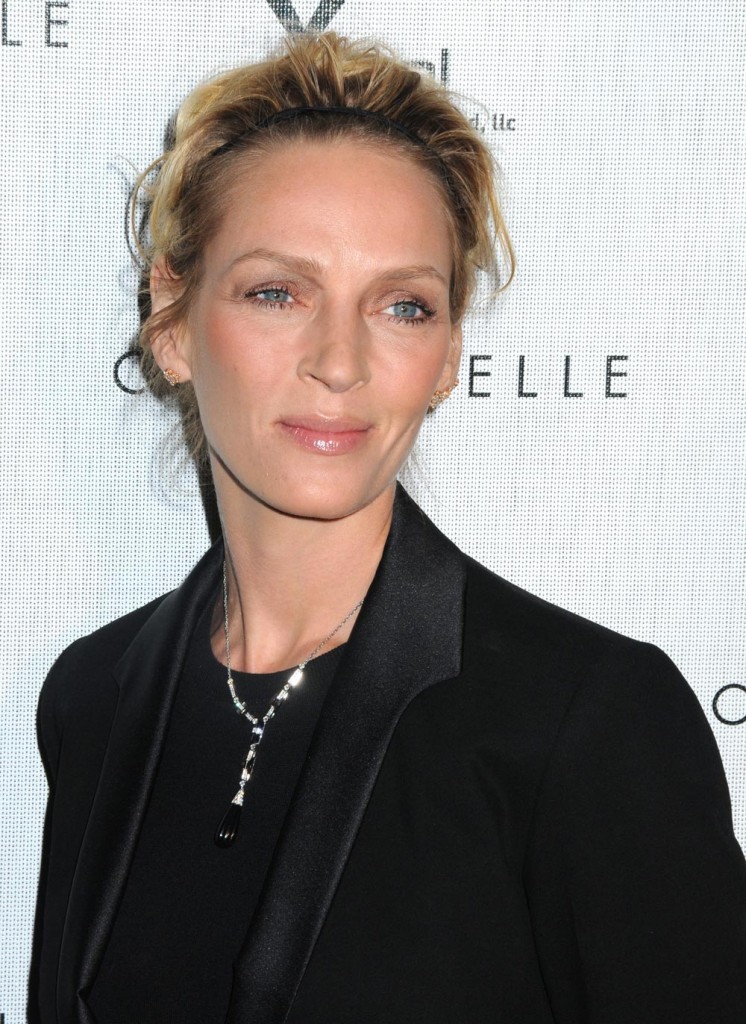 Uma Thurman, 39, has a new interview in Parade Magazine in which she's promoting Motherhood, which is out in the US in limited release. Uma discusses life as a working mom, dealing with fame and gossip, and how a bad film choice (The Avengers) helped her make the decision to have her first child. She also talks candidly about the media scrutiny of her split with then-husband Ethan Hawke. Uma says we shouldn't feel bad for her because the tabloids cover her personal life and that other people have worse gossip to deal with. I really admire her attitude and it sounds like she's in a good place now.
A bad film.
"Sometimes the film you're in, that really wasn't good while it was going on, is the thing that pushes you to take some positive action which you never would have done if you had an easy day. It was The Avengers that brought my first baby into the world. I came home from making that movie and I started rethinking my life. I said to myself, 'I'm going to have a baby,' because I felt like I'd gotten to a spot where I wasn't sure what I was acting for. Was I running from myself going from location to location? Was I hurting myself? I wanted something different that would change me."

Coming to terms with fame.
"I was surrounded with so much hype before I was even 20. It's like a hurdle you have to climb over. You have to prove to people that you're not any of that list of cliches they think you are. I remember a great quote by Bill Murray who said when somebody told him they wanted to become rich and famous — 'Try rich first and see if that doesn't cover it.'"

Losing her privacy.
"Katherine Hepburn once said, 'I never care about anything that's written about me as long as it's not true.' I'll second that. But I don't want to be a celebrity whiner. People can suffer as much from gossip in a small town as I can from a tabloid story, maybe more. So I don't expect too much sympathy."

And that includes the furor surrounding her split with Ethan Hawke.
"For celebrities to say that it's tougher for them to have a lover or be married than it is for anybody in the real world is pushing the envelope a bit. I'm so sick and tired of talking about the difficult times. It's just so boring. I mean, everyone gets divorced in this country, practically. We all just have to get over it. My marriage to Ethan just fell apart in an unfortunate and public way. I got to the point where I was going, 'If I see one more headline about it, I'm going to gag me with a spoon.' This is now a great time for me. I'm moving into a great time."
[From Parade]
Parade has more with Uma, including her thoughts on being a working mom, "every working mom is kind of a superhero," and confirmation that she's working on Kill Bill 3. I wasn't aware that a Kill Bill sequel was already confirmed, but I found that Tarantino talked about Kill Bill 3 on an Italian talk show earlier this month.
Uma is currently engaged to Swiss financier Arpad Busson and is a mom to daughter Maya, 11, and son Levon, 7, with her ex, Ethan Hawke. She said having kids is "is the best-kept secret," but that she's conflicted about being a working mom and wants to make sure she's taking worthy projects. Motherhood isn't faring well with critics, though and only has a 24% aggregate rating on Rotten Tomatoes.
Uma Thurman is shown at the Motherhood NY premiere on 10/14/09. Credit: WENN.com