**SPOILERS for Stranger Things, Season 4***
The Sheriff Hopper storyline for Stranger Things season four took place in a Russian jail. I understand why they separated Joyce and Hopper from the kids because otherwise it would have simply rehashed the other seasons. I didn't like the get into/out of/back into the Russian jail storyline, but I appreciated what they did. However, if you put someone in a Russian jail in what appears to be Siberia, the character is going to be physically affected. And that's what happened to lovable dad-bodied Hopper after being sent to the Upside-down and ending up in Russia to work in a labor camp. He lost all the Dad. David Harbour, who plays Hopper, posted side-by-side shots of the pudgy Hopper and the lean, mean fighting machine Hopper who can kill demogorgons with Conan's sword. To get into convict shape, David dropped 75 pounds. And apparently, he's put it all back on to play a murderous Santa Claus.
David Harbour is no stranger to transforming his body.

If there's one thing Stranger Things fans have noticed in Season 4 of the Netflix series, it's that Harbour's beloved character Hopper has lost a significant amount of weight — of course, it's all explained in the series, which you'll just have to watch. No spoilers here!

The actor, 47, recently opened up about the process he's gone through in the last couple years with losing 75 pounds for the latest season then having to gain it all back to play a murderous Santa Claus in the upcoming holiday thriller Violent Night.

"Many of you have asked about Hopper's physical transformation from season 3 to season 4," he captioned a series of photos on Instagram.

In the first image, Harbour shares a before and after pic of his slimmed-down character from the third and fourth seasons. In the next photo, he shares a glimpse of the first week when he and his personal trainer, David Higgins, began the process. In the third and final image, Harbour is seen on a shooting day of Stranger Things with black x's all over his body so video editors can work CGI magic to produce a more "practical effect" of his character's weight loss.

"All told I lost over 75lbs. 265-270 in season 3 and all the way down to 190 when we shot," the actor continued. "Recently ballooned up again to play jolly ole st. Nick in a flick I can't wait for you to see this holiday season, so I am struggling to fight back down towards a good weight for wherever hopper ends up in season 5. All this up and down is not good for the body, and I'll have to give it up soon, but it is such a fun part of the job to live in a different version of your skin for a while."
Prior to season four, David played Hellboy, for which he also underwent a physical transformation. So his body was primed for the fluctuation. Still that's a lot of weight. However, 75 pounds in eight months is about nine pounds a month, which is just about two pounds a week, so that's within the healthy recommended weight loss. And he worked with a trainer, which means they likely did it in the healthiest way possibly. Although he was mostly clothed, as you can see from the photo above, David really did look gaunt for the show. It's accurate for the character, but that must have been a tricky weight loss. I know David can't tell us anything about season five, but I can't imagine Hopper's going to go back to sheriff weight right away. I'll bet he has to lose the Santa weight. And David's right, all this up and down isn't good for the body. It makes for an interesting question about fat suits. In this case, David owns the character of Hopper, I couldn't imagine anyone else stepping into that role. So do we okay him using a fat suit because he's already established in that role? Of course, in David's case, I guess he'd have to wear a corset.
In superficial speculation, Winona Ryder's probably thinking – wait, why do I get the scarecrow? They teased her for years with the schlubby sheriff and now that she gets to roll around in the hay with him, he looks like he'd fly away in a strong wind? I bet she's petitioning for Hellboy Hopper. Joyce deserves her choice of Hopper.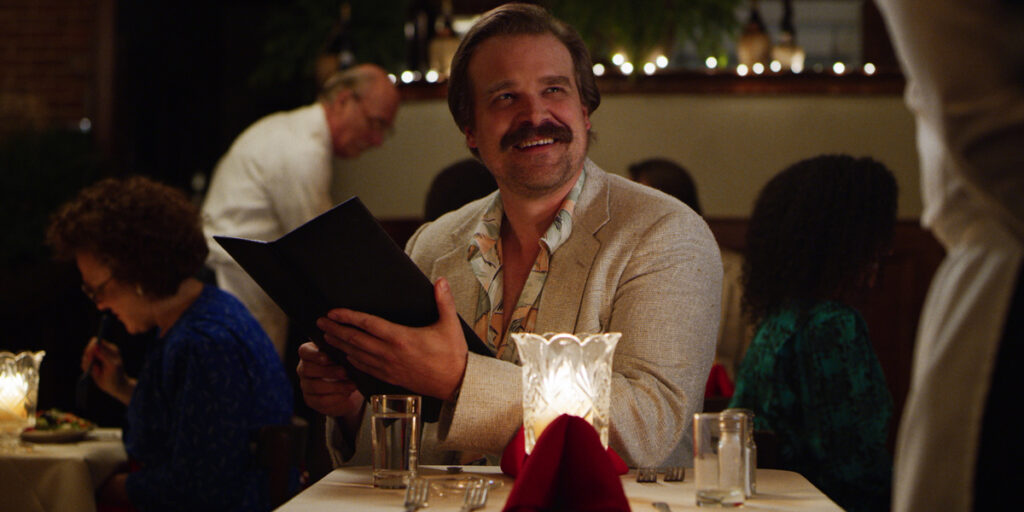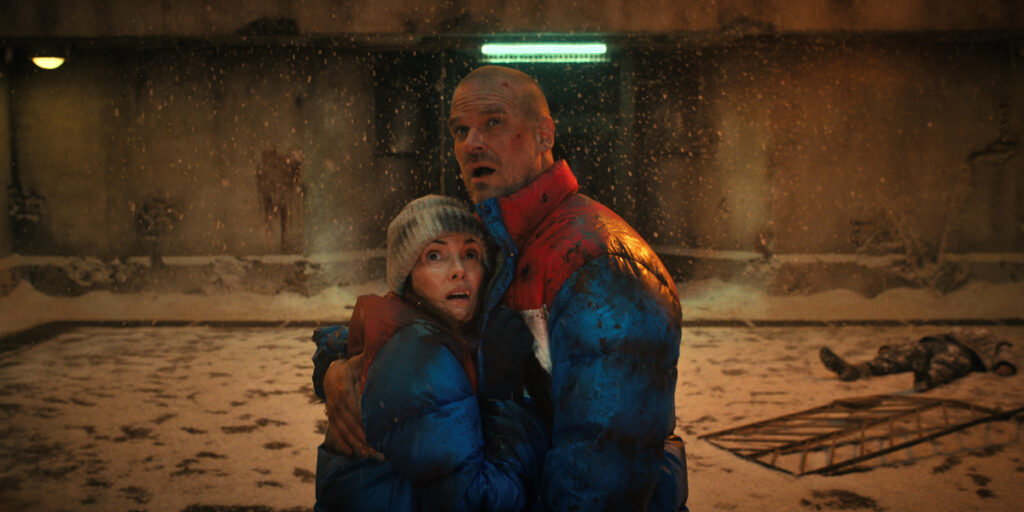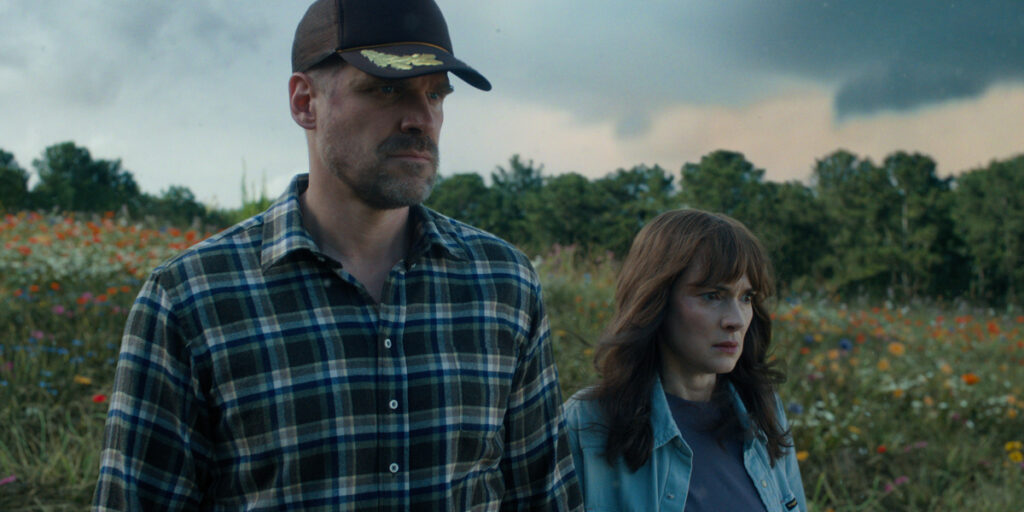 Photo credit: Instagram and Netflix