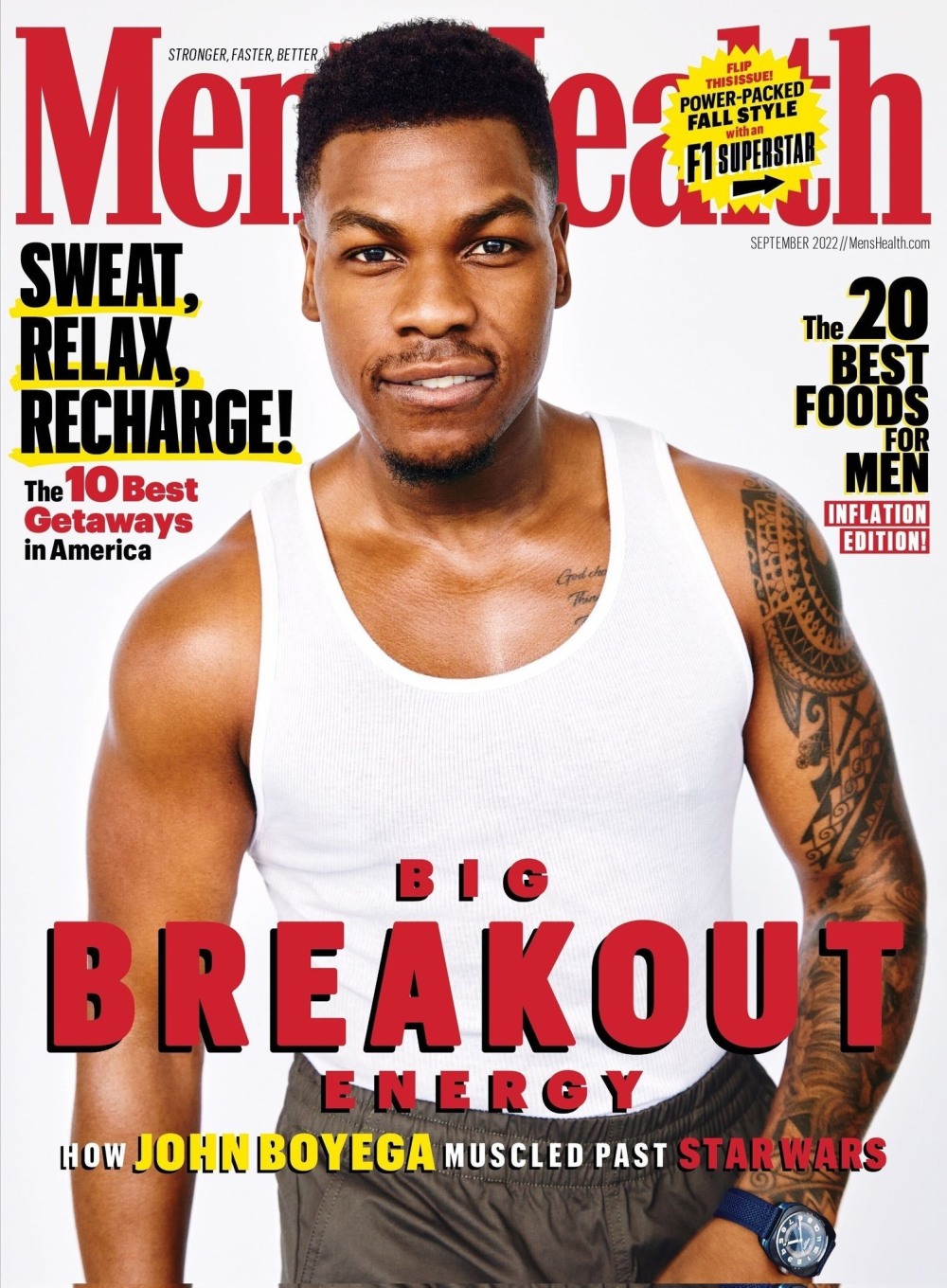 John Boyega covers the September issue of Men's Health. It's a great editorial for a movie star. Boyega is such a charming presence on camera. He's got lots of films coming out soon: Breaking, The Woman King and They Cloned Tyrone. He's also got his own production company and he's got development deals with Netflix and Viacom. He's also planning on spending more time in America, although he seems to have mixed feelings about that in general, specifically as a Black man. You can read the full Men's Health piece here. Some highlights:
Extreme gratitude: "You have two options as an artist. Fixate on your fatigue or acknowledge that you've arrived and express your extreme gratitude. When I was broke and no casting director wanted to see me, if someone said, 'We're going to fly you out tomorrow, take care of your hotel, shoot a Men's Health cover, then fly you back,' I would've cried with joy. Yeah, I just got off a flight, but that's what the rappers sing about. I'm living it."

He was burnt out in 2017: "[I was] exhausted, frantic, and paranoid. You're tired by your own dream, what you love."

He remade his body: He's traded his signature cornrows for a clean fade, and the actor who was once described as "being built like a bullet" has leaned out considerably, as evidenced by his prominent cheekbones and sculpted frame. He's impressed [by the Men's Health photos]. "That's real Black-boy joy," he says gleefully. "Black-boy joy!" His family, whom he's always been extremely close to, grew up "without money." Peckham was filled with fast-food chains and liquor stores, and Boyega was "chunky as hell. Not fat fat, but I hated being topless because I had a little bit of a hanging belly. I gained weight in the most awkward of places while everybody was looking athletic, ripped, and lean."

On the racist hate he got as part of the Star Wars franchise: "Hell no [they didn't prepare me]. I'm the one that brought this to the freaking forefront." He says he was blindsided by the racist vitriol hurled at him, and at times it made him question if he even wanted to be part of the sci-fi juggernaut. Boyega has consistently voiced his frustrations about how his character was underdeveloped and ultimately marginalized. He remains vocal about feeling unsupported in those days, which he hopes has compelled execs to become more accountable to actors of color. "At least the people going into it now, after my time, [they're] cool," he says. Lucasfilm is "going to make sure you're well supported and at least you [now] go through this franchise knowing that everybody is going to have [your] back. I'm glad I talked out everything at that time."

Being a Black man in Britain & America: "Any of us keeping our mouth shut at this point, it doesn't really feel too comfortable. Because even if you're British, [you're] working in the States; the gun's going to go off before your accent does." His message for people still bothered by his bluntness and unapologetic embrace of the BLM movement? "Our empowerment is not your demise," he says. Did he experience any backlash? "Of course there's backlash. Seen and unseen. It's just how it goes. You'll see who's for you and who's really not. . . . [But] this is who I am. I'm going to speak about what I believe in and make sure that whatever I do is aimed at supporting the people."

What he listens to when he's working out: "I've got a confession. I rarely listen to music with lyrics in the gym. I listen to movie scores. . . . I love Hans Zimmer. I love Harry Gregson-Williams. It's harder to run on the treadmill when Drake is talking about being on the jet," he jokes. "The workouts I do [are] hard. I need me some motivation."

His diet: Ditching sugar was a "massive" game changer. "That's my enemy. Doughnuts, chocolate, candy, pie, sodas . . . the stuff that kills you. I had to get rid of that habit."

He hasn't joined the MCU: "That's not in the vision for me now. I want to do nuanced things. . . . I want to donate my services to original indie films that come with new, fresh ideas, because I know it's real hard to top Iron Man in that universe."

He's searching for the perfect companion. He wants a ride-or-die woman who's curious, quick to laugh, and spontaneous. And, he adds, grinning slyly, "I like them thick and brown."
That's interesting about his diet and workout changes. He wanted to look and feel stronger, so he remade himself, ditched sugar and hired a real trainer and put in the work. While listening to film scores! I also love that he's not sugarcoating the Star Wars experience. The studio left Boyega and Kelly-Marie Tran out there to deal with the racist hate campaigns completely on their own and it f–king sucked. As for Boyega looking for someone thick and brown… I'm pretty sure he's talking about me? He's looking for me. I ACCEPT!
Cover & IG photos courtesy of Men's Health.