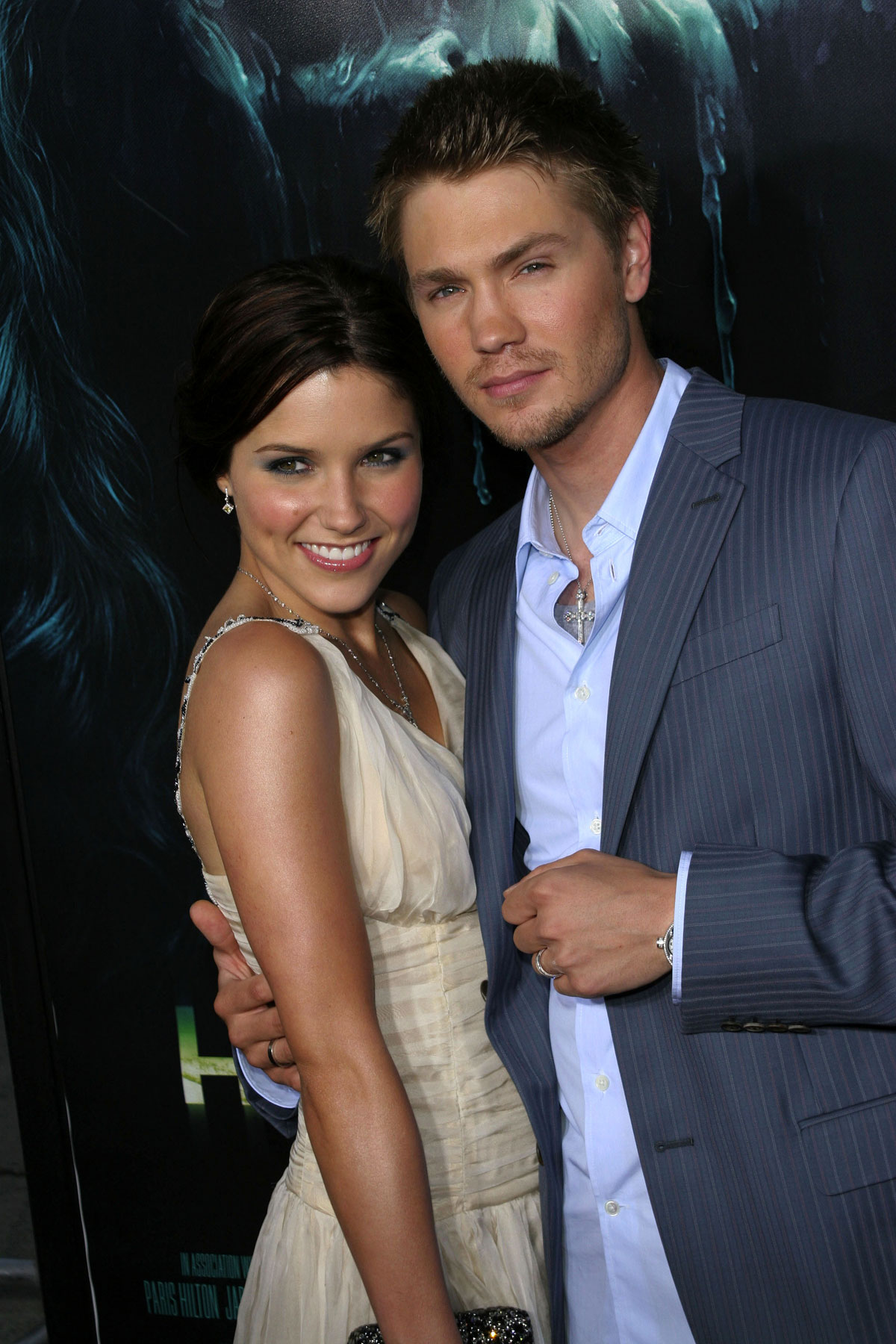 When I was writing about Sophia Bush and Grant Hughes' Tulsa wedding, it occurred to me that it completely topped her first wedding and five-month marriage to costar Chad Michael Murray. It topped it so much that the two were incomparable. Sophia and Grant's wedding was beautiful, meaningfully showcased civil rights justice in a historic city, and was featured in Vogue. But I didn't want to say anything about her long-ago ex on a post about her lovely wedding! But, Sophia talked about Chad on a recent episode of her One Tree Hill recap podcast with costars Hilarie Burton and Bethany Joy Lenz. It came up in the context of the show and how Sophia continued to work with Chad for years after their divorce.
While covering season 3, episode 9 — "How a Resurrection Really Feels" — which aired in December 2005, on their "Drama Queens" podcast in July 2022, Bethany Joy Lenz praised Bush for her performance.

"Not for nothing, you were going through a breakup with the person that you were playing a romance opposite of. And regardless of what all those circumstances were, that's incredibly difficult — emotionally to be able to be vulnerable and be there in that moment," Lenz told Bush and Hilarie Burton. "There's lots of actors who have done that — who've done movies and TV shows and things, they date their costar or whatever, it doesn't work out. But the fact that you were able to just be that raw and open and vulnerable, it's a real credit to you as an artist. You put your art in front of everybody and just were like, 'Look, this is it. I'm just sharing my heart and here we are.' I thought it was really beautiful."

The Chicago P.D. alum made it clear that she was never going to let any personal drama get in the way of the show.

"People can call it whatever they want. They can say it's strength, they can say it's pride, they can say its professionalism — you can put a positive or a negative skew on it," she responded to her former castmates. "But I was always going to put Brooke Davis ahead of everybody and everything else. Nothing mattered to me but being honest for her."

Bush went on to acknowledge why fans may have liked the Brooke and Lucas pairing. "As teenagers, they got to be silly and our show needed a little bit of, like, silliness and discovery. It couldn't all be, like, marriage and death," the actress said.
Last year Sophia said she wasn't allowed to talk about Chad anymore because he and his wife got all huffy last time it came up, but I guess she felt okay about doing so because it was in the context of the show and more about her approach to the acting than him. I think what she says here is fair/neutral and she's always the bigger person when it comes to him (and just a good person in general). I watched OTH when it aired and followed the gossip about their short marriage and divorce. And I remember being completely amazed that they continued to work so closely together after they split. They weren't just on the same show, they were a recently and contentiously divorced couple playing a couple in love. Like, they had to do sex scenes during/after their divorce! As Sophia says in the article, I thought then and now that it was strength, professionalism, and maturity for her to be able to put her personal feelings aside to honestly embody the character. Though at another point, Sophia said that the producers would write the actors' personal lives into the show to garner interest and ratings, so whether the producers were being true to the characters is another story. Anyway, Sophia and Grant seem really happy and in love, and I think their relationship timeline and the fact that she waited 16 years to marry again bodes well for them.
Photos credit: Avalon.red and via Instagram