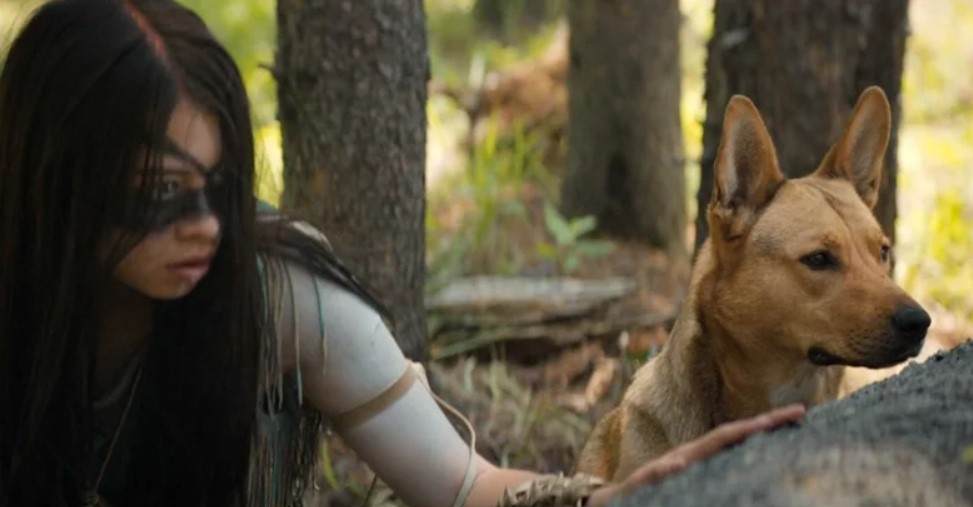 I don't know what your Twitter feed's been like but outside the Trump raid, mine has been flooded with talk of the film Prey on Hulu. I was excited about it having a female protagonist. I was also encouraged because I don't usually watch horror, but I will if the comments are that good. Somehow, however, I completely missed that Prey was a part of the Predator franchise, don't ask me how. So I have now seen my very first Predator film – yay me. CB saw it and loved it. My husband, who is a fan of the franchise, did too. Me? Well, there's a reason I've never been drawn to the Predator films. But I liked the lead, Amber Midthunder, very much. And there was one thing that had me totally engrossed: her canine costar. Amber's character Naru had a dog named Sarii and I spent the majority of the film asking out loud, "wait, where's the dog?" Sarii would strategically disappear out of frame long enough to make me worry about her. When she'd return, she commanded the screen. I can't tell you Sarii's fate because spoilers, but this pup is going places.
So I was tickled pink to learn that Coco, the acting powerhouse cast as Sarii, is not only a first timer, but a rescue pup! Fulton County Animal Shelter in Georgia posted that they were thrilled to see Coco make her Big Screen debut. Turns out, Coco was adopted just to do the film. However, her role was initially smaller. But when test audiences saw her, the responded so well, director Dan Trachtenberg wrote more scenes for Coco.
The latest film in the Predator franchise, Prey, has been released to critical acclaim. However, director Dan Trachtenberg's film has also seen the emergence of an unlikely breakout star: Coco the dog.

Coco plays Sarii, the sidekick and best friend of Prey's protagonist, Naru (Amber Midthunder). Sarii is Naru's most trusted companion and accompanies her when she goes out on hunts. Eventually, Sarii becomes a key part of the Comanche's fight against the Predator (Dane DiLiegro). But beyond fighting extraterrestrial foes, Sarii also helps Naru to conquer her self-doubt when it comes to her hunting abilities, standing by her side for battles against a large mountain lion and a ferocious grizzly bear.

Now, a little bit more about Coco's backstory has been revealed thanks to a social media post from the Fulton County Animal Services in Fulton, Georgia. The animal shelter said that Coco "came into our care at the beginning of 2021," and that they were thrilled to find out that their former resident "has hit the bigtime," noting that fans have begun referring to her online as "the Meryl Streep of dogs." According to Fulton County, Coco did not have any prior film training – making her debut in Prey even more impressive – and "was adopted by her family specifically for this project."

The shelter further added that Trachtenberg originally kept Coco's part in the film smaller. However, he was convinced to write more scenes around the dog when test audiences responded well to the project, and "encouraged [Trachtenberg] to include more of Coco in the film." As a result, Coco would become one of Prey's main characters. Notably, Midthunder referred to Coco as "a little bit of a hot mess — but in a sweet way" during the film's press tour, and, despite requiring some additional guidance from the trainers, "Coco's own joyful and playful personality…won the hearts of the cast and crew."
I love this. Little Coco thought she was just getting a home and she embarked on a whole new career. Good for her! No outlet specifies who the family is who adopted her. It's not that important, I'm just curious because they were clearly attached to the film if they adopted Coco for this project. My hope is the same family intends to keep her after the project. I assume the Fulton Shelter specified the movie bit in their post just to let everyone know they were aware she was going to appear in the film at the time of Coco's adoption.
I thought Amber calling Coco a hot mess was funny and completely relatable. I should think a rescue dog with minor training would be less manageable than most set dogs, but I think it helped the film a lot. Those scenes in which Sarii goes off really built tension. It was the Bruce* effect and I'm sure Dan Trachtenberg played off that. But whatever training Coco didn't have, it wasn't noticeable. She was a champ on screen and, if you will excuse my shallowness, absolutely stunning. I hope Coco has a long and thriving career. Or not, maybe she just wants to chill and receive belly rubs. Whatever she wants, she gets to do it with her new family and that's the neat part. I'm glad the film is doing so well too. It's nice that a 35-year-old franchise can have new life breathed into it with two female leads (I'm counting Coco as a lead). Many are saying this is the best Predator film in some time.
Two slightly off topic notes: 1) if anyone in Southern California is looking to add a rescue pup to their family, there is an adoption event this Saturday in Tustin with some adorable little sprites present. And 2) did you guys happen to catch the discussion on Amber MidThunder's parents on Twitter? My goodness those are some good genes.
*I'm referring to Bruce the mechanical shark in Jaws not working for much of the film and Steven Spielberg being forced to shoot without it, inferring the massive predator. It ended up being much scarier as a result.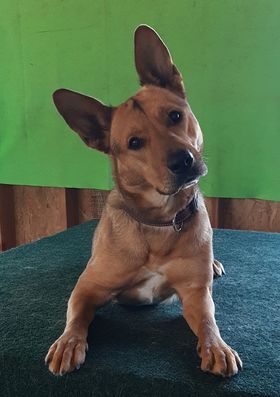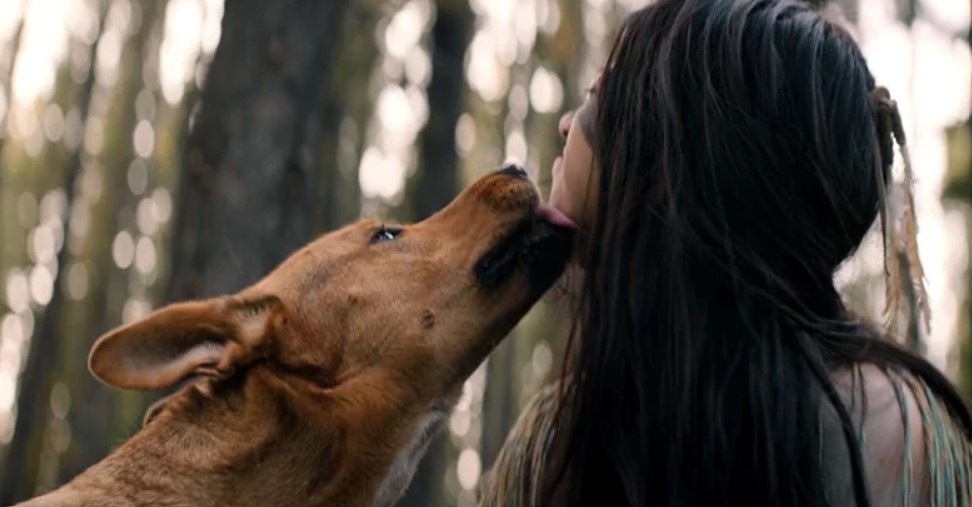 Photo credit: Instagram