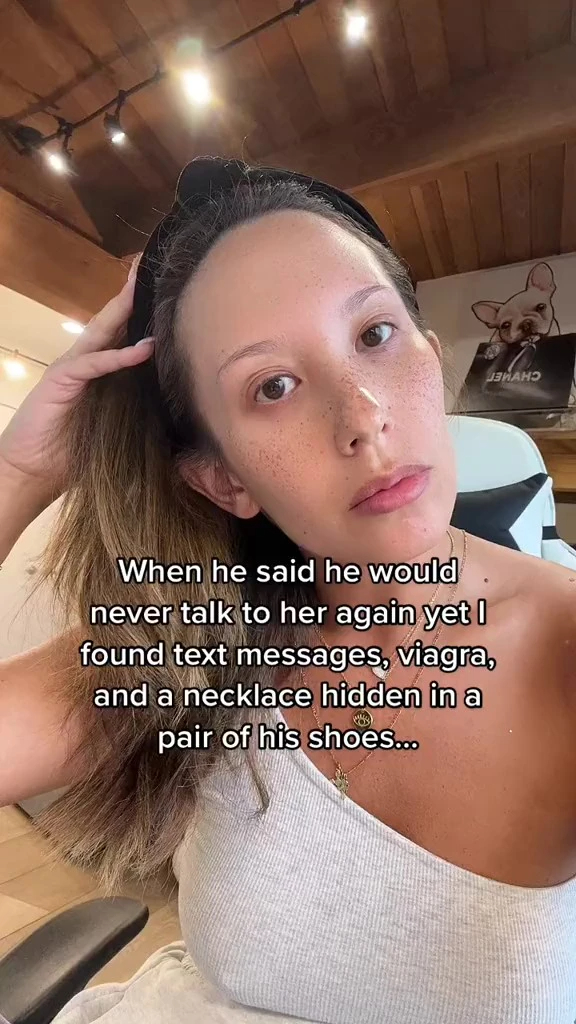 I hardly ever talk about Cheryl Burke, but I was upset when she filed for divorce from Matthew Lawrence. I remember when they moved in together and the engagement ring he designed for her. I felt they were a really solid couple. Well, I was wrong. And it may be that Matthew is a giant douche-nozzle. Somebody in Cheryl's life is, at least. Her fans seem to think it's Matthew. Cheryl and Matthew, who met when Matthew's brother Joey appeared on Dancing with the Stars, married in 2019. They were cute together without a lot of gossip. In February this year Cheryl filed for divorce, citing January 7th as their split date. Since the filing, Cheryl has been talking a lot about how hard the split has been. She's even taken some swipes at Matthew without naming names. On Wednesday, Cheryl released a TikTok video where she, once again, did not name names, but talked about finding incriminating evidence of an affair after "he said he would never talk to her." Now fans are split with many thinking this is a spotlight on why she left Matthew and the rest thinking it's someone Cheryl's dated since.
Cheryl Burke posted a bombshell TikTok video that led many fans to speculate her estranged husband, Matthew Lawrence, cheated on her.

"When he said he would never talk to her again yet I found text messages, viagra, and a necklace hidden in a pair of his shoes," the "Dancing With the Stars" pro, 38, wrote over the clip Wednesday.

In the social media upload, set to Adele's "When We Were Young," Burke stared straight at the camera and shook her head, looking fed up.

"The last time is absolutely right!" she added in the caption. "Goodbye forever…#exessuck #goodbyeforever #hopeitwasworthit."

"It's sad to think Matthew did that. Kind of dampers his image for me," one user wrote.
Another fan added that she was "boycotting everything Lawrence moving forward."

Others advised TikTokers to stop "making assumptions" about the "Mrs. Doubtfire" star, who wed Burke in May 2019.

"Didn't they divorce in January why are people saying it's Mathew??" one user asked.
A second noted that the estranged couple have "been done."
Originally, I thought Cheryl was talking about someone new. Cheryl and Matthew have been spilt since Jan/Feb and Cheryl's hashtags made me think she was kissing someone off presently. But I dug around a little and maybe she is talking about Matthew. First of all, as I said above, Cheryl's really struggled with this split. She even went back to the location where they got married and posted about processing her feelings. So she's adrift over whatever ended them. Last month, she talked about being lonely and wanting to date, but there haven't been any rumors about her dating anyone. And last week, Matthew was photographed in Hawaii with TLC's Chili. The word from Matthew and Chili's camp is they have been longtime friends and that he and his buddies caught the TLC performance on the island. Honestly, the photos support that. But it doesn't mean they didn't set Cheryl off.
I don't know if Matthew and Chili are dating. I think he may have fooled around on Cheryl, and it sounds like he did it after she'd caught him once. But what I do know is that Cheryl is definitely hurting, and I feel bad for her. I hope she's able to get some kind of closure. I know she worked for her marriage. I'm sure she's conflicted, and I know she's been struggling with her sobriety of late too. I hope she is surrounded by a really good support network that she can lean on right now.
Photo credit: TikTok, Getty Images and Avalon Red