Hilary Duff got served by her daughter Banks recently. And she wasn't even present to defend herself. If Banks reporting was at all reliable, Hilary couldn't have defended herself if she'd wanted to because she was *ahem* indisposed. According to Hilary's Instagram stories, her assistant Lauren texted her to let her know that three-year-old Banks told her soccer coaches that her mother made bad chicken and now has diarrhea. Well, that's certainly not the kind of thing you want your kid broadcasting in between drills. So Hilary posted a photo of Banks and wrote "THE RAT" on it. Hey, if you squeal, you deal, Kid.
Hilary Duff's daughter Banks embarrassed the "Lizzie McGuire" alum by telling coaches at her soccer camp about her mom's diarrhea.

"Whoaaa! Don't trust your kids!" Duff, 34, told her Instagram followers Monday.
The actress shared a text message via Stories from her assistant Lauren, who revealed that the 3-year-old "ousted [sic] her to the soccer coaches."

The text read, "Banks told a story at camp…'my mom made bad chicken and now she has diarrhea…that's what happens when you make bad chicken.'"

Duff subsequently posted a smiling shot of Banks, captioned, "THE RAT."
[From Page Six via Just Jared]
I actually went back into our Hilary coverage to see if we knew what kind of cook she was. The only food content I have on her is her penchant for placenta smoothies. I mean, anyone can get it wrong, regardless of their prowess in the kitchen, but it would've been funnier if Hilary's talked about not being able to cook before. And maybe it was the chicken and not Hilary's fault. Or something else altogether and Banks just threw her mom under the bus. Because kids don't really care about the facts when they are sitting on information like diarrhea. That's camp story gold, there's no time to verify every detail! So Banks drew logical conclusions and went with it. Plus, I'd take Hilary's comments on the posts as an admission of guilt. She didn't call Banks "the liar," she called her "the rat." And she's not wrong, that *is* what happens when you make bad chicken, so I believe Banks' account of the events.
I'm curious about how the rest of it went down, though. How did this get relayed to Lauren? Were the soccer coaches hitting on her and this was their chat up line? If so, I hope their soccer game is better than their flirting game. Or was Lauren present for Banks' story and just sat back and let Hilary's dirty laundry air to the whole three-year old soccer camp at large? In which case, maybe Hilary should pass around that Rat label. Ooooh, do you think Lauren and Banks are in cahoots? Like this was all an elaborate plan that would get Banks social cred, and Lauren would be exempt from snack because gawd knows what's coming out of that kitchen. Whatever is happening at Soccer Tots, I just hope poor Hilary is feeling better and stays hydrated. Maybe Lauren thought to swipe Hilary a Gatorade before she let her know she could never show her face on the field again.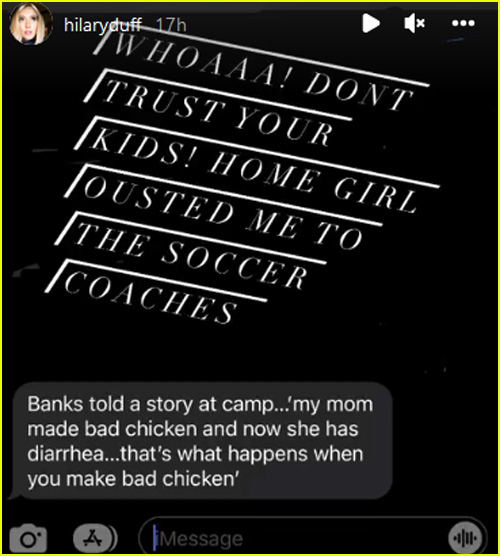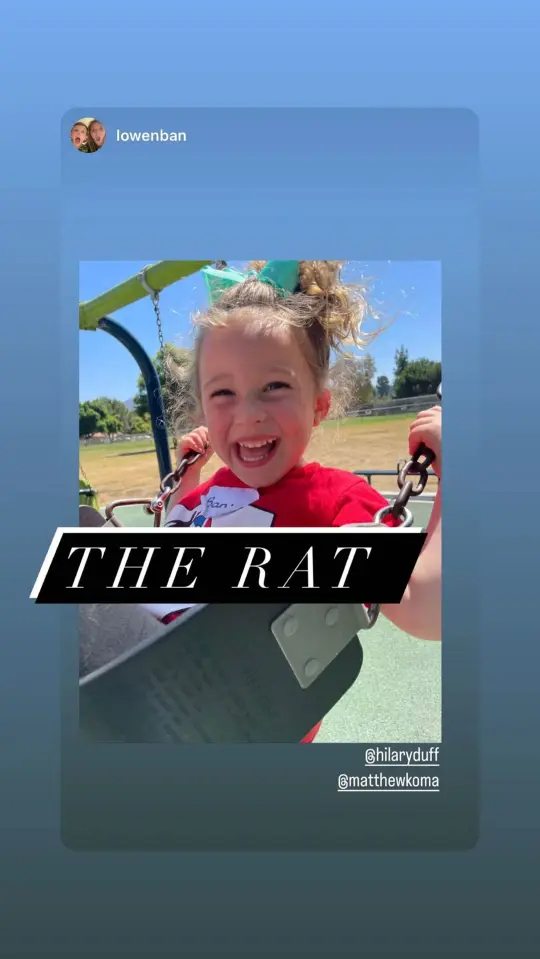 Photo credit: Instagram