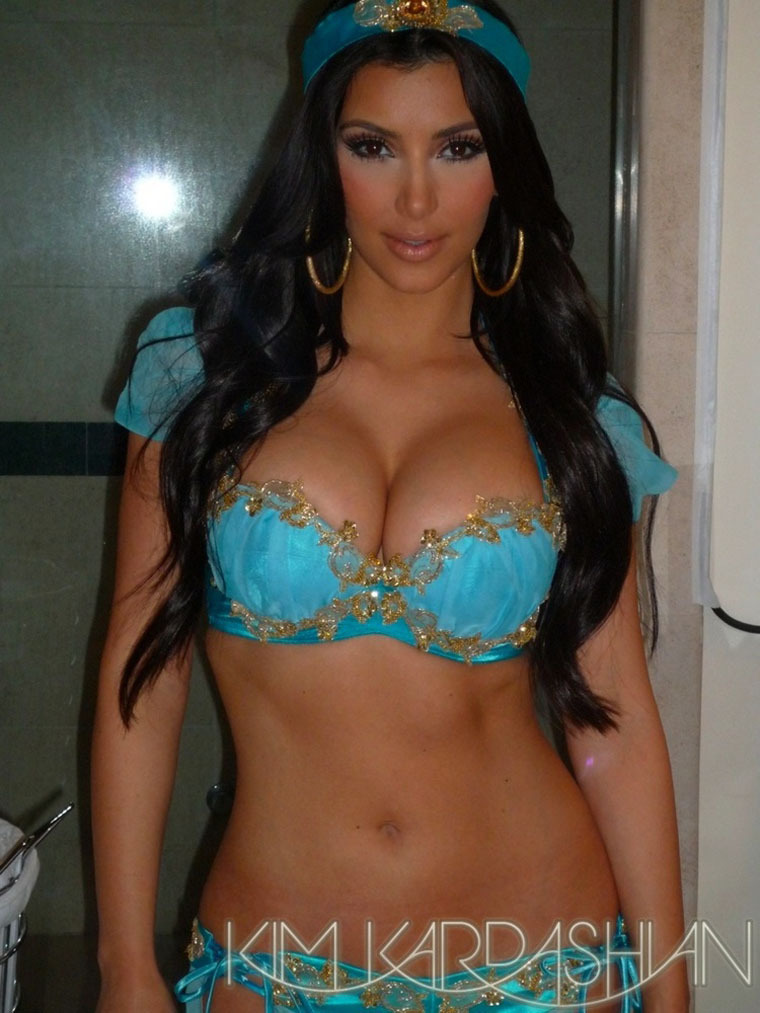 Kim Kardashian went as Aladdin's Jasmine for Halloween, if Jasmine were 10 years older, had plastic surgery, and worked in the adult entertainment industry. Kim proudly posted photos of herself in costume on her website, enthusing that she went with a Disney theme for two costumes this year. She basically used Halloween as an excuse to wear a barely-there bikini. Kim has a great body and all, but the bottom just covers her lady bits and her boobs are about to bust out of the top. This is one of the most ridiculous outfits I've seen in a long time.
Kim writes on her website:
This Halloween was so much fun!! I decided to go as Princess Jasmine, since I've been wanting to go as her for years and found the perfect costume! I went all out with my Disney theme this year and also got a Snow White outfit that I wore to Kendall's birthday! I'm going to post those pics today too! You'll have to let me know which outfit you like the best!
[From Kim Kardashian.com]
I did a google image search on Princess Jasmine and she wears a more modest bra top with cap sleeves and full wide-leg pants that go up to her stomach. (Here are two Princess Jasmine costumes for adults that are closer to the cartoon character.) I guess if Kim wore pants and her boobs weren't about to pop out we wouldn't be talking about her, though. She wore a still sexy but not as revealing Snow White outfit to her 14 year-old sister's costume birthday party, so she knows how to keep it semi-classy when she needs to.
Tyra Banks dressed up on her show as Kim Kardashian for Halloween, wearing a long wig and cocktail dress and trailing giant cardboard cutouts of Kim's sisters. Another minor celebrity chose to pay tribute to the inescapable Kardashian clan this season. Fashion critic Steven Cojocaru dressed up as Khloe Kardashian on her faux rush wedding day, complete with a replica wedding dress. It's amusing, but still kind of creepy. That's what Halloween is for, I guess.
Meanwhile Jennifer Love Hewitt also donned a sexy Halloween costume and went dressed as a Playboy Bunny. At least she chose an already-sexy theme and didn't try to pervert a Disney character. Hewitt's boyfriend, Jamie Kennedy, posted the pic below to his Twitter account. I hope there's just something off with the lighting and that Hewitt's spray tan doesn't contrast that much with her face.
Photos via ONTD