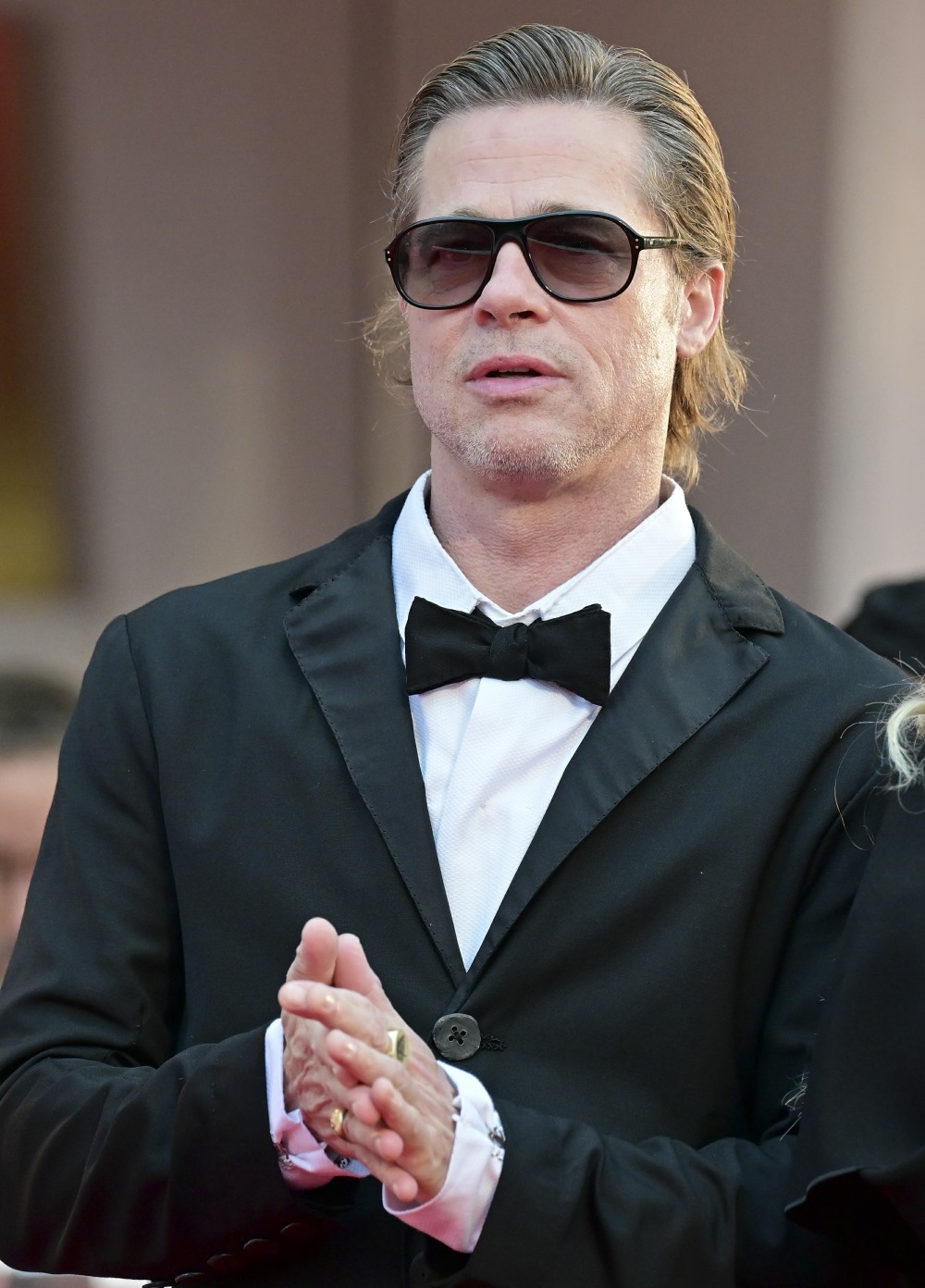 Brad Pitt not only terrorized and abused Angelina Jolie and their six children, he also financially abused Jolie for years, specifically over their jointly-held asset, Chateau Miraval. Pitt was actively trying to cut her out of the Miraval business even though she owned half of it and had tens of millions of dollars invested in Miraval. She tried to sell her half to Pitt last year, only Pitt tried to attach an NDA to the sale so she walked away and sold her half to Tenute del Mondo. Tenute del Mondo is now suing the f–k out of Pitt. French authorities have raided Miraval and there's significant evidence that Pitt has mismanaged Miraval and illegally cut out his new business partners. Well, none of that has stopped Brad Pitt from launching a new Miraval-based business. Pitt recently spoke to British Vogue as he launched Le Domaine, a "genderless" skin care company using grapes from the Miraval vineyard. Some very dumb highlights from this Vogue piece:
Miraval as a creativity hub: "Through the ages, Château Miraval has always been this hub of creativity, it has so many places within it where you want to sit and think and expand and explore, and make beautiful things," he says from one such vantage point in the well-appointed outdoor living area, which overlooks a football pitch he created for his family. That's not necessarily reason enough to get into what is already a very saturated skincare market, Pitt concedes. But Le Domaine's efficacy just might be. "I know there are new products nearly every day that people are trying to launch, but if I hadn't seen a real difference visually in my skin, we wouldn't have bothered."

He never dreamt of launching a skincare brand: "No, and truthfully we wouldn't have done it unless we felt there was something valid here, something original, something that worked. I get sent stuff all the time and… ugh. It's just all the same for me. But this last year we have been testing Le Domaine and I was really surprised by the results, and that for me, made it worth going forward.

On the idea of being a "beauty baron": "If Le Domaine is successful, do we get baron status? Yeah, no, I didn't [imagine that]. Landing here – at Château Miraval – opened up a lot of ideas that I wouldn't have normally considered. And a big part of it is sustainability, this idea of zero waste is something that is really important to this area and important to me. But listen, when we first got here, I mean, I never thought about having a winery either! I just wanted a beautiful base in this area and it happened to have a winery. And it happened to be hemorrhaging tonnes of money. So we had to go to work. And then we went out on a search and found Marc [Perrin] and his family.

On celebrity side businesses: "When I started out it seemed shameful to do a commercial, for some reason. You were called a sell-out. I really think the hip-hop guys changed all of that. They made it okay – even cool – to spread your wings a bit, to try some other things. And now it's really exciting that you can, you know, explore other corners [of your creativity] like the old Renaissance artists in a way. And I love what Gwyneth's done [with Goop]. She is still a really dear friend, and she has built this empire. She has always had that in her as a curator, and it's been a lovely creative outlet for her. In fact, come to think about it, she was probably the first one who got me to even wash my face twice a day… maybe.

Why is Le Domaine's approach genderless? "Again, I don't know if it's just that I believe in being all-inclusive as much as possible? Or maybe it's about us guys needing help from others in understanding how we can treat our skin better? I mean, I probably got more from my female partners in the past. We kept the smell very neutral, very fresh, and very, very subtle. I mean, I'm the kind of person who will change hotel rooms if I can smell the cologne of the last person who stayed there! It's too much! It's too strong! Keep it subtle. Let people come to you. Don't force it on others. That's my feeling (laughs). For smells, I mean. I stand by that for smells!
While I know Brad's CAA publicity team probably banned questions about the Pitt-Jolie divorce and his physical and financial abuse of Jolie, it's still incredibly disappointing to see British Vogue just… completely ignore every single story about Brad's abuse. Not even a roundabout question or statement about the release of the FBI file or the lawsuit against Pitt and Miraval. Is this how it's going to be now? No one wants to miss out on access to Pitt? What shoddy journalism, even for a fashion magazine.
As for the actual interview and "genderless skincare" and whatever the f–k this is, it just reads as parody, honestly. Pitt doesn't know what the f–k he's doing. He has no interest in demonstrating the product, he can't explain why Le Domaine is something new and interesting (Vogue just repeats some product details from the promotional materials, they couldn't even get Pitt to explain it). It's also a f–king joke because the beauty and skincare industries are SO oversaturated right now with celebrity lines.
Photos courtesy of Avalon Red, Cover Images, Backgrid.