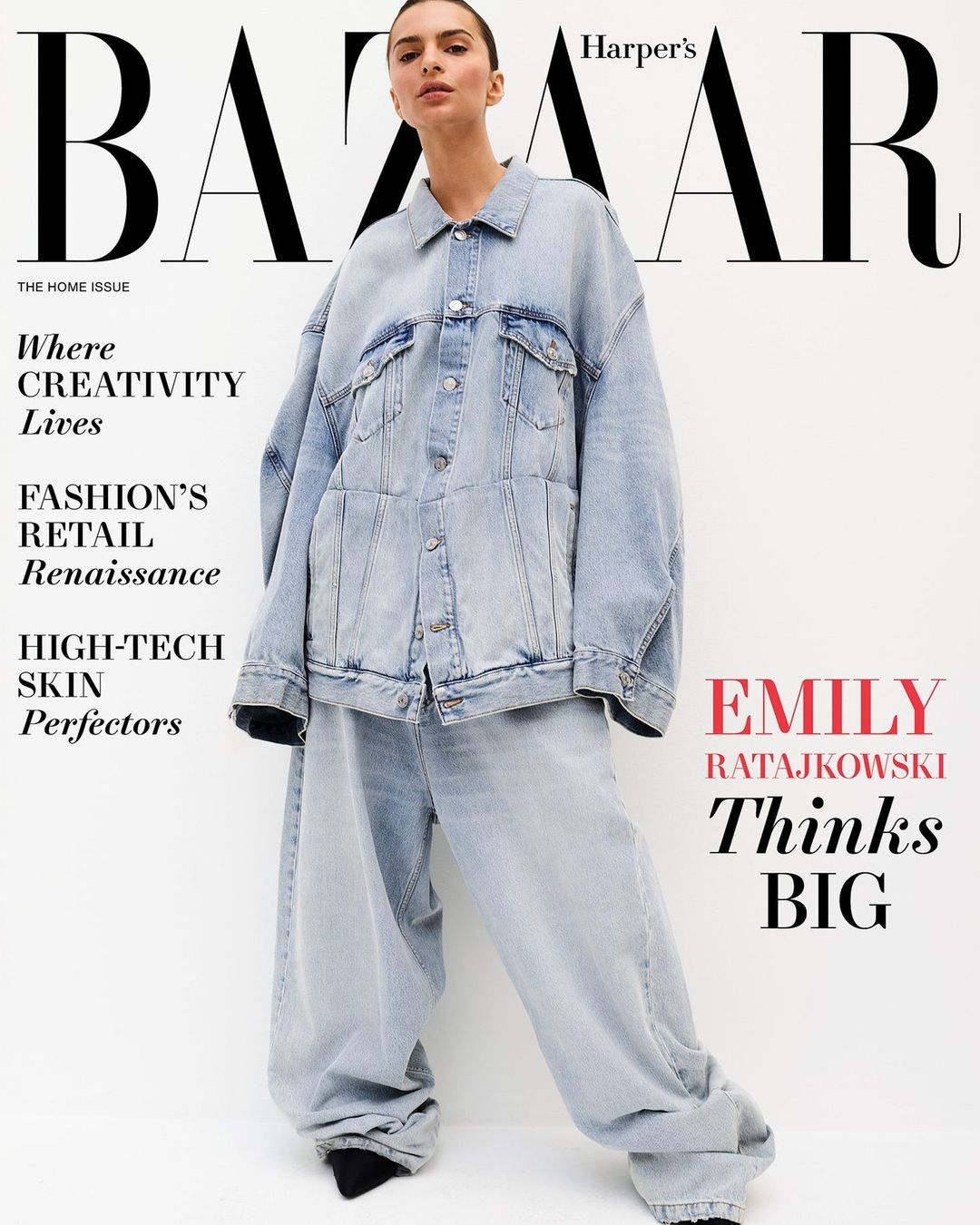 Emily Ratajkowski covers the latest issue of Harper's Bazaar, mostly to promote her podcast High Low with EmRata. She's also, somewhat bizarrely, promoting her TikTok. Emily's had a big year – her memoir, My Body, came out a year ago and people have been discussing it for months. She dumped her gross husband and she's now a single mom in New York. And she's got a popular TikTok and now a podcast. Some highlights from this piece:
She's a multihyphenate: "I say 'multihyphenate' now because when people say 'writer, actor, entrepreneur, activist,' I want to throw up."

Dumping her husband: "I can tell you that I have never been single before… I feel all the emotions. I feel anger, sadness. I feel excitement. I feel joy. I feel levity. Every day is different. The only good thing I know is that I'm feeling all those things, which is nice because it makes me believe that I'll be okay." She confirms that she is dating. "I have gone on dates," she says with a smile. She's not on the apps, "but give me time," she jokes.

Dating wasn't enjoyable for her for a long time. "To use the TikTok phrase, I was a bit of a 'pick-me girl' in the sense that I wasn't very good at deciding what I liked. I really wanted to be chosen. It was hard for me to go on a date with someone and think about how much I did or didn't like them. I would have been thinking about how they were perceiving me, what it meant, what they wanted from me, what it meant about my self-worth. I don't have that anymore. So now it's really fun to go to dinner with someone and be like, 'Cool. I really enjoyed these parts of them. I really didn't like these other parts.' "

Her memoir My Body: "To me, the book is more about what it means to be a woman in a very specific industry that profits from perpetuating certain beauty standards and women's images. I believe the experience I have is what every woman has, just heightened."

If Emily worries she's reinforcing unattainable beautystandards online: "I completely understand that sexualizing myself and putting images out into the world that reinforce the beauty standard is difficult. I'm not trying to shake accountability. But I also don't think I would have sold as many books had I not done that. That's the way the world works. I mean, we all participate in systems that we don't agree with…. If I personally stopped posting pictures of myself, would that change anything?"

On feminism: "I want to be able to have fun with how I present myself in the world without feeling like I'm a bad feminist or a good feminist. Duh. I don't want to be a part of your club if you don't want to have me. It's fine!"

Her son is her top priority: "I've never had such clear priorities before in my life. Number one is Sly, and that's that." Motherhood, she says, has forced her to hold herself to a new standard. "It's made me re-evaluate what's important to me, like, what do I want to teach my son?"

The hustler: "I definitely see myself as a hustler," she says, then clarifies: "I don't hustle people, but I hustle."
That's not what a "pick me girl" is, the way she defines it. She thinks Pick Me Girls are "bad at knowing what they like" and "wanting to be chosen." She might be that kind of woman, but the internet-feminist terminology of a "pick me girl" is "a woman who claims or acts as if she is unlike most other women, in order to gain attention from men." She's the Cool Girl, the "I'm Not Like Other Girls" woman. And make no mistake, Emily is that woman as well. Speaking of, Bazaar asked her directly about Brad Pitt and they dutifully reported: "Ratajkowski's expression is unreadable when I ask if the rumors are true that she's been hanging out with Brad Pitt." That's all that's said. I think it's more than possible that she was totally fine with a domestic abuser and child abuser using her name for PR because she too was using him to promote her podcast.
Cover & IG courtesy of Harper's Bazaar.