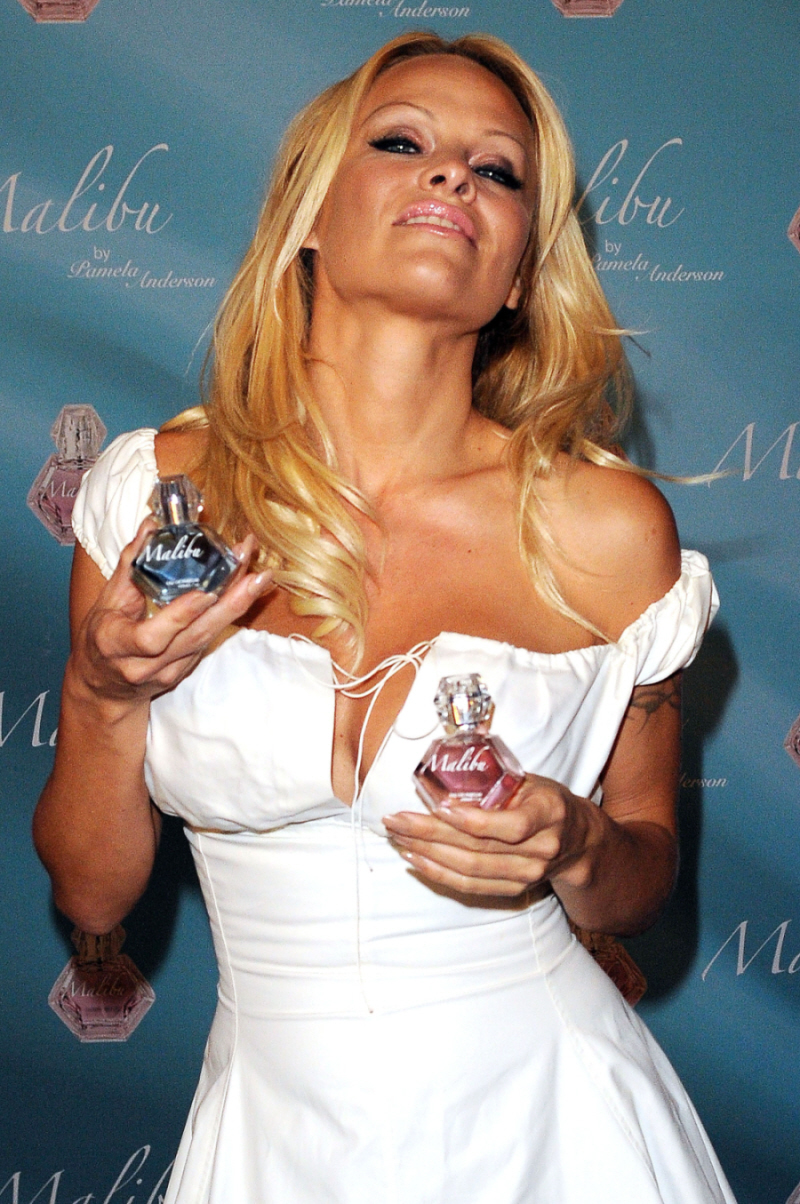 We've got a couple of pieces of Pamela Anderson news today. First up, Pam launched her perfume brand in Miami last week (where these photos are from). What did we end up saying the perfume would smell like? Crisco and tragedy? K-Y Jelly and bleach? Fish and debt? Anyway, at the event, Pam's manager tried to order the photographers at the event to only use the "ring flash" on their cameras. The ring flash does a better job with eliminating shadows and "imperfections" than a normal flash, and I've actually heard that Mariah Carey tries to make similar deals with photographers. But for Pamela to try to do this – well, it just seems sad, doesn't it? There isn't a ring flash big enough to make her look like anything other than an orange, sun-damaged, tragic old wh-re. Here's what Page Six reported:
ARE Pamela Anderson's famous looks fading? At her fragrance launch in Miami, her manager, Peter Asher, demanded that photographers shoot her only with a "ring flash," which eliminates shadows and imperfections.

Asher got in a heated argument with top Miami celebrity lensman Seth Browarnik, who argued that the flash requires a large battery pack and slows the job. Asher then banned him and all others without a ring flash from Saturday's Make-A-Wish Ball. A source said several photographers boycotted the charity event.

A rep for Anderson's fragrance told Page Six, "I can only suggest it is something Pamela wanted." A Make-A-Wish rep said, "In-house photographers were told to use the ring light, but our red carpet was issue-free." Despite the blowup, Anderson persuaded attorney James Ferraro to donate $500,000 on auction items including a Ferrari California.
[From Page Six]
In other Pamela news, she gave an interview about living in a trailer park with her boyfriend and her two sons. Apparently, her sons take after their father, Tommy Lee. The boys, aged 13 and 11, are little terrors. Pam tries to make it sound like "boys will boys" cuteness, but they sound like destructive little bastards to me.
Pamela Anderson is struggling to control her sons as they enter adolescence – they go wild when she's not around to discipline them.

The former Baywatch star is currently living in a beachside trailer with Brandon, 13, and Dylan, 11 – her kids with wildman rocker Tommy Lee – while their nearby home in Malibu, California is being renovated. And Anderson's boys are so much trouble she now worries about scheduling work commitments out of town and leaving her mom, Carol, to look after her sons – because they're beginning to take after their rock star father. She says, "Boy, they're so feisty. When I get home and I'm not home for a couple days, they gotta be put back in their bodies immediately."

"They got in trouble because my children are riding their dirt bikes through the whole trailer park, going crazy, doing flips – and everyone's concerned for their safety. And mom's like, 'Oh, they've been riding the whole weekend, they're having a blast!' I was like, 'They're not allowed to ride their dirt bikes in the trailer park!' They terrorize the neighborhood the whole time."

She adds, "My son got in trouble at school for beating somebody up. Well, not really beating somebody up. Just one of the counsellors, who's 18 or 19, made a rude comment about me to him. Brandon threw his Red Bull (drink) on him and then went after him and they had to peel him off him. Now I'm getting called into school.

"But I think when somebody says something bad about your mother, what are you supposed to do? It is hard when other kids are like, 'I've seen your mom with her clothes off!' I've tried to teach my kids I have no problem with nudity. Violence isn't good but Brandon was really upset, he was shaking and crying and looking in my eyes. It's so sad."

Pamela on ex husband and father of her 2 boys Tommy Lee: "You can't get heartbroken any more over all the disappointments or how he is as a father or anything like that. He doesn't think he's doing anything wrong. I do tell him the truth, but it's been 10 years of suffering over him so I'm over it.

"Whatever it is, it is – as long as my kids are happy and we're happy and we're safe, let him run around the world. I support him."

When asked if she'd ever give Lee another chance, Anderson adds, "No. No way. I have no interest at all."
[From Hollywood Rag]
Ugh. Is there really anything else to say about Pam? At one point, I might have felt really bad for her sons – simply because it must really suck to have Pam and Tommy as parents – but I don't have sympathy for the kind of hell raising shenanigans that Pam is talking about. And I do think Pam's attitude is part of the problem! Instead of setting limits (because even boys that age need limits), she's just kind of like "well, what can I do?" You can try putting on some clothes, putting down your substitute phallus/perfume bottle, and actually attempt to be a mother.
Pamela Anderson launches her new perfume 'Malibu' at the W Hotel in Fort Lauderdale, Florida on November 5, 2009. She really is handling that bottle like she's about to get a money shot. Credit: WENN.