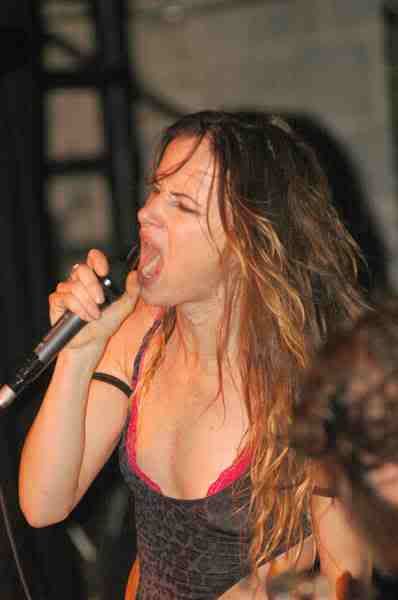 Juliette Lewis' career hasn't really taken off since she dated Brad Pitt in the early 90s. She's appeared in minor roles in several comedies and has worked steadily, but doesn't have any television or film roles out this year. That may be because she's busy with her music career. She's had success as the lead singer for the punk band "Juliette and The Licks," and is known for her half-dressed wild stage antics.
Juliette was out a bar recently when she dropped hints that Brad Pitt's manhood is nothing to write home about. She said he wasn't a big, emphasis on big, deal in the sack:
After playing a rockin' set with her band at club Chop Suey in Seattle… Juliette Lewis – who was hot 'n heavy with hunky Brad Pitt back in the Stoned Age – was mingling at the bar when a wiseguy fan blurted: "Hey, Juliette, how was Brad Pitt in the sack anyway?" Stunned for a second, she flashed a mischievous grin and purred: "He was no… BIG deal, if ya know what I mean!" As Juliette turned to head back on stage, the guy yelled: "Are you saying Brad was the PITTS?" Juliette started laughing so hysterically she banged into a table and sent everyone's drinks flying – but quickly ordered a round on her and hopped back onstage, still giggling.
[From The National Enquirer, Mike Walker's column, print edition, December 17, 2007]
I bet Brad is probably average. He's 5'11″ tall and although I couldn't find his shoe size, George Clooney joked that his feet were small when they were immortalized in cement in front of Grauman's Chinese Theater in Hollywood.
So who's got the bigger feet, Pitt or Clooney?

"He's got very small feet," said Clooney, in mock seriousness. "I don't want that out, 'cause you know how those rumors can start."
[From Showbuzz.cbsnews.com]
I might be on the wrong track in trying to judge Pitt's manhood by his height and foot size. Menshealth on About.com says you can't judge penis size by the size of a man's hands or feet, but they don't elaborate. Here's a scientific study from 2002 (link is to PDF File) that found no relation between foot size and penile length among 104 men studied. So is Brad Pitt poorly endowed? We only have Juliette Lewis' word for it.
Juliette is shown performing with The Licks on 11/17/07, thanks to PRPhotos.