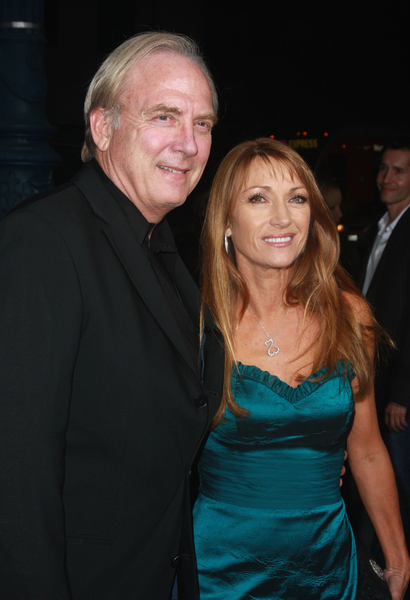 Actress Jane Seymour, described by the townspeople of Bath, England as the "Neighbor from hell" has sold her palatial 700-year-old mansion despite winning a long court battle against town residents over the mansion's 24-hour liquor license. Jane and her husband James Keach bought St Catherine's Court in 1984 for about $700,000 (USD) and just sold it to a mystery buyer for a reported $20 million (USD). Not a bad profit. The couple purchased the house after Jane fell in love with it while filming a movie there. But Seymour and Keach live in Malibu and only spent about three months of the year at St. Catherine's, choosing to rent it out for upscale parties during the other nine months. Unfortunately this didn't sit well with the residents of Bath, who complained of being disturbed by loud parties and drunken revelers. When Seymour applied for a 240hour liquor license in May, residents stepped up their protestations, taking their complaints not just to the council but to the media too – and they did a pretty good job, getting national attention about the "neighbor from hell." Though Seymour recently won the permit, apparently she's soured on the home.
Jane Seymour has thrown in the towel and sold her country mansion after a long-running battle with villagers over late-night parties. The 56-year-old former Bond girl was described as 'the absent neighbor from hell' for the traffic and noise problems caused by revelers. Miss Seymour only lived at St Catherine's Court near Bath for about three months of the year. At other times, she rented out the 13-bedroom Elizabethan manor house for private parties and corporate functions, which neighbors claim repeatedly disturbed their tranquility.

She has now sold the Grade I listed property through an agent for an undisclosed sum, despite recently winning a court fight with residents over her 24-hour alcohol license at the mansion. Precisely what prompted the sale remains unclear, but some believe that she may have tired of the dispute with locals.
[From the Daily Mail]
The neighbors had planned marches to Seymour's home several times and left petitions with hundreds of signatures in an attempt to get her to stop with the loud parties. Makes it sounds like she's a raucous teenager. Bath is a small, quaint, very old town that's mostly paved with single lane cobblestone streets. The large influx of traffic from the parties snarled the roads and made it nearly impossible for residents to drive whenever a party was going on. Residents complained that Seymour ignored them, since she was never there to be inconvenienced. "St Catherine's Valley residents plan a march on her home on Sunday to hand over a petition of hundreds of signatures."
Jane Jones, 53, tells ThisisLondon: "She just ignores our letters and doesn't answer the door. "They are the absent neighbors from hell. She will go back to America and just count the money while the rest of us have to live here and put up with the disruption."
[From Monsters and Critics]
Seymour was probably wise to pack up and move out. It's a shame, because St. Catherine's is an absolutely stunning home. I'm a sucker for real estate. But when you piss off an entire town, it's not going to be a pleasant, relaxing experience when you come for your annual vacation. And while it doesn't exactly sound like there were rabid teenagers blaring their rock and roll from the open windows, it makes sense that being practically unable to leave your home and go about your regular activities because Jane Seymour wants to have a party isn't really fair either.
Picture note by Jaybird: Here's St. Catherine's Court. Header image of Jane Seymour and husband James Keach at the Reservation Road Premiere on October 18th. Photos thanks to PR Photos.