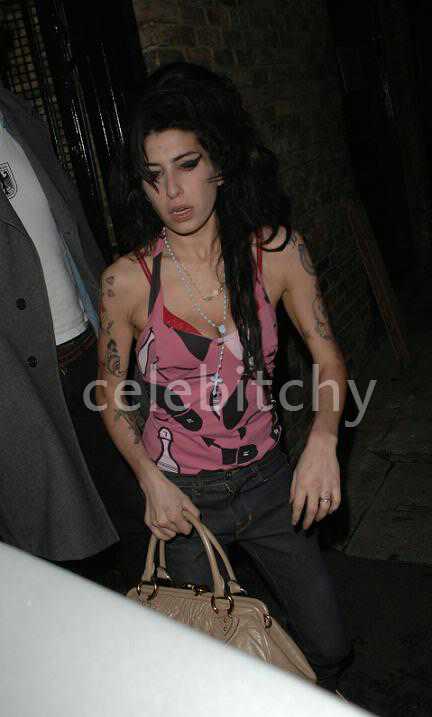 I really relish the Amy Winehouse stories. You always need that person who is so messed up that you look like a saint in comparison. I could be having the worst day of my life, but I can still say, "Hey, at least I didn't snort some blow and then walk around through the streets of London in the snow with no pants and a thong on my forehead like Amy Winehouse." Okay technically Winehouse hasn't done that yet, but that's probably only because it hasn't snowed yet in London this year. Give it a few more months, and I guarantee you it'll happen. Though it'll probably also somehow involve her bloody ballet slippers.
On Wednesday, Amy got dressed up all purdy to visit her husband in jail. And by dressed up, I mean some kind of pink halter top, that now-infamous red push-up bra she was wandering around wearing on the street a few days ago, and a surprisingly well-coiffed beehive. Home only half an hour later, she was crying, looking disheveled, and had lost her keys. Despite the throng of paparazzi outside her home, Amy thought it smart to lay on her back on the wet street (still in the aforementioned halter top) and slide under the gate. Because what celebrity doesn't do that now and again?
Lying on her back on a wet pavement and in a flood of tears troubled Amy Winehouse has certainly lost something. But on this occasion, however, the only thing the fallen star noticed was missing was the keys to her house. Amy, 24, today returned to the property she shared with locked-up husband Blake Fielder-Civil after moving out on Monday claiming it held "too many memories".

After a 30-minute visit to the jailbird in London's Pentonville Prison earlier this afternoon the crying jazz singer realised she had no way of getting in. However, never one to eschew drama, Amy decided the best way of getting inside would be to crawl under the courtyard gates. So, with the waiting crowd of paparazzi who have become a daily feature of her life, she lay down on the wet pavement and wriggled through.

The extraordinary gate scenes are the latest example of the star's increasingly erratic behaviour recently. At 4.15am this morning she was pictured making a dash to a 24 hour store in Bow to pick up a giant box of ice pops.
[From the Daily Mail]
At what point does someone get declared legally insane in England? Because I'm pretty sure that – whatever that point is – Amy is well beyond it. I think she may be crazier than Britney Spears. She's just not endangering the lives of innocent little children, thank God. Amy is so off her rocker that I can't really tell if she's trying to get attention, or is just so out of it that she doesn't notice – or care – that the paparazzi is photographing her wandering around without shoes at two in the morning… which happened not once but several times last week. I hate to say it, but I'm starting to agree with what a lot of our commenters are saying… if she keeps this up, she's not going to be around for much longer.
Picture note by Jaybird: Here's Amy right before she slid under her gate. You can see photos of her actually sliding under on the Daily Mail's website. Images thanks to Splash Photos.