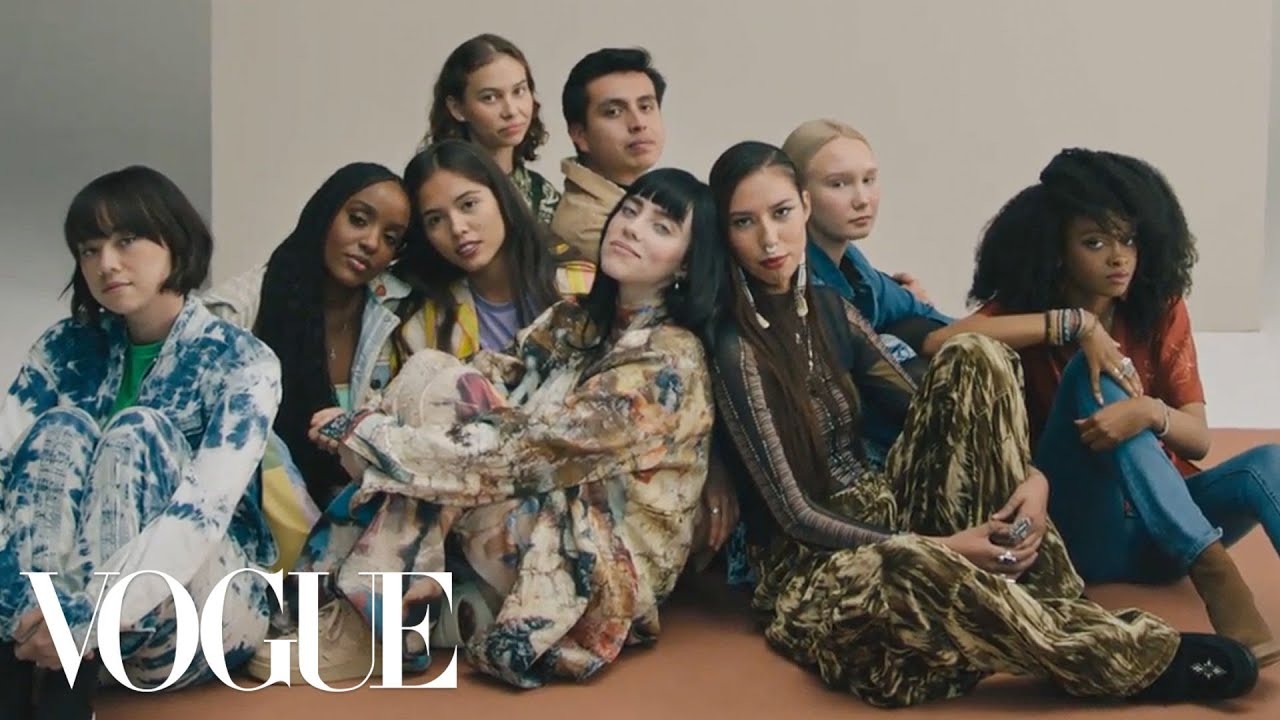 I took a break from covering Billie Eilish and her interviews for a bit because she was getting pretty repetitive and exhausting. I'm sure Billie exhausted herself too – every little thing about her life and work was overanalyzed by her fans, she was giving confessional interviews every week and no one wanted to actually give her the space to grow up, change and mature as a woman and as an artist. But some stuff did change for Billie over the past year: she got a boyfriend, she started accepting and loving her body more and she's been learning how to be a better and more effective activist for the issues she cares about, like environmentalism. Billie is Vogue Magazine's first ever "cover video," and she used the Vogue cover story to shine a spotlight on a dozen other young climate activists' work. This interview was pretty good. Some highlights from Billie:
Turning 21, getting out of her teen years: "Going through my teenage years of hating myself and all that stupid sh-t, a lot of it came from my anger toward my body, and how mad I was at how much pain it's caused me, and how much I've lost because of things that happened to it. I got injured right after we made 'Ocean Eyes,' so music kind of replaced dancing."

She has hypermobility: Years of subsequent lower body injuries, and just as many misdiagnoses, increased the alienation Eilish felt in her own skin before she discovered, through her movement coach, Kristina Cañizares, that she has a condition called hypermobility. "I felt like my body was gaslighting me for years. I had to go through a process of being like, My body is actually me. And it's not out to get me."

Her environmental activism: "I've spent all of my effort trying not to be in people's faces about it. Because people don't respond well to that. It makes the causes that you believe in look bad, because you're, like, annoying the sh-t out of everybody." But she has tried to educate people. During 2022's Happier Than Ever world tour, Eilish set up Eco-Villages at her concert venues in partnership with Reverb, a nonprofit that has "greened" the tours of other acts and artists like Maroon 5 and Harry Styles. Inside those spaces, fans could fill their water bottles for free, register to vote, and learn about environmental nonprofits, with an emphasis on BIPOC- and women-led organizations. "I'm still not shoving information down people's throats. I'm more like, I'm not going to tell you what to do. I'm just going to tell you why I do this. But you're also a bad person if you don't do it."

She's not an environmentalist for clout: "I don't want to be parading around like, Look at me! I'm making a difference. I just want to be making the difference and shutting the f–ck up about it. I shouldn't be making any products. I shouldn't be selling anything. It's just more sh-t to go into the landfill one day. I know that. But no one's going to stop wearing clothes. No one's going to stop making stuff. So I just do it in the best way I possibly can."

She refuses to buy or use private planes: "I have to take planes. I hate it," she says of touring's environmental impact. Unlike other musicians of her stature, Eilish refuses to fly private and is committed to finding unusual workarounds for travel. Her determination to reduce her carbon footprint resulted in 8.8 million gallons of water saved, and 15,000-plus tonnes of CO2 neutralized, which Reverb's recently released tour impact report says is "equivalent to taking 3,000 homes off the electric grid for a year."

Her longterm goals: "We all wish that we could just do it ourselves. I wish I could just make changes in my life and save the world alone. Grow my own food and live off the grid. Erase my carbon footprint. But all that does is erase me. When really, if every single person just did half of what they should do, we could fix this."
I didn't know that Billie refuses to fly on private planes. Good for her. Good for her for taking the time to figure out work-arounds to flying too, a lot of touring musical acts would simply buy or rent a private plane for the sheer convenience of it. I laughed at this: "I just want to be making the difference and shutting the f–ck up about it." She participated in Earthshot, you know. But she wasn't one of the celebrities flying into Boston this year – she recorded her performance virtually, which is how all of the Earthshot winners and finalists appeared too. Prince William is an example of someone who is only an environmentalist for the clout – he doesn't want to make a difference, he just wants to talk about how HE deserves credit for being a keen environmentalist. Also: "I shouldn't be making any products. I shouldn't be selling anything. It's just more sh-t to go into the landfill one day. I know that." Ouch – guess we're never going to get that Eilish lifestyle brand full of plastic tchotchkes.
Billie covers @voguemagazine, discussing community, justice, and the future of the planet with 8 young climate activists and organizers. Directed by Mike Mills for Vogue, January 2023. https://t.co/5gf1ovNHOg pic.twitter.com/YA8os47Zmb

— billie eilish (@billieeilish) January 4, 2023
Photos courtesy of Avalon Red, Vogue.

LOS ANGELES, CALIFORNIA, USA – DECEMBER 04: Singer Billie Eilish arrives at the Variety 2021 Music Hitmakers Brunch presented by Peacock and Girls5eva and sponsored by IHG Hotels and Resorts held at the City Market Social House on December 4, 2021 in Los Angeles, California, United States.,Image: 646425196, License: Rights-managed, Restrictions: , Model Release: no, Pictured: Billie Eilish, Credit line: Xavier Collin / Image Press Agency / Avalon
LOS ANGELES, CALIFORNIA, USA – DECEMBER 04: Singer Billie Eilish arrives at the Variety 2021 Music Hitmakers Brunch presented by Peacock and Girls5eva and sponsored by IHG Hotels and Resorts held at the City Market Social House on December 4, 2021 in Los Angeles, California, United States.,Image: 646425527, License: Rights-managed, Restrictions: , Model Release: no, Pictured: Billie Eilish, Credit line: Xavier Collin / Image Press Agency / Avalon