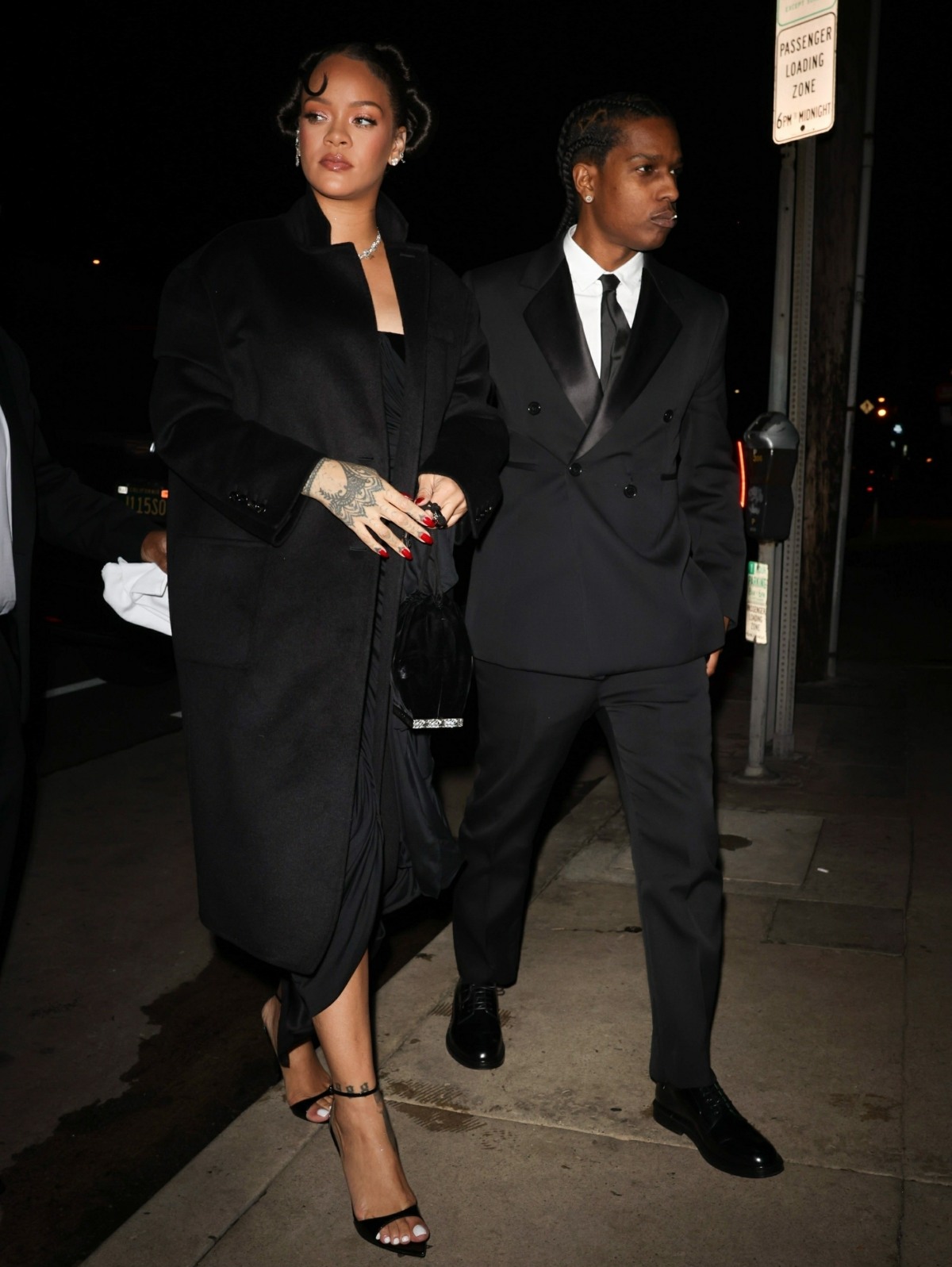 In the before-times, the Golden Globes were a real dinner and waiters were always scurrying around, serving people food and bringing out wine bottles and champagne to ensure a well-lubricated awards show. Nowadays, the Globes are a budget affair with a buffet of sad-looking sandwiches and a veggie plate, and A-listers have to serve themselves. That's why it's so funny to me that Rihanna attended the Globes and afterwards, she immediately headed out to her favorite restaurant, Giorgio Baldi. Rihanna took one look at that sandwich buffet and said "hell nah."
From what I can tell, Rihanna made a pit stop to change in between the Globes and Giorgio Baldi. At the Globes, she wore the Schiaparelli SS22 dress and paired it with a "custom-made silk drápe, the 'Intrigo Strap' by Giuseppe Zanotti." She and ASAP Rocky didn't even walk the Globes red carpet either – they just turned up at the show and sat at the Wakanda Forever table (Rihanna's song for Wakanda Forever was nominated). It was a good look, honestly. Rihanna will perform at the Super Bowl in less than a month!
Rihanna wore a Schiaparelli SS22 dress to the #GoldenGlobes last night. She combined the look with a custom-made silk drápe, the "Intrigo Strap" by Giuseppe Zanotti and the "Viv" bag by Roger Vivier. Via @riristyleguide. https://t.co/vH8EYGUWah pic.twitter.com/ZWnuwaDE7K

— Fenty Headlines (@FentyHeadlines) January 11, 2023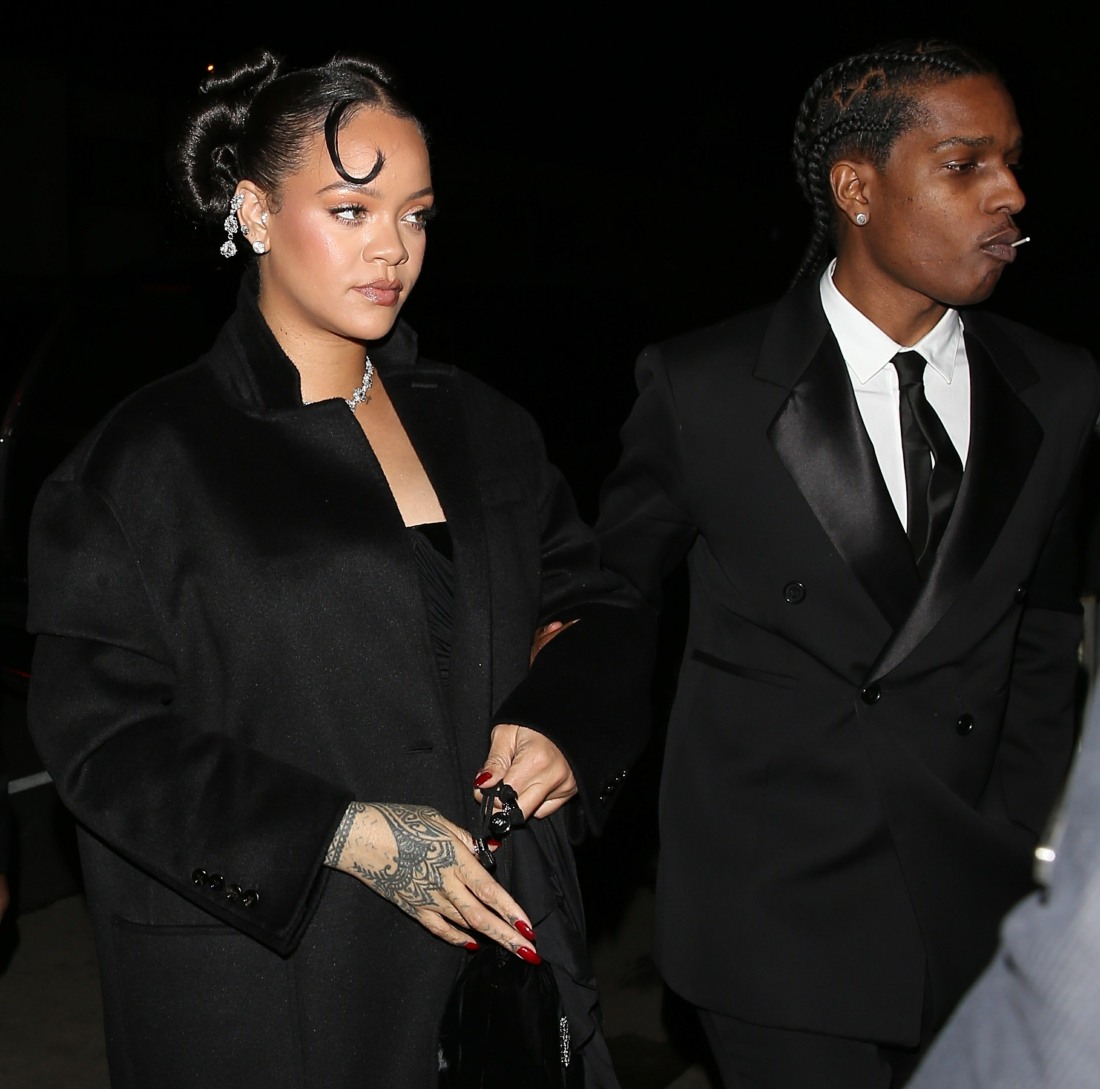 Photos courtesy of Backgrid, Instagram.

Santa Monica, CA – Singer Rihanna and ASAP Rocky are all dressed up as they head to Italian restaurant Giorgio Baldi for dinner after attending the 2023 Golden Globe Awards in Santa Monica. Pictured: Rihanna, A$ap Rocky BACKGRID USA 10 JANUARY 2023 BYLINE MUST READ: 1 / BACKGRID USA: +1 310 798 9111 / usasales@backgrid.com UK: +44 208 344 2007 / uksales@backgrid.com *UK Clients – Pictures Containing Children Please Pixelate Face Prior To Publication*
Santa Monica, CA – Singer Rihanna and ASAP Rocky are all dressed up as they head to Italian restaurant Giorgio Baldi for dinner after attending the 2023 Golden Globe Awards in Santa Monica. Pictured: Rihanna, ASAP Rocky BACKGRID USA 10 JANUARY 2023 BYLINE MUST READ: ShotbyJuliann / BACKGRID USA: +1 310 798 9111 / usasales@backgrid.com UK: +44 208 344 2007 / uksales@backgrid.com *UK Clients – Pictures Containing Children Please Pixelate Face Prior To Publication*
Santa Monica, CA – Singer Rihanna and ASAP Rocky are all dressed up as they head to Italian restaurant Giorgio Baldi for dinner after attending the 2023 Golden Globe Awards in Santa Monica. Pictured: Rihanna, ASAP Rocky BACKGRID USA 10 JANUARY 2023 BYLINE MUST READ: ShotbyJuliann / BACKGRID USA: +1 310 798 9111 / usasales@backgrid.com UK: +44 208 344 2007 / uksales@backgrid.com *UK Clients – Pictures Containing Children Please Pixelate Face Prior To Publication*