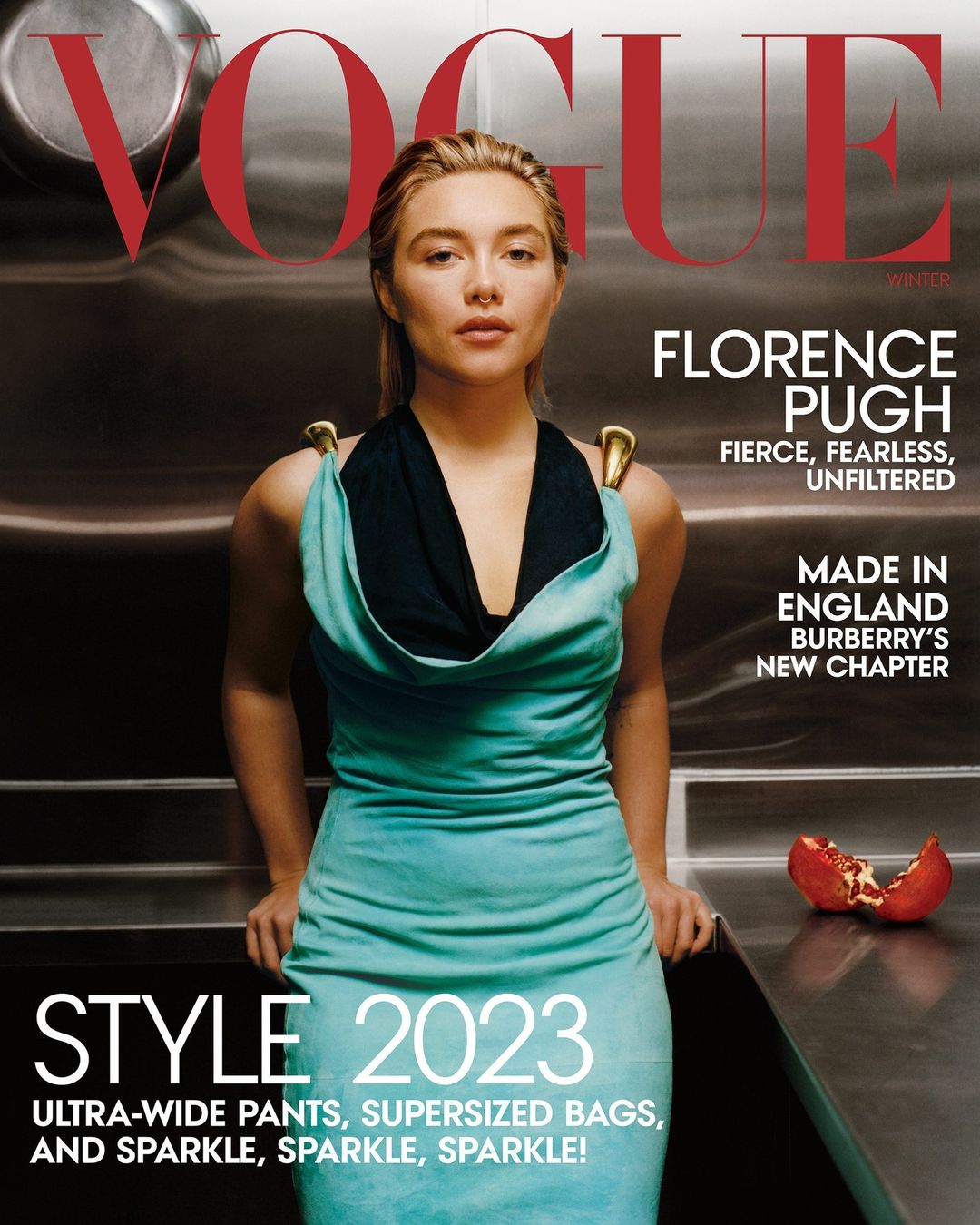 Florence Pugh covers the February issue of American Vogue. The cover interview is fine – nothing groundbreaking, nothing scandalous, and Pugh comes across as very warm, down-to-earth, family-oriented and capable. But as I got to the end of the piece, I realized something funny: for all of the boxes being checked off, future projects, upcoming movies, holiday plans, a notable breakup, nowhere does Pugh discuss Don't Worry Darling or Olivia Wilde. Florence really said: that's over, I'm done with it and I'm never mentioning it again. In the middle of the piece, Vogue does note: "Last year, she starred, alongside Harry Styles, in Olivia Wilde's ill-fated Don't Worry Darling—an experience about which perhaps the less said the better, given the volume of uncharitable speculation that has attached itself to the film. Pugh certainly doesn't want to discuss any of it." In exchange (I'm assuming) for not spilling that tea, Zach Braff appears throughout the cover story. Granted, he directed a film with Florence as the lead (out in March), so he has a reason to be quoted. But they did break up last year! Anyway, you can read the full Vogue piece here. Some highlights:
Her unselfconscious childhood: "We were always naked as kids… We are human, we are bodies. Yes, I can put makeup on and look good for a premiere. But at the end of the day, I still have hair on the top of my lip and I still smell after a workout and I still get spots when I'm stressed. I think that attitude definitely has trickled down from when I was a child."

Getting her t-ts out on the red carpet last year: "I've never been scared of what's underneath the fabric. If I'm happy in it, then I'm gonna wear it. Of course, I don't want to offend people, but I think my point is: How can my nipples offend you that much?… It's very important that we do this. I know that some people might scoff at me saying that, but if a dress with my breasts peeking through is encouraging people to say, 'Well, if you were to get raped, you would deserve it,' it just shows me that there's so much more work to do."

She would never lose weight just to look good: "I'm never losing weight to look fantastic for a role. It's more like: How would this character have lived? What would she be eating?"

The fluke: "Every single version of getting into this industry is a fluke. Because there are no guarantees—in any way."

She finally bought her own home in London: "You know, you have a daydream when you start out: What is it that means you've made it? What is it that means you are an adult? And for me it was: You live close to your friends and you have a local pub. And because I didn't do that when I was young, because I didn't go to university, it meant that for all of my adult years of working and my adult years living abroad, I still, in my mind, hadn't got all the pieces together."

Her breakup with Zach Braff: "It's all very new. My breakup has been very new, so I'm figuring that out."

People criticizing her 21-year age difference with Braff: "We weren't in anyone's faces. It was just that people didn't like it. They imagined me with someone younger and someone in blockbusters. I think young relationships in Hollywood are so easily twisted because they add to the gossip sites. It's exciting to watch. And I think I was in a relationship that didn't do any of that."

Braff on Pugh: "I quite simply think she's one of the greatest actors of her generation. She's just magnetic. You cannot take your eyes off of her. And it's not just her beauty and it's not just her acting ability, it's that thing, that magic thing that transcends the screen, where anyone and everyone goes: I want to see whatever this person does."
Is Pugh one of the best actresses of her generation? She's 27 years old. I think it's a little early to make a declaration on that generation, but I do think she's incredibly talented, and by all accounts, she's very professional. That was one of the issues on Don't Worry Darling – Florence was the one who was there to do a job, while her director f–ked around with her leading man and bad-mouthed Pugh to Shia LaBeouf. While I think it's hilarious that Pugh won't even deign to speak about DWD, she came out of that debacle smelling like a rose, with her professional reputation entirely intact. As for the Braff stuff… I still think she was the one who was bothered by their actual age difference, and that's why she sometimes overreacted to people going "ew, he's so old, that's gross."
Cover & IG courtesy of Vogue.