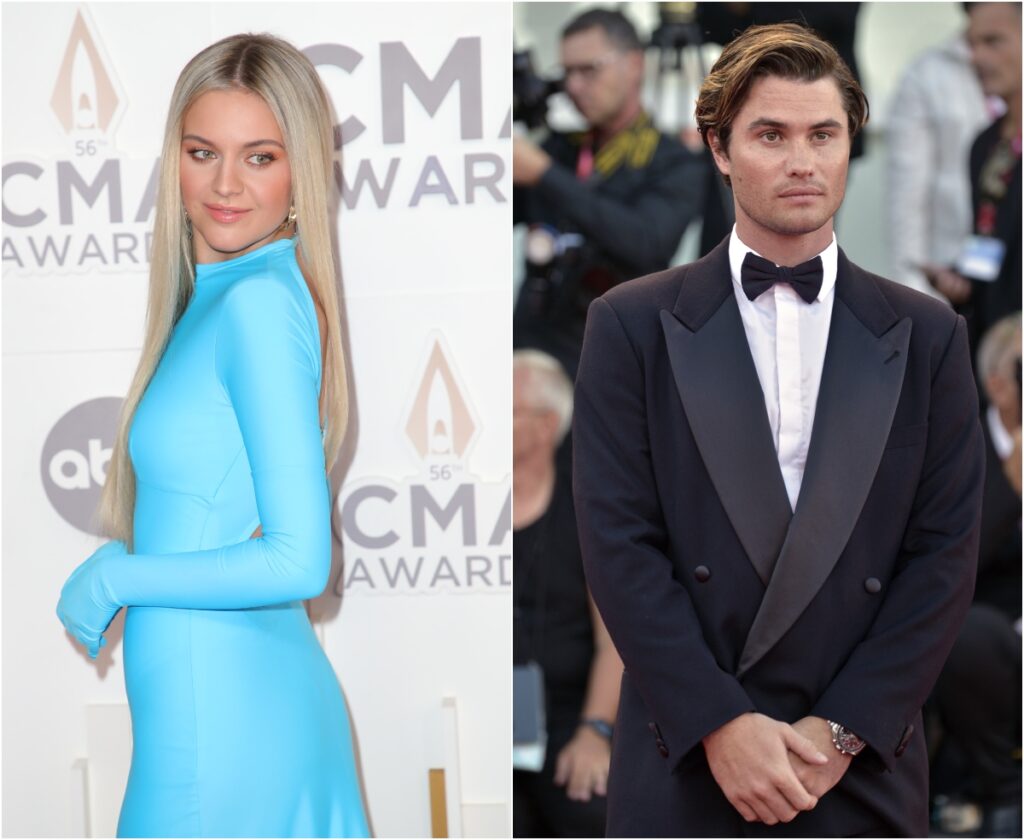 Kelsea Ballerini split from husband Morgan Evans last August. It's been a relatively quiet split. We know it hit Morgan particularly hard but there didn't appear to be any wrong-doing or squabbling in the media. Cut to four months later, Kelsea seems to be moving on with a new beau. Earlier this week, Kelsea and Outer Banks star, Chase Stokes, left a little bread crumb trail for fans in their respective Instagrams. Kelsea tagged Chase in a photo of her wearing a Knoxville ball cap to which he replied "I like dat hat ma'am." Over on Chase's IG, he posted a pic of two folks canoodling and tagged Kelsea in it. Okay, so they were pretty big bread crumbs. When fans went out of their minds, Chase confirmed things by saying Kelsea was a "sweet girl" and that they were having a good time.
It's the little things! Chase Stokes couldn't help but gush over Kelsea Ballerini after the pair sparked rumors of a budding romance.

"She's a sweet girl," the Outer Banks actor, 30, told TMZ of the country singer, 29, on Tuesday, January 17, revealing what drew him to connect with Ballerini. "We're having a good time and that's all I'll say."

Stokes and the "Peter Pan" artist sent social media into a frenzy earlier this month when they tagged each other in photo dumps shared via their respective Instagram accounts. In the Netflix star's upload, the twosome appeared to get cozy while watching a football game.

"Lil recap," he captioned the slideshow on Friday, January 13, to which Ballerini replied, "Go vols 🙈."

The "I Can't Help Myself" artist shared a carousel of her own the same day, teasing in the caption, "New boot goofin." Among the photos included in her post was a snap of Ballerini standing outside of a Buc-ee's in a red dress and matching cowgirl boots, along with a pic of her wearing a baseball cap that repped Knoxville, Tennessee.

"I like dat hat ma'am," Stokes wrote in the comments section.

The twosome were previously spotted together on January 9 at the College Football National Championship Game in Los Angeles.
Kelsea, on the other hand, had a bigger response. Probably because she got a bigger reaction. When her feed became overrun with people questioning every part of the photographic evidence presented to them, she went to TikTok and threatened to break up with the internet:
I guess fans keep pairing her with any guy she sits next to. And one of the comments in the TikTok background called the whole thing a PR stunt. It's not shocking that Chase is getting "aw, how nice" replies and Kelsea is besieged by negative comments and accusations. It must be nice to exist as a man. So called fans are supposedly worried about Kelsea's busy schedule due to her HEARTFIRST tour but checking out Chase's IG, he's pretty hot. My guess is his followers just don't want to see him off the market.
But, it looks like he is spoken for, at least for now. This thing has just gotten started so who knows how serious it is. I'll take Chase at his word that they're feeling things out. Kelsea's just coming out of a five-year marriage and her star is rising. Chase is enjoying his leading man status. So they're attractive and hitting their strides career-wise, it's the perfect time for a heated romance. Plus, they both seem to be football fans, so they have that in common. I say go for it. Of course, I know very little about them so I'm sure that as soon as I give my approval I'll learn that one or both of them are problematic. Until that's unearthed, I want to be happy for these two.

OUTER BANKS (L to R) CHASE STOKES as JOHN B in episode 207 of OUTER BANKS Cr. COURTESY OF NETFLIX © 2021
Photo credit: Instagram and Netflix/Outer Banks