Anne Hathaway was at Sundance over the weekend with her latest project Eileen. She wore this corseted Versace puffer coat over her LBD. I want to laugh off the concept of a corseted down jacket but Anne's pulling it off. I love the look. The film is based on the book by Otessa Moshfegh about a staff psychologist and secretary who work at the same prison in the 1960s and form a "homoerotic bond," according to Variety. The film is being promoted as a darkly funny thriller and it was well received at Sundance, so I'm intrigued enough to look for reviews. While doing Q&As over the weekend, Anne told reporters that when she was just 16 years old, a reporter asked her if she was "a good girl or a bad girl?" Ew. Do we even need to ask if it was a male or female reporter?
Anne Hathaway said she was asked if she was a "good girl or a bad girl" by a journalist when she was just 16.

"I just remembered one of the very first questions I ever got asked when I started acting and had to do press was: Are you a good girl or a bad girl?" Hathaway said, according to Variety. "I was 16. And my 16-year-old self wanted to respond with this film."

Based on the 2015 novel of the same name by Otessa Moshfegh, "Eileen," a thriller, follows a young woman living a grim life in Boston in the 1960s. While working at a prison, a woman named Rebecca (Hathaway) joins the staff and changes Eileen's life.
"Are you a good girl or a bad girl?" women are either asked or assigned these labels far too soon and too often and those labels stick with us. They do damage at any age, but certainly to someone at the age of 16. And it's not just the overt sexualization of the question, although that certainly made my skin is crawl, but the fact that most teen women struggle with self-worth and that question is loaded in so many ways. I hate all of this. Anne said above that "my 16-year-old self wanted to respond with this film," to that reporter. I hope her character gets to do something terrible to a reporter in it. Doesn't have to be physical, but have them fired, at least.
The film does sound intriguing and Anne can play messed up characters well. I am possibly the only person who was not enthralled with Lapvona, which is another Ottessa Moshfegh book that everyone raved about. I haven't read Eileen but I like dark thrillers. And Anne said she took the job because she liked "the female complication" in the story. She also felt director William Oldroyd was the right choice to handle the material so I'm relying on her judgement here.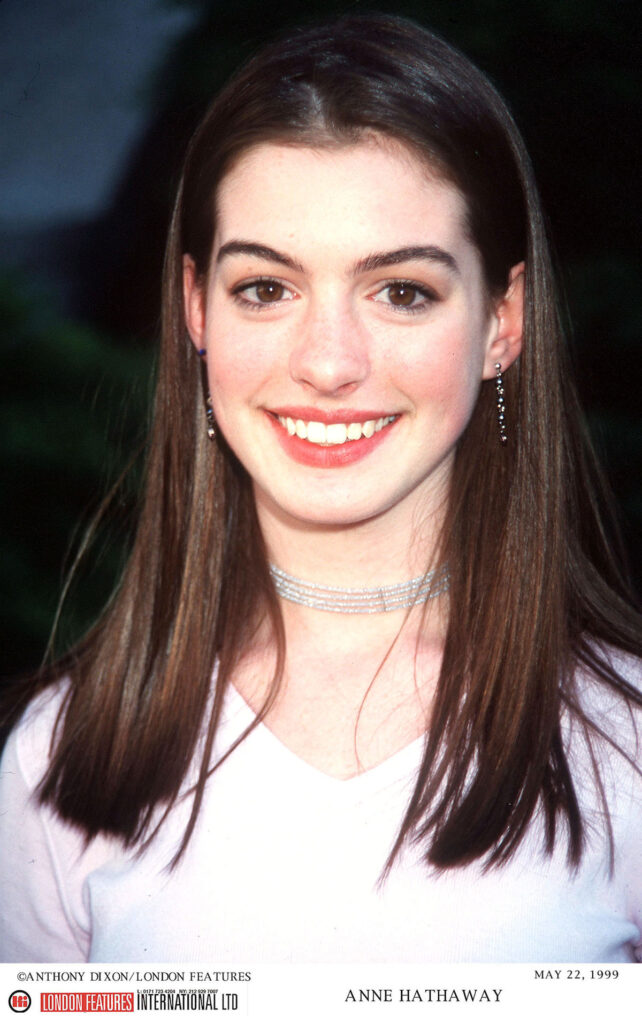 ACTRESS ANNE HATHAWAY. 22 MAY 1999. UCAMP,Image: 544792603, License: Rights-managed, Restrictions: WORLD RIGHTS – Fee Payable Upon Reproduction – For queries contact Photoshot – sales@photoshot.com London: +44 (0) 20 7421 6000 Florida: +1 239 689 1883 Berlin: +49 (0) 30 76 212 251, Model Release: no, Credit line: George Campos / Avalon
New York, NY – Anne Hathaway's smile is contagious! The actress looks stunning in a bright yellow dress, and she can't help but smile as she shares her appearance on Watch What Happens Live with Andy Cohen. Pictured: Anne Hathaway BACKGRID USA 12 OCTOBER 2022 BYLINE MUST READ: JosiahW / BACKGRID USA: +1 310 798 9111 / usasales@backgrid.com UK: +44 208 344 2007 / uksales@backgrid.com *UK Clients – Pictures Containing Children Please Pixelate Face Prior To Publication*
Photo credit: Instagram, Avalon and Getty Images