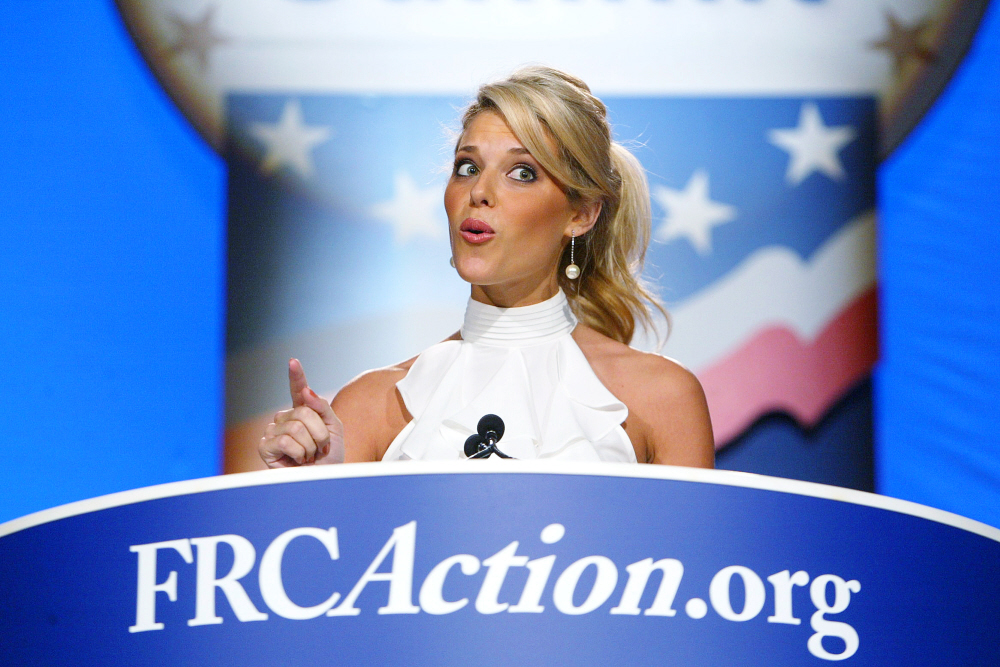 Carrie Prejean's media tour continues! In this episode, Carrie speaks to Christianity Today about how she's carrying out God's plan, and how Jesus thinks plastic boobs are kosher. For real! It's pretty funny actually, and I guess the best thing I can say about the interview (full article here) is that she didn't throw a tantrum and act like a petulant child. Also, the Huffington Post points out that she is still playing around with the whole sex tape timeline again when she describes her transfer to a more Jesus-y college. Her boyfriend claims Carrie made the "solo" tape for him when she was 20, while Carrie is still claiming it was just something "dumb" she did when she was "16 or 17". Maybe we'll never know the real story! Here's some of the highlights of her interview:
On when she traded her depraved teenage behavior for Christianity:
I went to Santa Barbara and I found out that it was a big party school, and I just didn't seem to fit in. So after I came back, I started going to San Diego Christian College, and that's where I felt at home…I think that was at a Christian school where it's cool to study on Friday nights, and you don't have the pressure of going out and drinking, and you are surrounded by people who have the same interests as you. That was a big turning point in my life, when I started going to the Rock, when I was about 18.

On finding forgiveness for Perez Hilton:
Oh yeah. I actually feel really sorry for him. I really do. If you look at his website, it's kind of scary what he does.

Does your Christian faith inform your views?
Absolutely. If you read the Bible, it seems like everybody is trying to argue with the truth. It's in the Bible, and if you believe in the Bible you believe it's the truth. It starts with Adam and Eve and ends with a wedding.

How do you respond to people who might say you hate gays and lesbians?
People who say I hate gays and lesbians are, in a polite way, ignorant. I think they don't see that just because someone doesn't agree with redefining marriage that they hate you—I've never said that I hated gays. I have friends who are gay. I have hairdressers who are gay. I live in California—that's the most liberal state there is. I am not afraid of gays. It's just a personal opinion. They have an opinion; I have my own opinion. Why is my opinion not valid?

Christian groups have asked you to come to their events and included you in advertisements. Did you ever think these groups were exploiting you for their own ends?
No, I think they embraced what I stood for. People forget that I'm 22 years old. Not many people would have done what I did. Everything was on the line; I'd worked so hard for this goal, and I wasn't willing to lie, to be politically correct to win the pageant. Regardless of who you are, people are drawn toward that. People are drawn toward a 22-year-old speaking out for what she believes in and being brutally attacked because of it. I don't think any of these groups are exploiting me. I think they're embracing the younger generation doing something.

On reconciling her breast implants with her Christian faith:
No, I don't think there's anything wrong with getting breast implants as a Christian. I think it's a personal decision. I don't see anywhere in the Bible where it says you shouldn't get breast implants.

Can you comment on the reports that you settled a lawsuit against Miss USA because of sex tapes?
Everything that was discussed in mediation was confidential. There is a video out there of me. I was really young and immature. It was the worst mistake of my life. It was a really stupid, stupid decision that I made. But I take full responsibility for it. Did I think I would ever be a celebrity or that my boyfriend at the time, who I sent it to, would ever blackmail me? No. I think we all make mistakes and we all do things when we're young that sometimes backfire later in life. I give advice to younger girls in my book because I've learned a lot since I was 16 or 17 years old.
[From Christianity Today]
Is there anything more to be said about this? No, I think Carrie covered everything. Media = Bad. Breast implants = good. Breast implants that you didn't have to pay for = even better. Jesus = great. Gay hairdressers = good. Married gay hairdressers = bad. My favorite quote of the whole interview is actually "I wasn't willing to lie, to be politically correct to win the pageant." No, but she was perfectly willing to lie after she lost the pageant, and she will continue to lie whenever, however, and as much as she sees fit. This chick is delusional.
Here are more of the "crazy eyes" pictures from Carrie's speaking engagement at The Family Research Council's annual 'Values Voter Summit' in Washington on September 18, 2009. Credit: WENN.