Carrie Prejean admits to sex tape, calls it 'biggest mistake of my life'

For all you can say about Carrie Prejean, the adjectives "hypocrite," "self righteous," and "narcissistic" coming immediately to mind, she sure knows how to promote herself. Prejean is currently shilling her now ironically titled book Still Standing: The Untold Story of My Fight Against Gossip, Hate, and Political Attacks in light of the news that a sex tape has emerged in which she is the only star. Last night Prejean was on uber-tolerant Fox show Hannity and not only did she acknowledge the fact that there was a solo sex tape, she also discussed how she made it. She said she was a teen at the time (hence TMZ passing on publishing it) and recorded it as a present for the boy she was dating, calling it "bad judgment," "embarrassing" and "humiliating." She also said "I'm taking total responsibility for it." As much as I think that Carrie is full of it, she um handled this really well. (I have to admit that some of the stuff she said had me snickering like Beavis and Butthead at the double entendres. I know, I'm mature.)
Fox News isn't usually a celeb's go-to place to discuss her too-graphic-for-TheDirty.com sex tape.

But Carrie Prejean has a big ol' fan in Sean Hannity, so why not?

Calling it the "biggest mistake" of her life, the deposed beauty queen tried to set the record straight about a video she says she shot of herself and sent to a boyfriend when she was a teenager.

"All by myself, I was sending a boyfriend at the time, who I loved and cared about, a video of me," she said tonight on Hannity.

"Never did I think it would ever come out. But it was bad judgment. It's embarrassing. It's humiliating to be talking about this on national TV, if you can imagine. "

And do you know what Hannity, who wrote the forward for Prejean's memoir, Still Standing, said?

"It would be really embarrassing if it was me," he said, doing his best to distract us from Prejean's error in judgment by planting a far more disturbing idea in our heads.

"When you're young, you think, This is the one," Prejean continued explaining the circumstances in which she thought her home-movie experiment might be a good idea. "Never did I think it would come and just slap me right in the face."

The tape in question was shopped around several months ago with a $10,000 price tage, but site after site turned it down. (Of course, maybe that's because, according to Prejean, there was no sex in it, and topless pictures of her hit the Internet early this year.)

Its existence didn't become publicly known until last week, when Prejean and the Miss California USA organization suddenly settled their dueling lawsuits over bad blood and boob-job money.
[From E! Online]
Carrie should have left it at "I was wrong, I made a solo sex tape and I regret it," but then she and Hannity went off about how she was persecuted for her beliefs and not fired for the fact that she didn't do her job at all. She said "I guess what they're trying to say is that Christians are perfect… I never said I was perfect. It's taken them this long to just dig through my past, beat my parents up, and it's just because of my answer. People need to be reminded of that." No, Carrie, it's because you were super snotty and violated your contract with the Miss California pageant in many, many ways. She agreed with Hannity that conservative women were "absolutely" targeted for their beliefs, and he cited such luminaries as Michelle Malkin, Anne Coulter, and Sarah Palin. If Carrie never sued the Miss California pageant we probably wouldn't be hearing about her and she would have been able to stop the "attacks" long ago.
Carrie claims that her book "gives Americans hope and shows them that Americans should not be attacked for their beliefs." Soon Carrie will have yet another lawsuit and "attack" to rally against in the press. Miss California executive director Keith Lewis says he may sue her for defamation after reading the "false, categorically incorrect, derogatory and untrue" claims she makes about him in her book.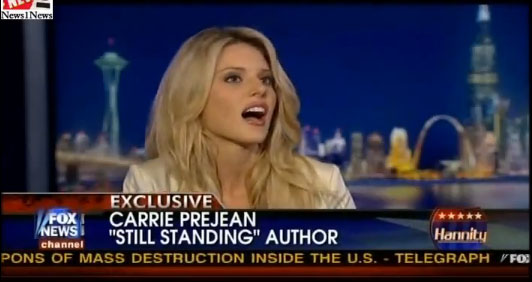 Written by Celebitchy

Posted in Carrie Prejean

- Zach Galifianakis is awesome [Buzzfeed]
- Prince at the Billboard Music Awards [D-Listed]
- Bieber's Billboard look [Go Fug Yourself]
- Married to Medicine recap [Reality Tea]
- Celebrity first marriages [Pajiba]
- The last Mad Men baffled a lot of people [Lainey]
- Karolina Kurkova's crazy hot dress [Moe Jackson]
- Jennifer Garner on set [Popsugar]
- Kitten vs. Lizard [CDAN]
- Doetzen Kroes' great butt [Celebslam]
- Shameless star Jeremy Allen White [OMG Blog]
- RIP Ray Manzarek [Bossip]
26 Responses to "Carrie Prejean admits to sex tape, calls it 'biggest mistake of my life'"