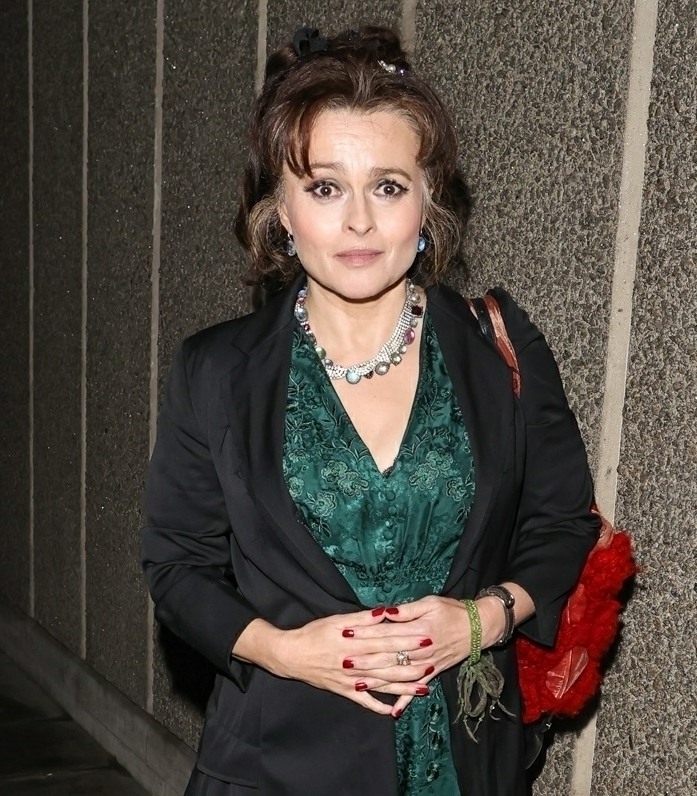 Helena Bonham Carter is currently promoting an ITV miniseries called Nolly, based on the true story of Noele Gordon getting fired from the British soap opera Crossroads for being too old and bossy. To promote the miniseries, HBC spoke to the Guardian about all kinds of things. The thing about Helena is that she's a gossip and she knows everybody, and she loves that people still ask her about playing Princess Margaret on The Crown. But what's hilarious in this Guardian interview is how quickly she shuts up when she's asked about Prince Harry's memoir Spare. Some highlights:
Whether she's ever been fired from a job: "No, but I've seen people fired. I worked with Woody Allen [on the 1995 film Mighty Aphrodite]; he sacked a few people when I was on the job. I asked him: "How do you sack someone?" And he said: "Well, I don't tell them." He would get Juliet, the casting person, to do it. On that particular job, the actor who ended up doing one of the parts was the third actor. It was just like: "Who are you? Oh really, you're playing…" Nothing was mentioned to the rest of the cast. But he [Allen] was quite well known for sacking really good actors. Do you remember [the 1987 film] September? He redid the whole movie and recast everybody. [Mia Farrow and Dianne Wiest were the only actors to appear in both versions of the film.]

Whether Helena thinks people still get fired for being too old: "Oh, I think people are always getting sacked for being too old now. I don't know the circumstances of everyone, but Sue Barker going, I went: "Why do you have to go?" We don't value age anyway. But if you think about Robin Day, all these older men who were around for ever, they die in the job. Women will always be penalised for not looking the same as when we were young, whereas men just grow beards, don't they?

She hasn't had many career dips: "Oh, you should talk to my inner critic. Anthony Hopkins the other day said: "I'm just amazed that anyone employs me again." And I go: "Even you? Are you stupid?" Everybody, we're so stupidly vulnerable, we've got zero autonomy over our careers unless you start producing and be sensible or you're brilliantly brainy. Which none of the rest of us are. Apart from Emerald Fennell, she's amazing.

What she made of Prince Harry's Spare: "I don't really want to contribute to the whole thing. It's complicated and it'll get taken out of context. And I think it's been given enough attention.

Will it be much easier for Peter Morgan to write The Crown: "I should be careful here too, but I don't think they should carry on, actually. I'm in it and I loved my episodes, but it's very different now. When The Crown started it was a historic drama, and now it's crashed into the present. But that's up to them.

The key to getting into the character of Princess Margaret: "Well, actually, the real Margaret didn't mind about being number two, but she did mind being really short. She was just 5ft, so there was something in her posture to maximise every little millimetre: she had her car seat elevated so she could be seen. And a lot of it was the need not to be overlooked, probably prompted by her great-grandmother saying something about the fact that she was tiny. And that scarred her. It's funny what we carry – a complex that can govern all our behaviour.
The way she just stops gossiping immediately at the mention of Spare – wow. She's right though, whatever she says would have made news, although I think this makes news: "I think it's been given enough attention." That's sort of the position of most of the British media when their hate campaign against Spare failed to sink the memoir – they just started ignoring it and pretended that, despite the success of the book, Harry had done irreparable damage to himself. HBC is a royalist, after all. And that's why she also doesn't want to see The Crown keep going up until present day. The whole Boris Johnson/Liz Truss/Rishi Sunak trilogy would be so painful.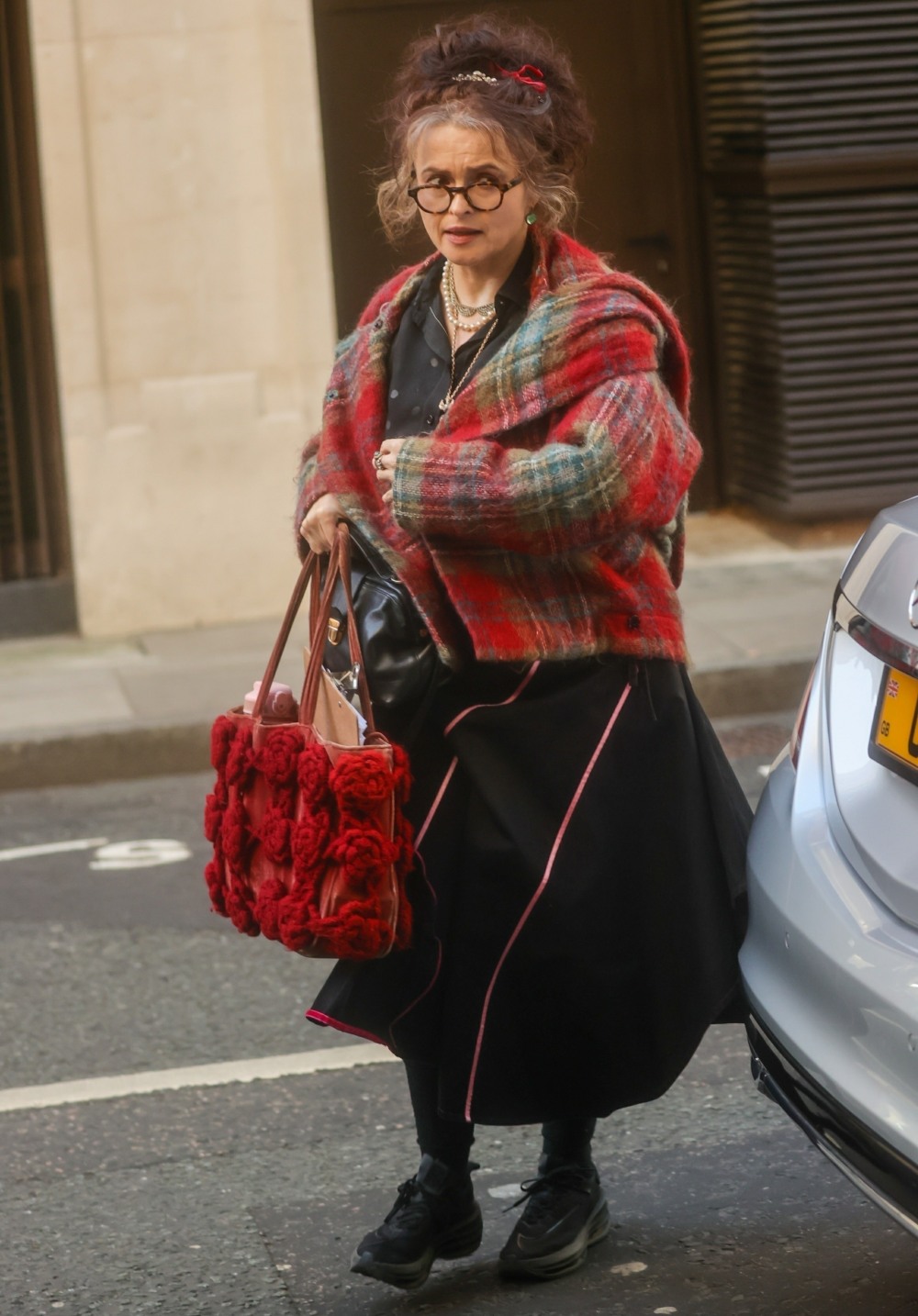 Photos courtesy of Backgrid.

** RIGHTS: ONLY UNITED STATES, BRAZIL, CANADA ** London, UNITED KINGDOM – Actress Helena Bonham Carter attends Harpers Bazaar Women of the Year Awards 2019 at Claridge's, Mayfair in London. Pictured: Helena Bonham Carter BACKGRID USA 29 OCTOBER 2019 USA: +1 310 798 9111 / usasales@backgrid.com UK: +44 208 344 2007 / uksales@backgrid.com *UK Clients – Pictures Containing Children Please Pixelate Face Prior To Publication*
London, UNITED KINGDOM – Actress Helena Bonham Carter looks stunning wearing an emerald green dress stepping out from the South Bank centre in London. Pictured: Helena Bonham Carter BACKGRID USA 15 NOVEMBER 2022 BYLINE MUST READ: Mattpapz / BACKGRID USA: +1 310 798 9111 / usasales@backgrid.com UK: +44 208 344 2007 / uksales@backgrid.com *UK Clients – Pictures Containing Children Please Pixelate Face Prior To Publication*
London, UNITED KINGDOM – Actress Helena Bonham Carter makes a fashionable appearance on BBC Radio 6 in London. Pictured: Helena Bonham Carter BACKGRID USA 1 FEBRUARY 2023 BYLINE MUST READ: MattPapz / BACKGRID USA: +1 310 798 9111 / usasales@backgrid.com UK: +44 208 344 2007 / uksales@backgrid.com *UK Clients – Pictures Containing Children Please Pixelate Face Prior To Publication*