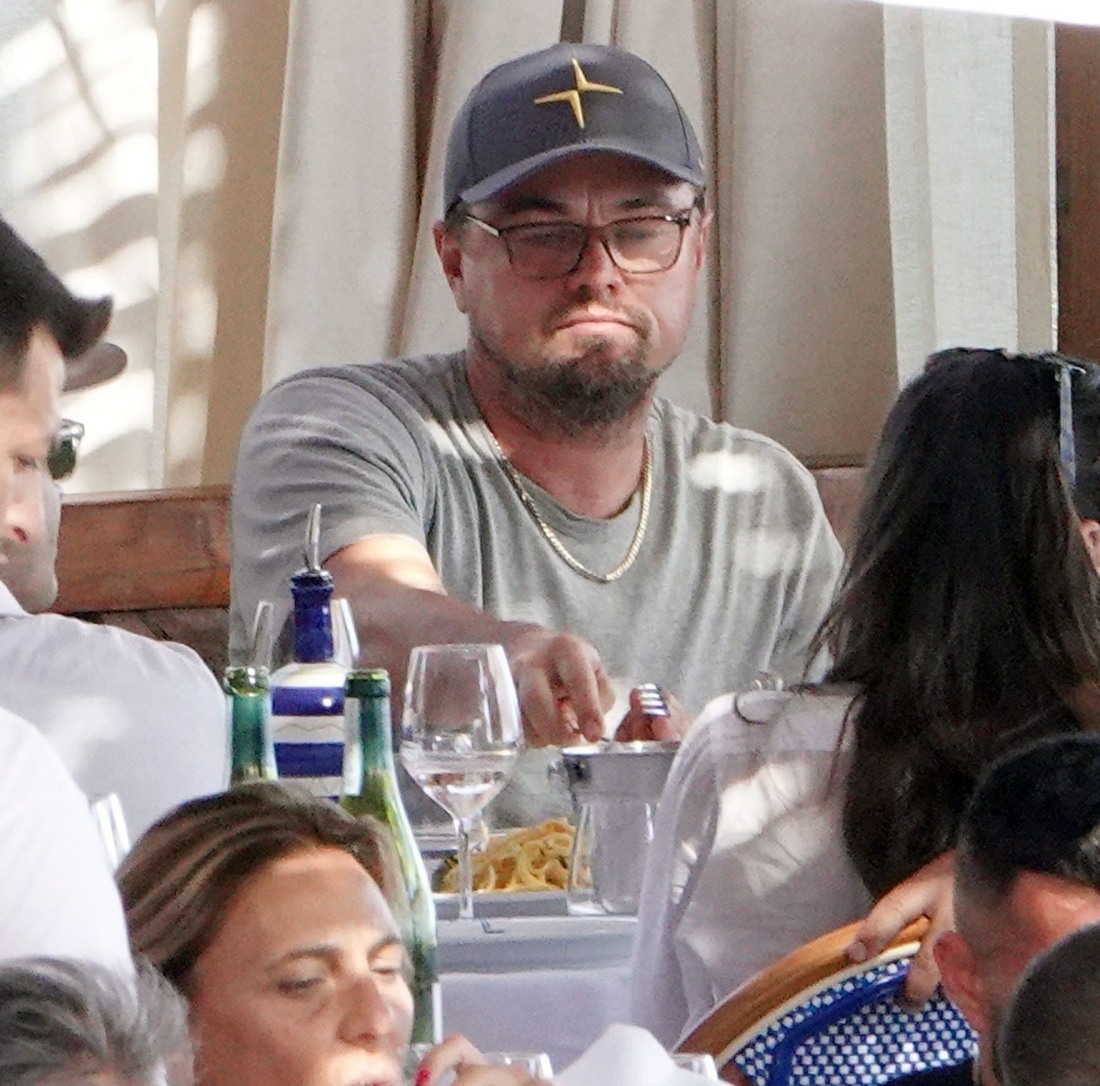 Leonardo DiCaprio is still on the prowl. He dumped Camila Morrone last year after more than four years together. He dumped her on or around her 25th birthday. He hadn't had a big breakup like that in a while, obviously, and I think he was surprised by the internet's wall-to-wall mockery of his now well-known "under 25" rule. This is why Leo's publicist made a deal with Gigi Hadid's publicist to make it seem like Leo was – gasp – dating an ancient spinster like Gigi for a few months. Leo was desperate to change the newscycle. It did not last. He and Gigi are over (lol) and Leo is back to his old habits. Those habits include picking up a new girlfriend by the time the Cannes Film Festival rolls around. We're in prime "Leo is looking for an under-25 official" season. Which is why he's spent the past few months back into the waiting arms of 20-year-old models and teenage nepo babies. Well, speaking of, Leo was seen getting "cozy" with a 19-year-old and the internet has some feelings.
Leonardo DiCaprio was seen out with a fresh face on Tuesday night as he made an appearance at Ebony Riley's release party for her new EP.

The 48-year-old Oscar winner was spotted seated next to 19-year-old Israeli model Eden Polani as they soaked up the atmosphere.

Seemingly missing from the event was Leo's current girlfriend Victoria Lamas, who at 23 is 25 years his junior and almost half his age.
People are like "a 50-year-old is getting cozy with A CHILD!" Well, he's 48 years old (he'll be 49 in November) and "19 years old" is not a child. I mean, I think of 19-year-olds as "kids" too, but I recognize that 19-year-olds can make their own decisions, vote, go to war, etc. I'm not caping for Leo because I find this gross as well, but I do think people are going a little bit overboard with "an age difference like this is ABUSE!" It's sort of the wrong framing? It's creepy, it's gross, it speaks volumes about DiCaprio's immaturity and arrested development. But also leave room for all of those 19-year-olds and 20-year-olds to have agency, to make their own decisions and their own mistakes too. Leo's not baby-trapping these girls (perish the thought) and he's not ruining their credit scores. I've always believed that half of his girlfriends just dated him because they have their own professional agendas, and they know being connected to Leo is a huge boost for their careers.
Leonardo DiCaprio's girlfriend is so young her high school experience was interrupted by COVID 19.

— Rohita Kadambi (@RohitaKadambi) February 6, 2023
Hoy queremos felicitar a Leonardo DiCaprio (48), que por fin va a poder tener una relación que le dure unos cuantos años porque, por lo visto, está saliendo con Eden Polani, una modelo de DIECINUEVE (19!); Aún tienen seis años de relación por delante.

En serio, qué asco de tipo. pic.twitter.com/glkIakbiai

— Locas del Coño (@Locarconio) February 5, 2023
Leonardo DiCaprio is a nearly 50yo predator. It shouldnt have 2 be put into context that dating a 19 yo/someone 1/2 your age is disgusting. Even if he was dating a 30yo he'd still be 20 years her senior. Men who go down that route know grown women see through their maladapted ass pic.twitter.com/rkXi8g9aFG

— maybe she born w bars maybe iss trauma~typo king (@WocDonnaTartt) February 5, 2023
Photos courtesy of Backgrid, Avalon Red.