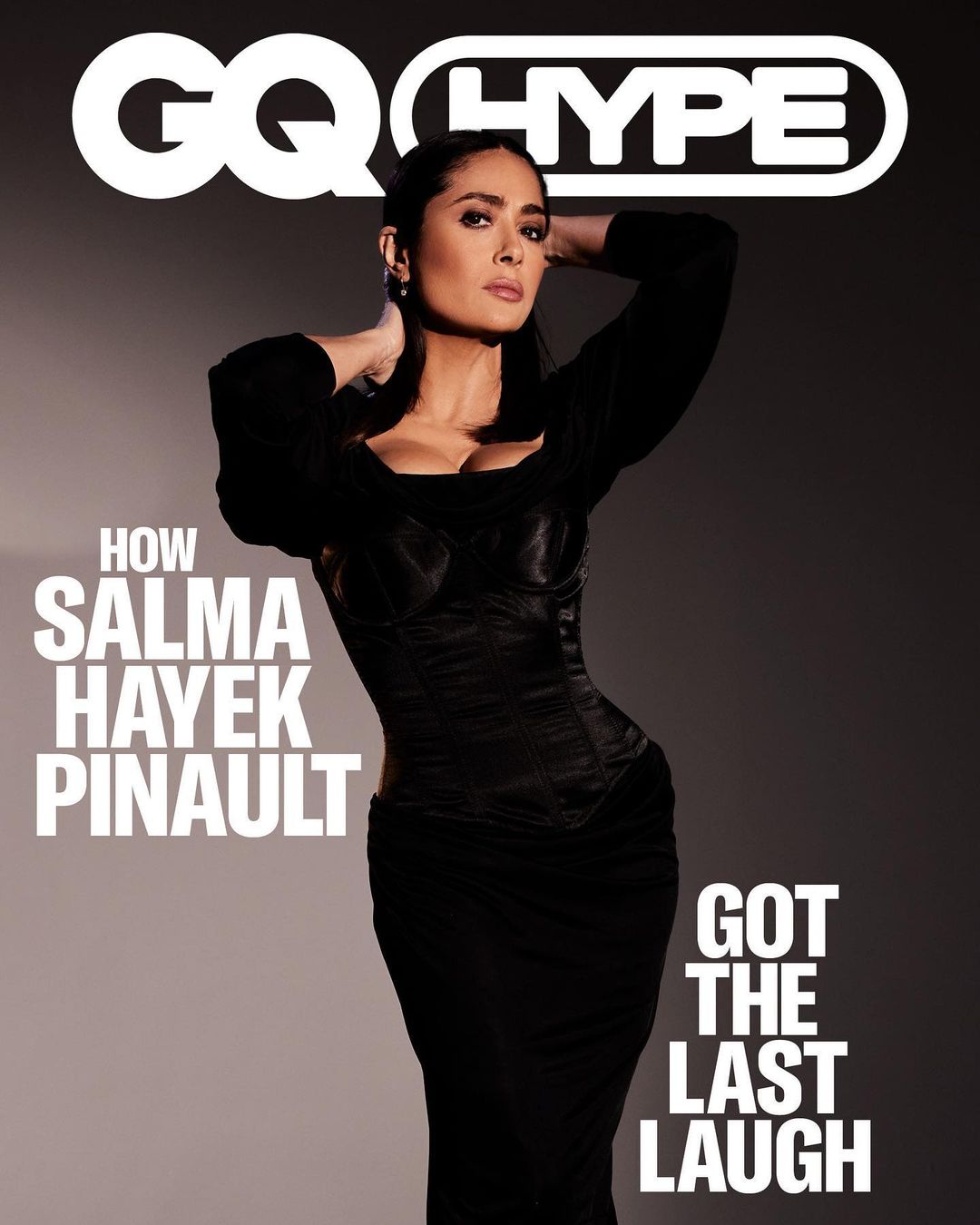 Salma Hayek is the star of the third Magic Mike movie, Magic Mike's Last Dance, directed by Steven Soderbergh. Hayek plays a wealthy divorcee who meets Magic Mike and brings him to London so they can stage a male-stripper show. I enjoy the Magic Mike franchise and so does Salma – she loves the fact that she got the call for this movie, and she loved working with Channing Tatum and all of the dancers. Salma covered a recent issue of GQ Hype to promote the movie and talk about how badly she was typecast, and how few people ever wanted her to do a comedy. Some highlights:
She doesn't care about how she's perceived anymore: "Sometimes they build you up, sometimes they bring you down. What are you gonna do?"

Her strip with the snake in From Dusk 'Til Dawn: "They just kind of threw me on the stage with the snake, put the music on and said, 'Hey, dance!' I was feeling insecure [and] just wanted to get through it. It was a really small part but to my surprise people really remember that moment."

Typecast: "I was typecast for a long time. My entire life I wanted to do comedy and people wouldn't give me comedies. I couldn't land a role until I met Adam Sandler, who put me in a comedy [2010's Grown Ups], but I was in my forties! They said, 'You're sexy, so you're not allowed to have a sense of humour.' Not only are you not allowed to be smart, but you were not allowed to be funny in the '90s. I was sad at the time, but now here I am doing every genre, in a time in my life where they told me I would have expired – that the last 20 years I would have been out of business. So I'm not sad, I'm not angry; I'm laughing. I'm laughing, girl."

Things didn't change for her after 'Frida': "When I was nominated for an Oscar the types of roles that people offered me did not change at all. I really struggled and I thought that was going to change, but no."

She loved working with all of the dudes on Magic Mikes: "There was so much testosterone I was afraid I was going to start growing a moustache," Hayek Pinault realised the conversations weren't bro broadcasts, but dispatches on the private pleasures of vanity. The 12 men, all on strict diets and abstaining from alcohol, talked about their bodies like they were school science projects they had been carefully constructing for months. "They were talking about waxing parts of the body that I really didn't want to hear about, but it was very refreshing… Before it would have been seen badly if they spent too much time on their bodies or were vain.

She likes the franchise's deconstruction of clichéd alpha masculinity. "It's an exciting time to be a woman, but also to be a man. Confusion is always a great landscape for revolution and I think deep inside we put a lot of weight on men. The old thing that they have to be successful and responsible financially for the family – that's a lot."

She knows who she is now: "I'm at a place in my life where I don't think my sexuality is the only thing that's appreciated anymore. But if it was, I wouldn't care, because I've built enough respect around me from the people that really matter that I feel seen beyond that. This is full circle. Now, somebody strips for me."
For what it's worth, I remember Salma in the '90s and how Hollywood had real issues with trying to put her in a box – she did a few rom-coms, although God knows if she felt she was "allowed" to be funny. But really, she should have been a much bigger deal back then, after Desperado came out. Desperado was a HUGE deal. But again… it was the '90s. They wanted her to just do "sexy" parts, not funny parts or dramatic parts. As for Magic Mike's "deconstruction of clichéd alpha masculinity" – I do think the franchise does that in subtle ways, but I've always loved the series because so much of the focus is how much men want to please women and turn them on. So few films are ABOUT that.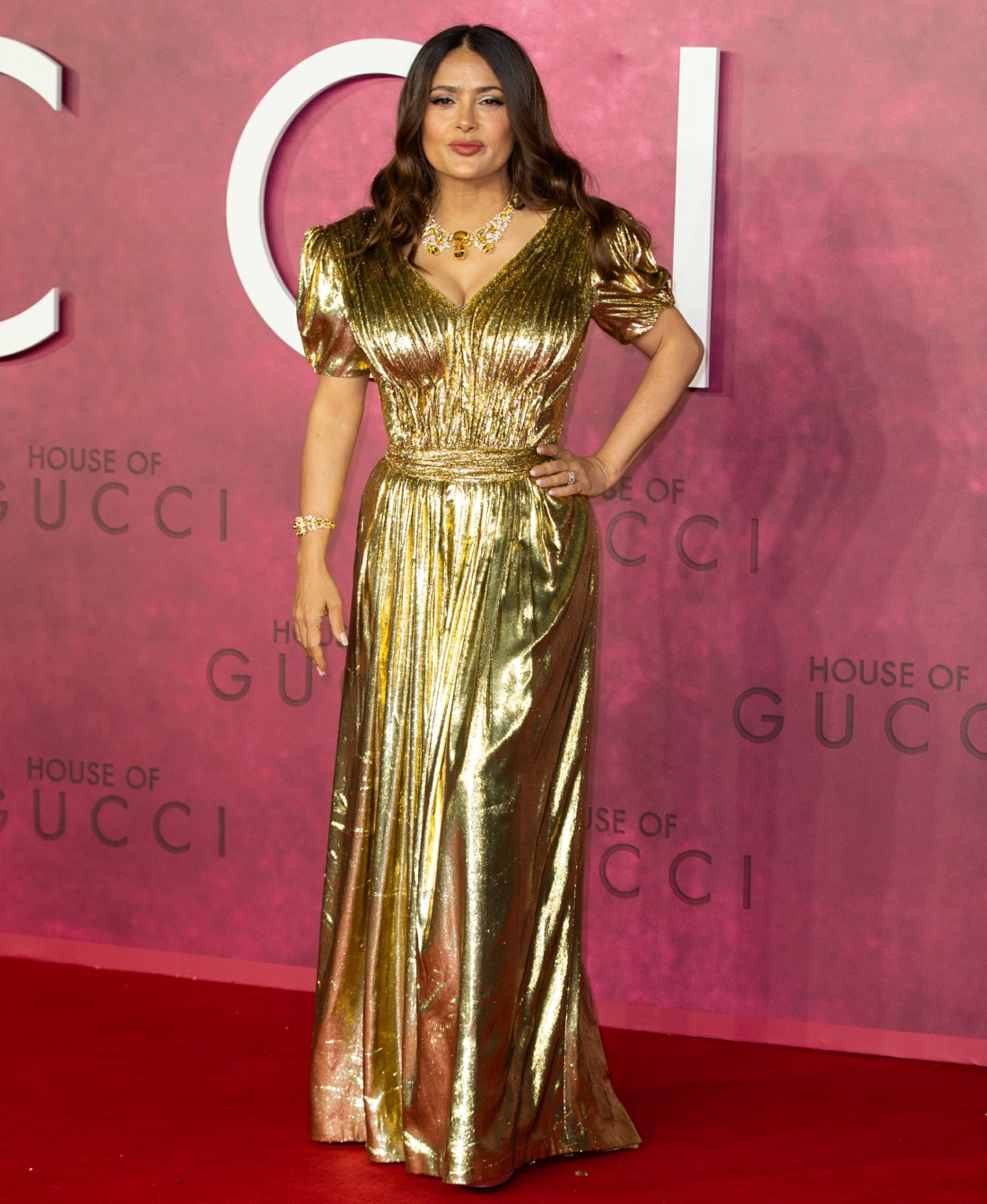 Cover courtesy of British GQ, additional photos courtesy of Avalon Red.