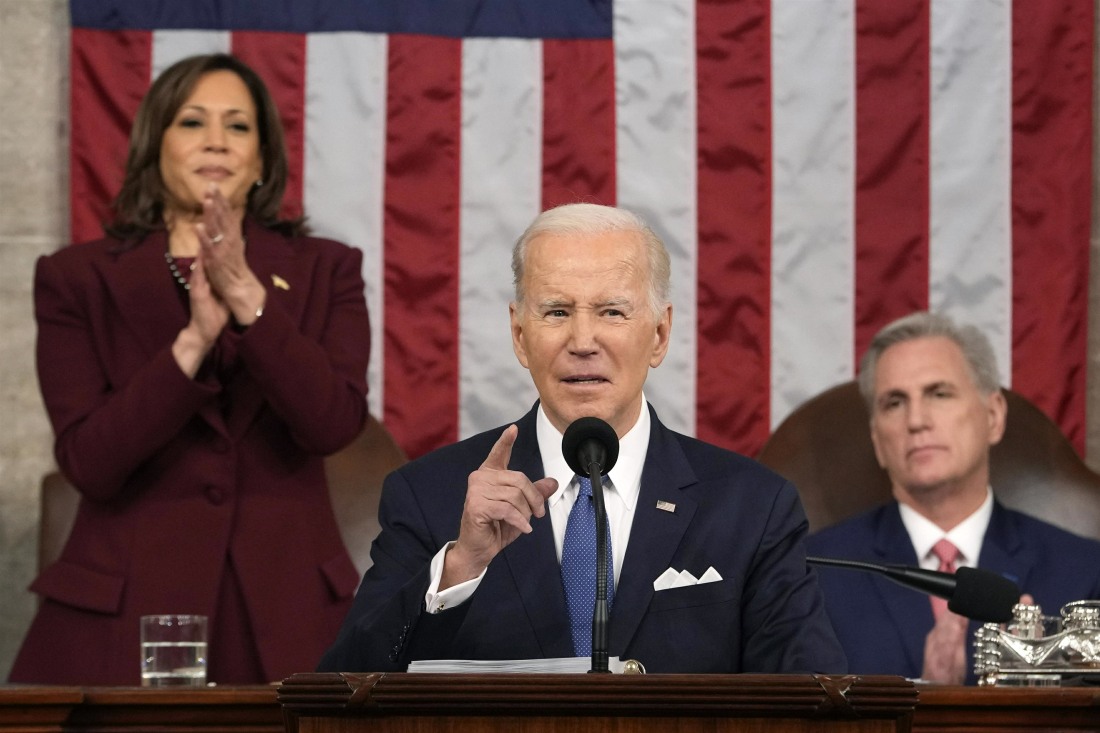 I did not stay up for the State of the Union, mostly because I need my rest and I continue to be pretty relaxed during the Biden administration. I'm sure there are many pressing concerns and I could spend a lot of time worrying about a lot of different stuff, but I definitely feel like Dark Brandon and his sidekick Kamala Harris have got everything covered. Dark Brandon used the first post-Roe SOTU to talk about abortion:
Would I have appreciated a more concrete national plan to ensure abortion rights? For sure. But y'all decided to give a slim House majority to the Republicans, so here we are. All President Biden can do is use the federal government to ensure every person's access to abortion medications, and ensure every person's access to out-of-state abortion. Which he's already doing.
One of the best moments came when Dark Brandon outwitted the Republican caucus by allowing them to heckle him on Medicare and Social Security, then – like an evangelical con man – he used their heckles as a trap for a verbal confirmation that none of them would defund Medicare or end Social Security.
Meanwhile, First Lady Dr. Jill Biden special guests were Paul Pelosi (Nancy's husband), Tyre Nichols' parents, Bono, Brandon Tsay (the Monterey Park hero), Ukraine's ambassador to the US Oksana Markarova and Holocaust survivor Ruth Cohen. I can't find an ID on Dr. Biden's pretty purple dress, but she also made headlines for kissing Second Gentleman Doug Emhoff on the lips. I… don't have a problem with it? It was a warm greeting between two people who get along. Maybe a cheek kiss would have been more appropriate, but we always hear that the Bidens are a huggy and kissy family.
First Lady Jill Biden and Second Gentleman Doug Emhoff share a moment ahead of President Biden's State of the Union. pic.twitter.com/0qsLzWTf0Q

— The Recount (@therecount) February 8, 2023
Photos courtesy of Getty, Backgrid.

Washington, DC – President Joe Biden delivers the State of the Union address to a joint session of Congress at the U.S. Capitol, Tuesday, Feb. 7, 2023, in Washington, as Vice President Kamala Harris and House Speaker Kevin McCarthy of Calif., watch. Credit: Jacqueline Martin / Pool via CNP /MediaPunch Pictured: Biden BACKGRID USA 7 FEBRUARY 2023 BYLINE MUST READ: MediaPunch / BACKGRID USA: +1 310 798 9111 / usasales@backgrid.com UK: +44 208 344 2007 / uksales@backgrid.com *UK Clients – Pictures Containing Children Please Pixelate Face Prior To Publication*
Washington, DC – President Joe Biden delivers the State of the Union address to a joint session of Congress at the Capitol, Tuesday, Feb. 7, 2023, in Washington. Credit: Jacqueline Martin / Pool via CNP /MediaPunch Pictured: Biden BACKGRID USA 7 FEBRUARY 2023 BYLINE MUST READ: MediaPunch / BACKGRID USA: +1 310 798 9111 / usasales@backgrid.com UK: +44 208 344 2007 / uksales@backgrid.com *UK Clients – Pictures Containing Children Please Pixelate Face Prior To Publication*