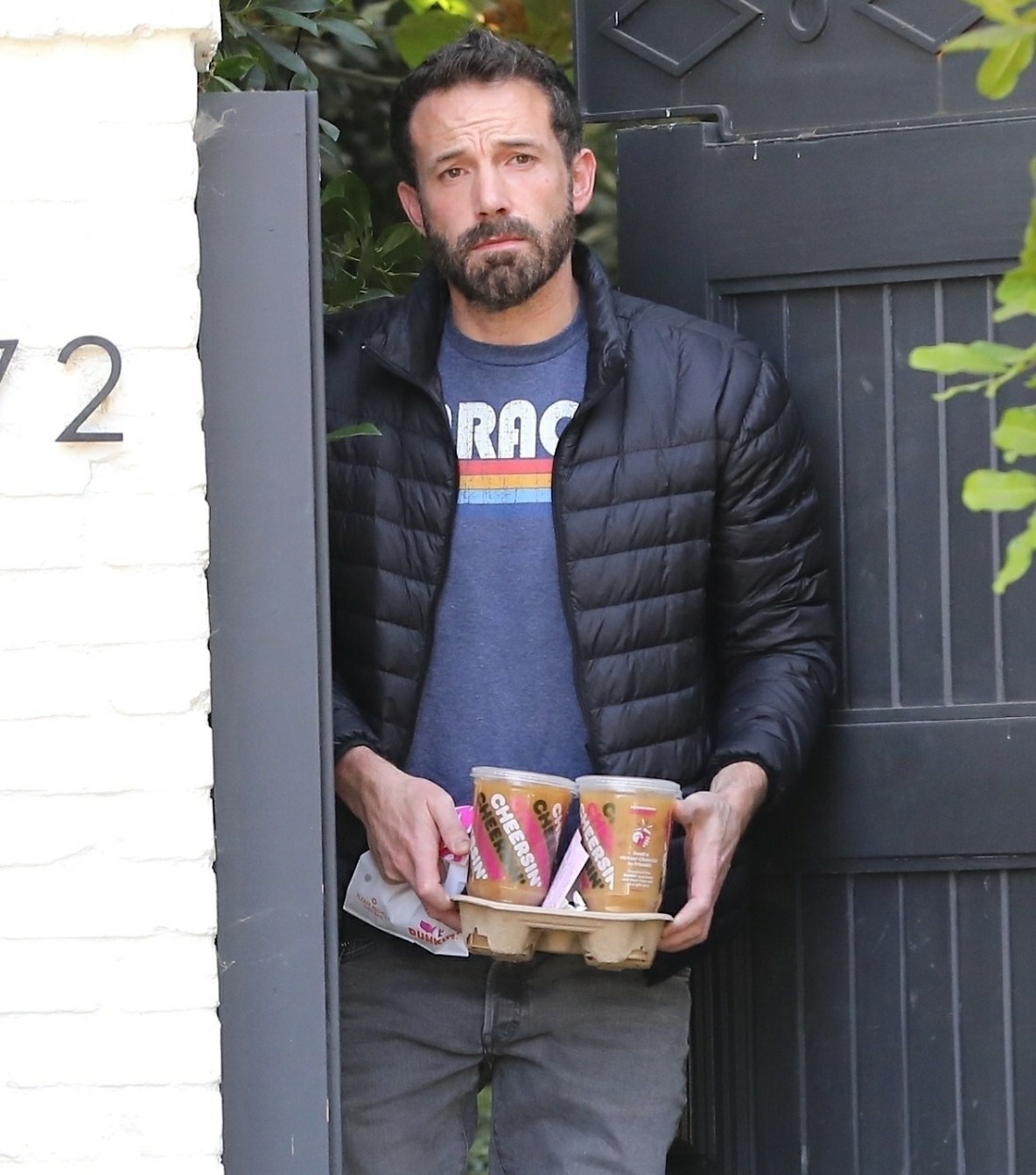 A month ago, Ben Affleck was seen and photographed in Medford, Massachusetts. He was seen… at a local Dunkin Donuts, working the drive-thru. There were cameras around and Jennifer Lopez was also there. People assumed that they were filming a Super Bowl commercial, and now Dunkin Donuts has confirmed it. And then some – Ben really IS working at Dunkin now, but not the way you think – he's their creative!!! He came up with this whole ad campaign and he apparently wrote the commercial for himself and J.Lo. Why do I find this so cute? Jeez.
Ben Affleck and Jennifer Lopez are teaming up for a Super Bowl ad! The month after Affleck's multimillion-dollar deal with Dunkin' came to light, a source tells ET how that transformed into a Super Bowl commercial with Lopez.

"Ben's Dunkin' commercial was initially supposed to be a regular commercial and campaign, but things changed and now it will be a commercial during the Super Bowl. Jen is also in the commercial," the source says. "The commercial is funny and cute. It shows Ben working at Dunkin' in his free time because he loves it so much. Then Jen pulls up to the drive-thru and asks him, 'What are you doing here? Is this what you do all day?' They're both very excited about it."

In response to the story, Jill Nelson, Chief Marketing Officer at Dunkin', tells ET, "Dunkin' is airing its first-ever Super Bowl ad this year, but you'll have to tune in on Sunday to see what's 'Ben' brewing."

"Ben planned out the whole thing and wanted something like a hidden camera commercial," the source told ET at the time, with a second source adding, "Jen and Ben were so loving on set. You can really tell how special their connection is. Jen just adores Ben, and they both lift each other up and make each other feel so happy. It's really sweet to watch."

A different source additionally told ET, "Ben is heavily involved in the commercial as he pitched the script, is directing and starring in it. Ben has loved Dunkin' for years and this partnership couldn't be more perfect. He's been very hands on with the whole process and is excited for everyone to see."
So I actually missed the fact that Dunkin has been paying Affleck for a little while. Affleck signed a "multimillion-dollar deal" back in January – in addition to paying Affleck "several million dollars" for what I guess we should call a brand-ambassadorship (lmao), Dunkin is also donating to Ben's non-profit, the Eastern Congo Initiative. Yeah… I think this is cool. Honestly, Dunkin didn't even need to pay Ben, he was going to promote their products for free forever. I'm shocked that they're actually paying him now. But it's cute and this is truly the happiest Ben has ever looked, back home in Massachusetts at the local Dunkin.
no one has ever seen Ben Affleck smile this hard in Hollywood. man needs to quit his job and start picking up shifts at Dunkin' pic.twitter.com/eqyMMoJ6jU

— Fletcher Peters (@fIetcherpeters) January 10, 2023
.@BenAffleck working the drive-thru window @dunkindonuts in Medford, MA today

I just spoke with one of his customers who described him as "incredibly funny and quick-witted" handing her order

Photo credit: Lisa Mackay @NBC10Boston @NECN pic.twitter.com/HWapCHvBEa

— Darren Botelho (@DarrenBotelho) January 10, 2023
Photos courtesy of Backgrid.