Meghan Trainor is pregnant with baby number two. This is wonderful news, of course. And expected, Meghan's been telling us she wanted to get pregnant as soon as possible. But, like most decisions, now that she's gotten her wish, she's realizing the downsides. Like actually giving birth to the baby. In Meghan's case, that's a real concern because she had such a difficult birth with her son Riley. She had an emergency C-Section and Riley had breathing issues and was in the NICU for five days. While speaking with Yahoo's parenting series, So Mini Ways, Meghan said she's nervous about giving birth again because it's pretty traumatic.
Meghan Trainor's first experience with childbirth was a rocky one: Son Riley — who turns 2 on Feb. 8, just a few days before the pop star makes her Super Bowl ad debut for Pringles — was breech and had to be rushed to the neonatal intensive care unit after being delivered by a C-section that left his mom in a "dark place."

But the "Made You Look" singer is trying to stay in a positive mindset as she prepares to give birth for the second time this summer. Last week Trainor, who is married to Spy Kids actor Daryl Sabara, announced that she's pregnant again (and yes, she knows the sex and has a name picked out, but plans to "torture" fans by keeping that all private for now). This time around, she's hoping for a smoother journey, she tells Yahoo Life.

Trainor recounts a conversation she had with her OB/GYN about 10 weeks into her new pregnancy, and admits she's trying to wrap her head around making decisions like whether to have another C-section or try for a VBAC (vaginal birth after Cesarean) this time.

"[Riley] didn't come out awake, you know, so I asked her, 'Well that was like a fluke, right? It was very rare,'" Trainor says. "She was like, 'yeah, it probably won't happen if you do another C-section.' But, you know, birth is traumatic for everyone involved. So I am nervous I have to do that again, but I do want four kids, so I'm halfway there.

"I just know I've got to surrender," the Grammy winner adds. "That's my big word: surrender. Surrender for one day, and for a bunch of pain. But I'm going to be distracted with the love of my life, you know?"
I understand all of this. I would be scared too if I'd gone through what Meghan did. But she wants a lot of kids so she's determined to push past it. Fortunately, she also knows how quickly issues can be resolved, hopefully that will bring her comfort. Riley turned two on Wednesday and Meghan is due this summer. I gave birth 25 months apart and my doctor told me absol-freaking-lutely not to a VBAC. He didn't forbid me, but he strongly advised against it. I didn't have strong feelings and I did have large-headed fetuses, so I was fine with a second C.
Meghan is also releasing an advice book for new moms. It's called Dear Future Mama: A TMI Guide to Pregnancy, Birth and Motherhood From Your Bestie and comes out April 25. Meghan said she got advice from experts for the book as well as her own concerns and experiences. It was borne of her being the first of her friend group to get married and have kids. She didn't feel like she had anyone to talk to about everything that was going on with her as a new mom. So she wrote this book for other women who also don't feel like they have anyone to go to.
I just realized something, Meghan Trainor's side-by-side toilets are actually going to come in handy soon. They will be effective in potty training her kids. She'll have the last laugh after all!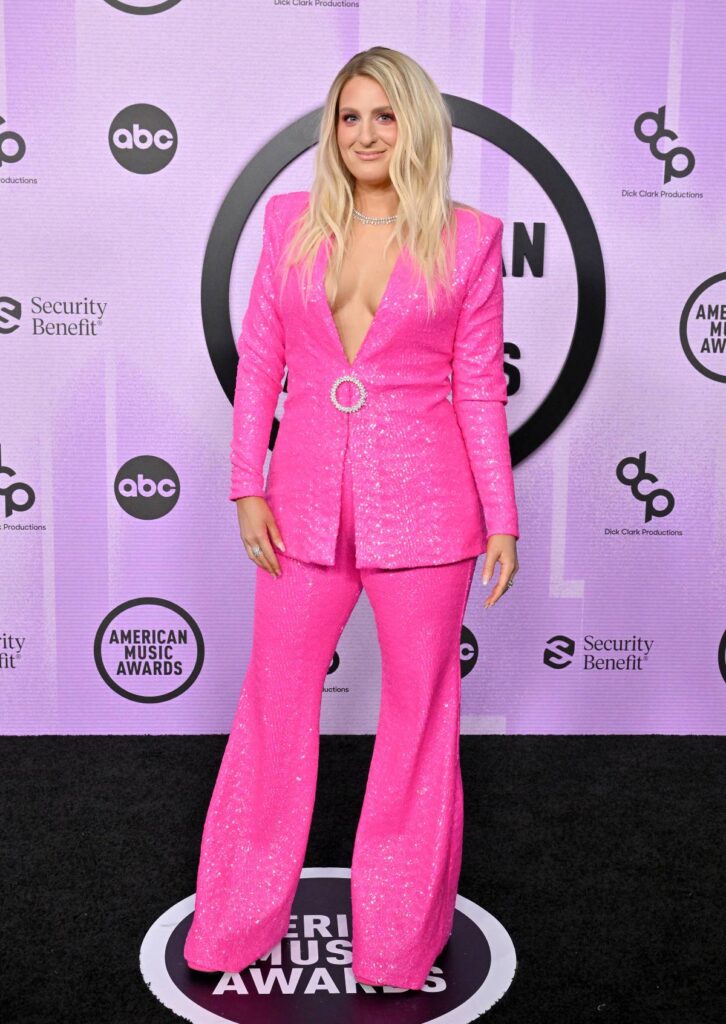 Photo credit: Instagram and Cover Images