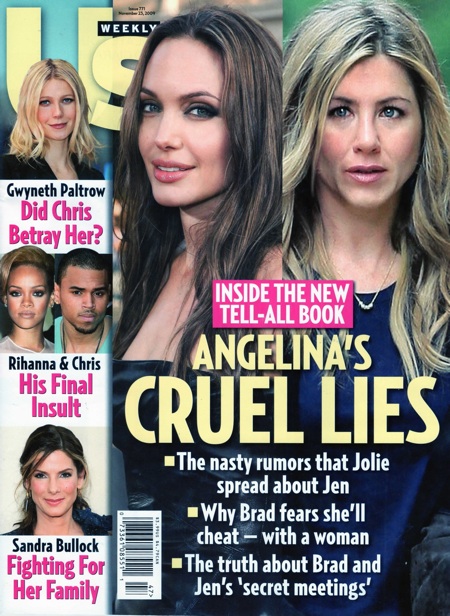 This week's tabloids are a buffet of anti-Angelina Jolie clippings. Angelina is on four of the major weeklies, and much of the current gossip is coming from the Ian Halperin's book, Brangelina: The Untold Story of Brad Pitt and Angelina Jolie. Us Weekly's cover story this week seems to just be cut-and-pasted from Halperin's book, and Us Weekly has already put two stories online based on Halperin's "reporting". I think Halperin is a hack, but some people consider him legit. Here are some of the "bombshells" revealed:
* Brad and Angelina have "broken up so many times it would make your head spin."

*Angelina "has a temper like a cobra." The book even alleges that she confessed to hiring a hit man to kill her in 1998 because she was so distraught.

*Brad and Angelina "fight all the time about the kids – where to put toys, saying the wrong thing to a nanny, not cleaning up. Like cats and dogs."

*Angelina has waged "a mean-spirited but effective campaign" against Jennifer Aniston around the time that Brad Pitt divorced her to be with Jolie.

*Halperin asserts in his book that Jolie and her camp (including her manager Geyer Kosinski and brother James Haven) planted press stories in 2005 that painted Aniston in a negative light. Specifically? That Aniston firmly prioritized her career over starting a family — which put her directly at odds with Pitt, who ached for kids. Jolie, Halperin writes, "was convinced that this is the story that would resonate with all these women who saw her as a man-stealing bitch."
Meanwhile, Star Magazine's cover story on the Aniston-Jolie war of attrition makes it sound like Aniston isn't some wilting victim. Star claims that Aniston is planning on meeting Brad Pitt is Brazil when he films The Lost City of Z, and that she sees the rendezvous as "her chance for a reunion away from the prying eyes of Hollywood… and she knows when Angelina finds out, she'll be livid." A source also says Jennifer "can't help" but continue to call Brad: "She just seems to want to insert herself in their lives. She does it with frequent phone calls and texts to Brad, sometimes into the wee hours of the morning." And while Brad will sometimes talk to Jennifer, it's given Jennifer a "false hope" that they will reconcile. The source says: "Angie is confident that Brad won't leave his children. And if Jen gets crushed again over Brad, well, that's just fine by Angie."
Oh, but there's so much more. Quite honestly, I'm likely to believe everything above before I start believing this part: "Jen wants serious roles, but Angelina scoffs and says she doesn't have the chops for it. When Angie heard that Jen had gotten a copy of the 'Wanted' script, she immediately called her agent and ordered him to get her the part. And although she was interested, she 'let' Jen land the role in 'Management'. But look what happened: it bombed! Angelina says she laughed her butt off over that one!" Um… Jennifer got offered Wanted? Angelina got the script for Management? Uh… no. That didn't happen.
There's more stuff about how Angelina "steals" all of the designer clothes Jennifer wanted to wear, and how Angelina makes snide comments whenever she and Brad run into one of Jennifer's friends. Apparently, when they ran into Courteney Cox at a party, Angelina watched Courteney leave and then said to Brad, "Bet that one had to run and make a call." Which is actually the funniest line of the story, in my opinion. Star concluded by saying that Brad "instigates" the drama between Jennifer and Angelina, because "he enjoys watching Jen and Angie fight over his attention – he even eggs it on!" Eh.
I know some people will freak out about this stuff and the Uncool Bermuda Triangle War of Attrition will march on indefinitely. I just wanted to make a few points before that happened. First of all, if you hated this, it's only going to get worse, because Halperin and Andrew Morton's books haven't even come out yet. There is more to come, and it will probably be even trashier. Pace yourself. Second point: I get tired of the opposing sides of The Uncool Wars fighting over which side has the greater press legitimacy. Let's play this game for once: you either have to believe all or nothing. Either none of it is true, or you have to accept everything: that Angelina is a hyper-manipulative, baby-collecting, homewrecking devil woman who is out to destroy Jennifer, and Jennifer is so pathetic she still has her heart set on winning Brad back by whining and throwing pity parties for five years. All or nothing.
Us Weekly cover courtesy of CoverAwards. Angelina Jolie and Brad Pitt at the Los Angeles 'Inglourious Basterds' premiere on August 10, 2009. Jennifer Aniston is pictured on the red carpet for 'The 24 Hour Plays' on November 9, 2009. Credit for all: WENN.