Years ago, Ethan Hawke took his son Levon to a basketball game. They had courtside tickets. They were really good seats, right by Rihanna. This was way before Rihanna got with ASAP Rocky. Anyway, originally, Levon was seated next to Rihanna, and then Ethan decided to shoot his shot even though he had (and still has) a wife at home. Ethan made his son switch seats with him, and the photos of Ethan trying to flirt with Rihanna went viral. They still go viral, years later, whenever anyone posts them.
Hilariously, Levon and Maya Hawke have both made fun of their dad publicly for his crush on Rihanna. Ethan has a good sense of humor about it. I mean, he made the choice to shoot his shot, he's not ashamed. So after Rihanna's Super Bowl concert, Ethan posted the photos yet again with the message: "After Rihanna's brilliant half time performance, I'm hoping my son can find it in his heart to forgive a Dad for taking his moment."
Gwyneth Paltrow replied: "Could you sit up straight, for god's sake? You're sitting next to Rihanna!" I agree – but Ethan's contrived "slump" reads like a man trying to be cool in front of Rihanna. Either that or Ethan literally just melted in her presence. In any case, it's still f–king funny, even more so because Ethan is still such a Rihanna stan.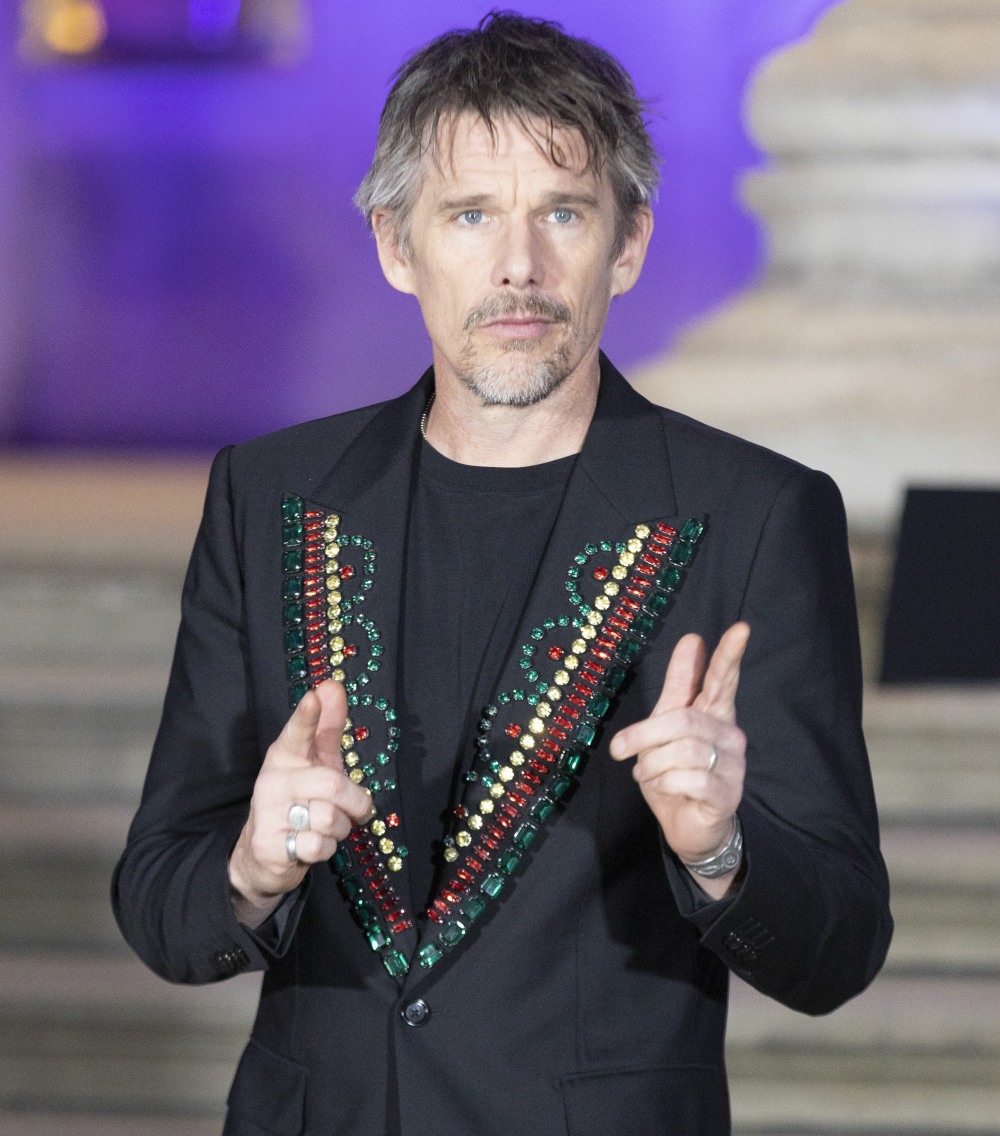 Photos courtesy of Avalon Red, Cover Images, Instagram.

Ethan Hawke at the Special Screening of Marvel Studios' 'Moon Knight' at British Museum, London,Image: 671840421, License: Rights-managed, Restrictions: , Model Release: no, Credit line: cpuk / Avalon
Ethan Hawke at the Special Screening of Marvel Studios' 'Moon Knight' at British Museum, London,Image: 671840457, License: Rights-managed, Restrictions: , Model Release: no, Credit line: cpuk / Avalon
Ethan Hawke Outside Of The Today Show Featuring: Ethan Hawke Where: New York, New York, United States When: 19 Jul 2022 Credit: ROGER WONG/INSTARimages.com/Cover Images