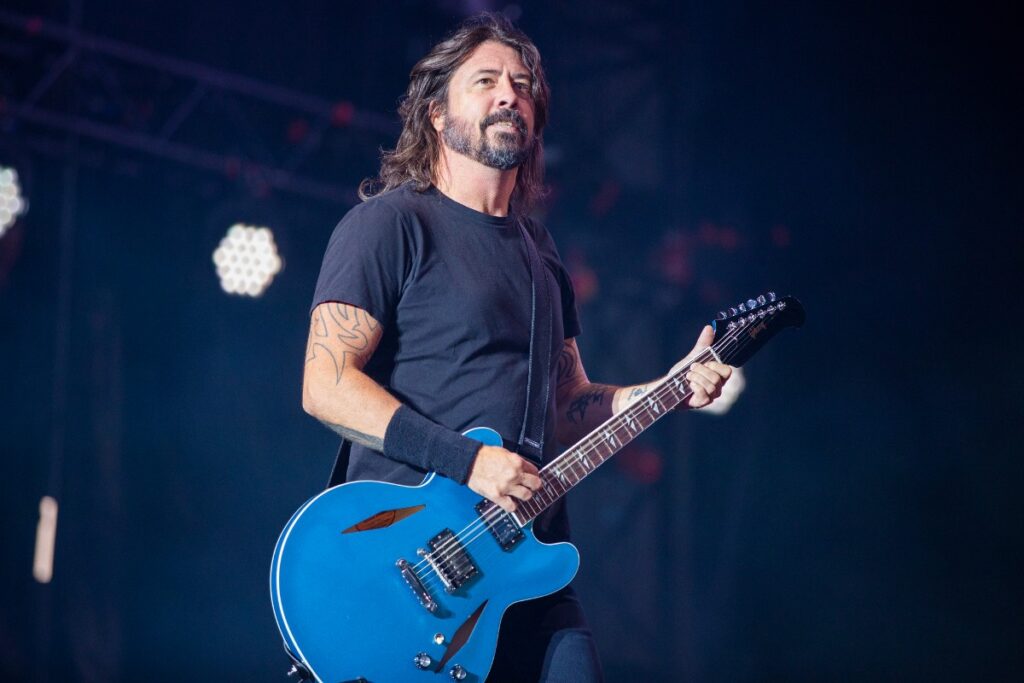 In addition to historic blizzards and relentless rain, Los Angeles temperatures have been particularly cold for the area. Overnight lows downtown are hovering in the low 40s. It's difficult for the unhoused community. That's why people like Dave Grohl are so freaking amazing. Because last week he rolled up to Hope the Mission with his own smoker and meat and cooked for over 24 hours to provide food for guests and staff.
Dave Grohl spent over 24 hours volunteering at a Los Angeles shelter to prepare barbecue for hundreds of people experiencing homelessness, once again proving he's everyone's hero.

The Foo Fighters frontman had brisket, pork butt, ribs and more delivered to Hope the Mission's Trebek Center in Northridge, California, on Feb. 22, Grace Ancheta, director of development at Hope the Mission, tells TODAY.com.

"He arrived around 3 in the afternoon, and then he was in our kitchen," Ancheta says. "He was prepping the meat, he was cutting it up and he was there until he put it in the smoker."

"The meat didn't go into the smoker until midnight that night because he's like, 'Oh, it has to season and it has to do this,'" Ancheta adds. "He's definitely a craftsman when it comes to that, and then he spent the night."

Ancheta says Grohl and his fellow barbecuers took turns smoking the meat overnight — even as a major winter storm moved through Southern California, dumping hail and rain on the shelter that night — until it was ready at about 3 p.m. on Feb. 23, or about an entire day after he started cooking.

Hope the Mission's shelters serve dinner around 6 p.m., so Grohl was working toward that deadline to be able to serve the meals after they were prepared, Ancheta says.

"He actually served to our guests, he came out and was very gracious and took pictures with the people that recognized him," Ancheta says. "He wanted no glory for it, he was like, 'I just want to do this for you guys and give back in that way.'"

Ancheta says Grohl told staffers at Hope the Mission he finds getting into the barbecue pit therapeutic after he comes offstage.

"Whenever he comes off of work or anything else, that's what he wants to do," Ancheta says. "He wants to cook for people."

She continues: "And by the way — it was amazing. It's the best barbecue we've had."
Northridge is about 30 miles north of LA, just for those unfamiliar with CA. Same weather. I love every part of this story. It's amazing that Dave brought everything and made dinner, making things a little easier on staff and a little more special for the guests. But I am getting particularly emotional that Dave took such care with the preparation and oversaw that it came out just right. And the planner in me is positively beaming that he took such measures to meet the shelters 6pm serve time. I'll say it – that's a Capricorn for you. And a saint. I appreciate that he uses cooking as his meditative down time but he's a famous man, he has tons of people he could call for a big dinner party. To do this for a community in need when it took him from his own home to do it shows who Dave is.
As Grace Ancheta said, Dave didn't do this for any glory. He wasn't the one who leaked the information, and his reps didn't respond to request for comments. He posed for photos at the Mission and filmed videos the president and CFO who were offsite participating in a run to raise money for the Trebeck Center. Honestly, this is just a story where everyone wins.
If you want to help Hope the Mission, you can donate here.
Dave Grohl showed up with no publicity to cook and serve for 500 people at Hope Mission in L.A. pic.twitter.com/wLeu9sx5MG

— Lillith O (@Orland1M) February 28, 2023
Dave Grohl, legendary BBQ rockstar. #Nirvana #davegrohl pic.twitter.com/rQSYJZshmR

— The Travel & OU Football Enthusiast (@DadCommando) February 28, 2023
Photo credit: Mike Gray/Avalon, Twitter and Instagram