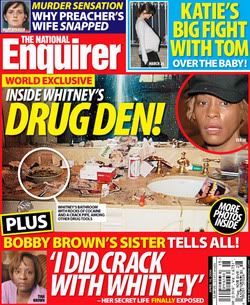 It's actually seven hours later than EST here in Switzerland. (Usually it's 6 hours later, but we have daylight savings times a week earlier.) After a full day of digging up the early morning gossip dirt I stepped out for a little fresh air and decided to make dinner. Then I came back after a relatively long time away from the computer and look – someone published the pictures of Witney's crack den! Damn, I would have been all over that.
Anyway, better late that never, and I'm sure you've seen these already but I need to add them to Celebitchy for posterity.
The story as you know is that Whitney's sister in law blew the lid on her lifestyle to get her hands on some quick cash:
Tina, 42, knows Whitney's drug habits well. A recovering addict herself, she and her sister-in-law were "drug buddies" for many months.
She confesses: "I did crack with Whitney. The truth needs to come out. She won't stay off the drugs. It's every single day. It's so ugly. Everyone is so scared she's going to O.D."
In the most explosive interview ever about Whitney, Tina tells how the 42-year-old singer spends days locked in her bedroom amid piles of garbage smoking crack, using sex toys to satisfy herself and ignoring personal hygiene.
The sex toys are the best part. Anyway here are the pictures. again. Thanks to popbytes for the cover image.