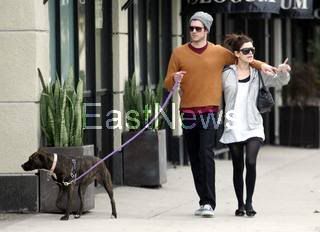 "Thank you for Smoking" author Christopher Buckley admits that he had no clue who Adam Brody was when he was first looking over the cast list for the film based on his novel. Then his teenage daughter clued him in:
Buckley mused on the initial casting of the film, and expressing his excitement to his 17-year-old daughter on the high-profile names involved. But to his dismay, as he rattled off names, be it Aaron Eckhart, William H. Macy, or Robert Duvall, his daughter's consistent response was, "Who?" "Then I got to the name Adam Brody, which I will confess to you was not familiar to me," the author said of the popular "OC" star. "And her reaction was 'Ohmigod, ohmigod, that's so cool, Adam Brody, Adam Brody,'" Buckley said, in his best teenage girl voice.
Buckley didn't have much input in the film, but is very pleased with the result. It is also doing well critically with an 81% overall rating at Rotten Tomatoes.
Here are The OC's on-screen and real life couple, Adam Brody and Rachel Bilson, walking their dog.
Pictures [via]
Three more after the jump.