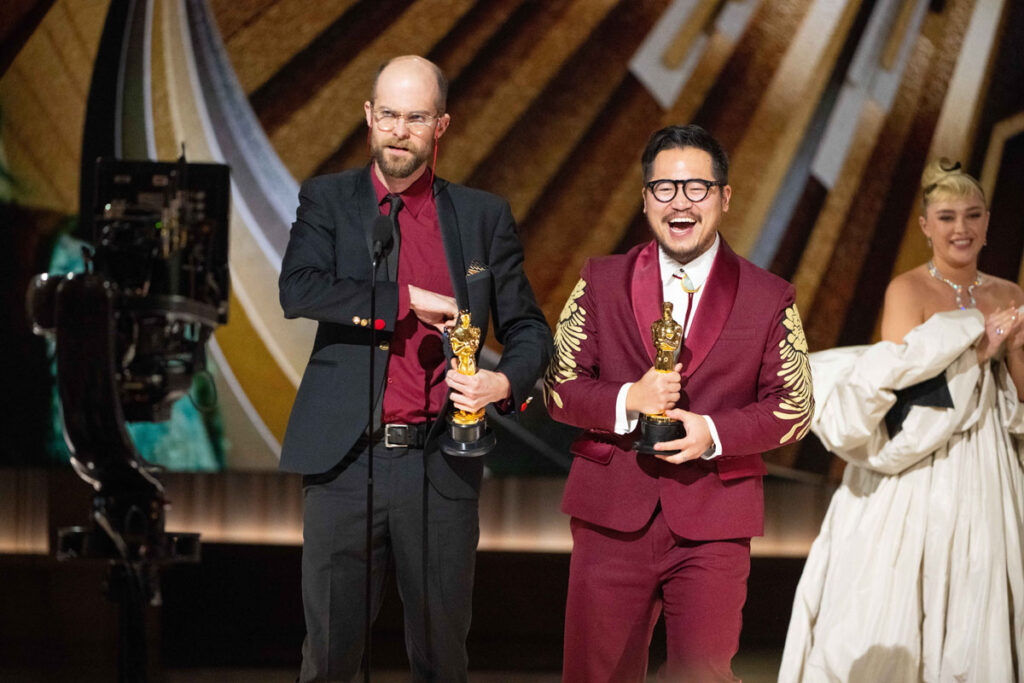 Everything Everywhere All at Once had a huge night at the Oscars. Not just in the acting categories but it picked up Best Original Screenplay, Best Director and Best Picture, all of which were claimed by Daniel Kwan and Daniel Scheinert, collectively known as The Daniels. Daniel S. brought his mom to the ceremony. While on the carpet, she let folks know that his sleek black suit had been purchased from a hometown secondhand store called Unclaimed Baggage, which specializes in reselling clothing from suitcases abandoned at airports. That's brilliant, btw. And so is an Academy Award nominee wearing a recycled suit on national television during a huge event.
After winning three Oscars — for Best Original Screenplay, Best Director and Best Picture — on Sunday night, Everything Everywhere All at Once co-creators Daniel Scheinert and Daniel Kwan are the talk of Tinseltown.

Now, adding to the buzz is word that Scheinert's "champagne carpet" look — a black tuxedo suit with multicolored buttons worn with a black tie and dark red dress shirt — was a thrift outfit bought from an Alabama store called Unclaimed Baggage, known primarily for stocking items pulled from suitcases that have been abandoned for at least 90 days by airline passengers around the country.

According to Jennifer Kritner, vice president of retail and company culture at the store, the Alabama-born Scheinert and his family are longtime customers and have made routine visits over the years to grab various looks for big events.

"Daniel shopped here growing up," Kritner tells Yahoo Life. "It's wonderful because his parents are from Guntersville, Alabama, which is probably about a 25-minute drive" from the Scottsboro store.

"We reached out to his mom and his mom confirmed, 'Yeah, it's hysterical. It's from Unclaimed,'" says Krinter, noting that "early on in Daniel's career, they needed to be going to award shows, and so he snagged [a suit] in the store that happened to fit a very tall, very slender man. So, they added it to his wardrobe."

Kritner adds that Scheinert's mom Becky also tried her luck at finding a special item for the Oscars, but did not score: "His mom actually came here to shop for her Oscar dress for this season, but unfortunately, had no luck finding just the right dress," she notes.
Oh hell yes, let's normalize recycling clothes in the entertainment industry. One of my indulgence shows is Next in Fashion with Tan France and my favorite episode this season has been the one in which they had to upcycle an outfit from a pile of thrift store clothing. Wearing secondhand pieces for major events would present a unique challenge to stylists to make them interesting enough for the red carpet, too. Daniel S. looked great. It was a nice suit, fit him well, although I'm sure he had it tailored. I love that his shirt picked up the maroon of Daniel K's suit. (BTW, Daniel K's suit and jade bolo tie was an homage to Michelle Yeoh's Evelyn character's cardigan and necklace in EEAAO.) Added to the powerful environmental message wearing a thrift shop suit sends, I love the loyalty of Daniel returning to a store he shopped in as a younger man.
When people caught wind of Daniel S. wearing a suit that had been left in lost luggage, they had plenty to say about it. My favorite was Ron Wood Jr.'s take:
Who're you wearing?: Gucci, Prada?

DANIEL: I am wearing clothes from a store in rural Alabama that buys all of unclaimed bags from the airport and sells the contents for a fraction. a lot of good stuff in those bags for the low.

Daniel an Alabama legend for this. 😂 https://t.co/bbKTPYrK3C

— Roy Wood Jr- Ex Jedi (@roywoodjr) March 13, 2023
Just a small rant – I saw that tweet and wanted to put it in this story. But because Twitter sucks so much now, it took me way too long to track down. El*n M*sk can sit on a tack.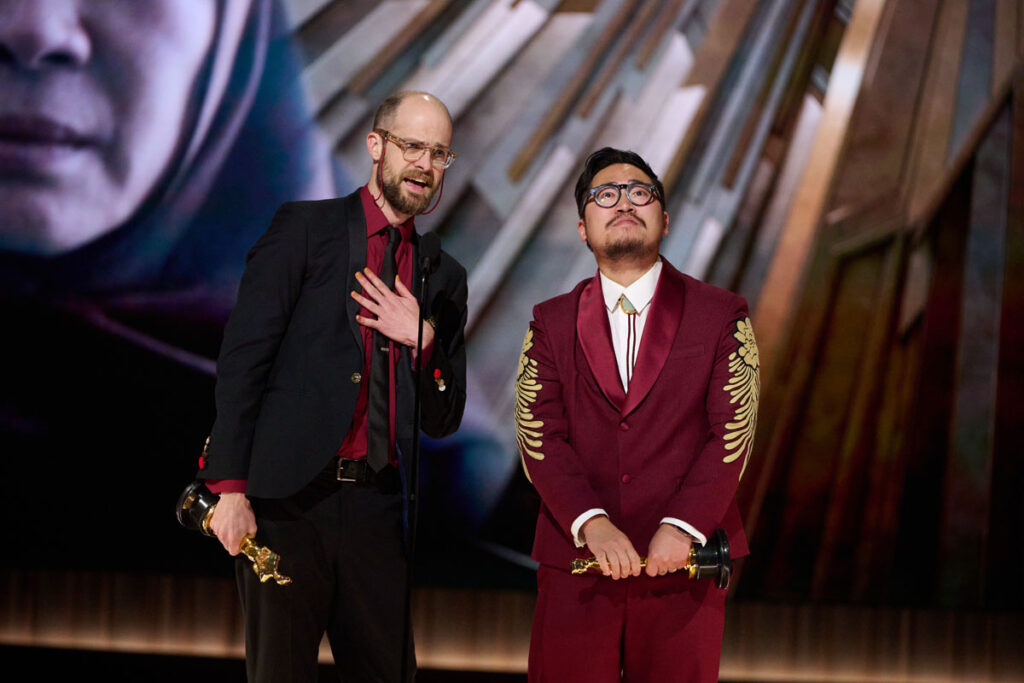 Photo credit: Blaine Ohigashi and SI/Avalon, Twitter and Getty Images