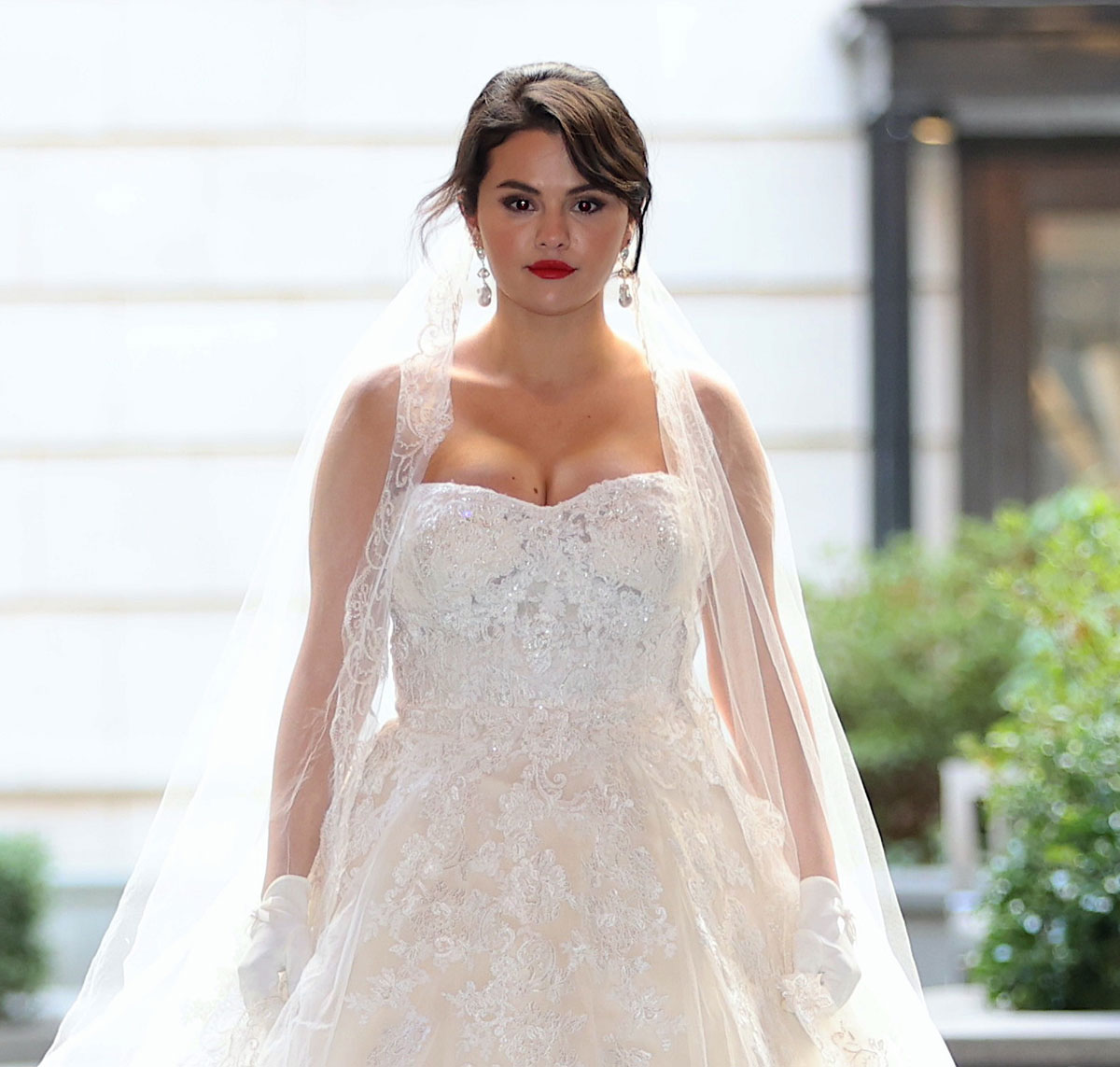 Filming is well underway for the third season of Only Murders in the Building. And that's great because it is the best show ever. Very few details about the third season plot have trickled out. We know we'll be getting flashbacks to learn more about Paul Rudd's character in the time leading up to his death. We know that Meryl Streep will be in it and Jesse Williams will play some sort of documentarian. But what we don't know is Mabel Mora's relationship status after the time jump and her ill-fated romances from the first two seasons. Selena Gomez was spotted on set in a wedding gown. Could her character be getting married?
Steve Martin is giving fans a new peek at the upcoming season of Only Murders in the Building.

In a new photo posted to Twitter on Tuesday, the 77-year-old actor rocked a dapper tuxedo as he posed with his costar Selena Gomez, who donned full-on wedding attire with a vintage lace gown and matching veil.

"Guess what just happened!" Martin captioned the snap.

Fans noted Martin's picture as a Father of the Bride homage. In the 1991 film, Martin portrays George Banks, whose daughter Annie (Kimberly Williams Paisley) returns home from studying abroad only to tell her parents she's engaged. The movie follows George as he disastrously meets his in-laws-to-be and adjusts to life collaborating with a hilariously over-the-top wedding consultant played by Gomez and Martin's Only Murders costar Martin Short.

Short, 72, also happily posed with the gorgeous bride in another photo Martin posted.

"Turns out this happened, too." Martin wrote.

Gomez, 30, also made the most of the moment as she struck a few fun poses in the gown in her own Instagram post. She sat on the floor and revealed her white combat boots as her white gloves held up a can of Coca-Cola.

"I have no caption. Just a regular day at work. @onlymurdershulu," she wrote.

In the comment section, the show's official Instagram page sweetly asked, "First things first, am I invited?"

Martin and Gomez's photo comes weeks after he revealed that filming for season 3 had officially started, with Meryl Streep, 73, be joining the cast.

The last time viewers saw the cast in the season 2 finale, Paul Rudd had joined as Broadway star Ben Glenroy.

Series co-creator and executive producer John Hoffman told PEOPLE the actor's role "was a true bit of dream casting for us" and added, "as those who know our show know well, many twists await regarding the story of 'Ben Glenroy' in our season 3."

Additionally, it was announced that Grey's Anatomy alum Jesse Williams will have a recurring role as a "documentarian with a particular interest in the case that Mabel, Charles and Oliver are working on," per Variety.

Though Hulu hasn't announced the official tagline for the season, it will likely fill in the gaps from the time jump in the season 2 finale, which ended with Rudd's character dying on stage after being poisoned.
Steve's posts on the topic are cute and I like the white combat boots in Selena's post. But the burning question is, why was Selena in the wedding gown on set? The third season is set only a year after the events of the second season. Could Mabel have met someone and had a whirlwind romance, resulting in a third season wedding? If so, is it tied to the season's mystery? Or is this for some kind of gag or undercover operation or dream sequence like the Son of Sam episode from season two? This show has surprised me enough times that I honestly don't feel confident in any guesses? But with themes throughout the first two seasons of loneliness and chosen families, a wedding storyline could go either way. It seemed like Steve Martin's character was turning a corner in his love life and that love interest will be in the next season, so maybe that's some stability for Steve's character and Selena's is next. The dress and veil look lovely, but do not look like Mabel's style, so maybe this is some sort of decoy or dream. I don't know, but I'm excited to find out when this show comes back.
Guess what just happened! pic.twitter.com/V4aNJjQUKW

— Steve Martin (@SteveMartinToGo) March 21, 2023
Turns out this happened, too. pic.twitter.com/2bWzL3Z15J

— Steve Martin (@SteveMartinToGo) March 21, 2023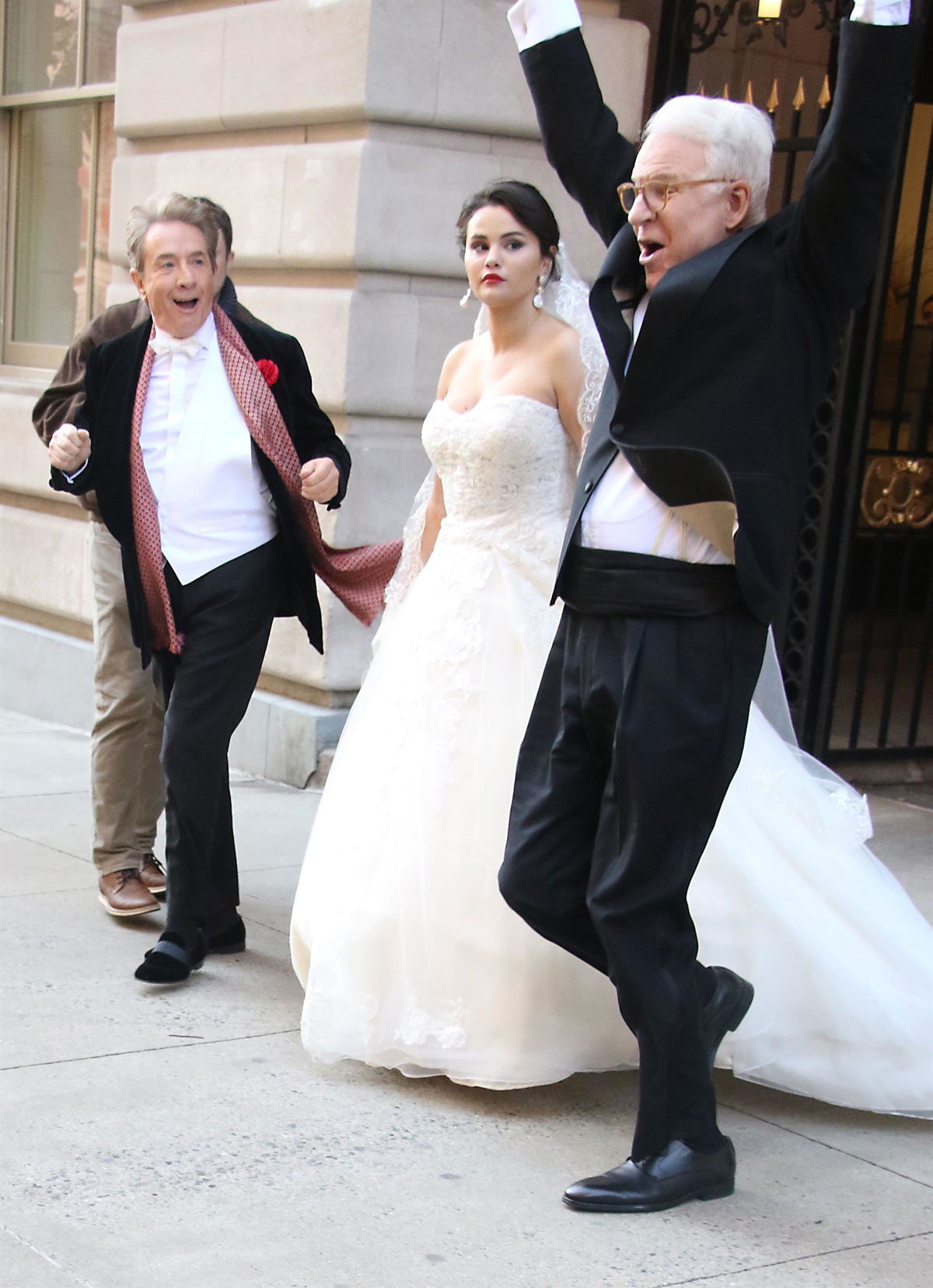 Photos credit: Jose Perez/INSTARimages.com/Cover Images and MediaPunch/Backgrid