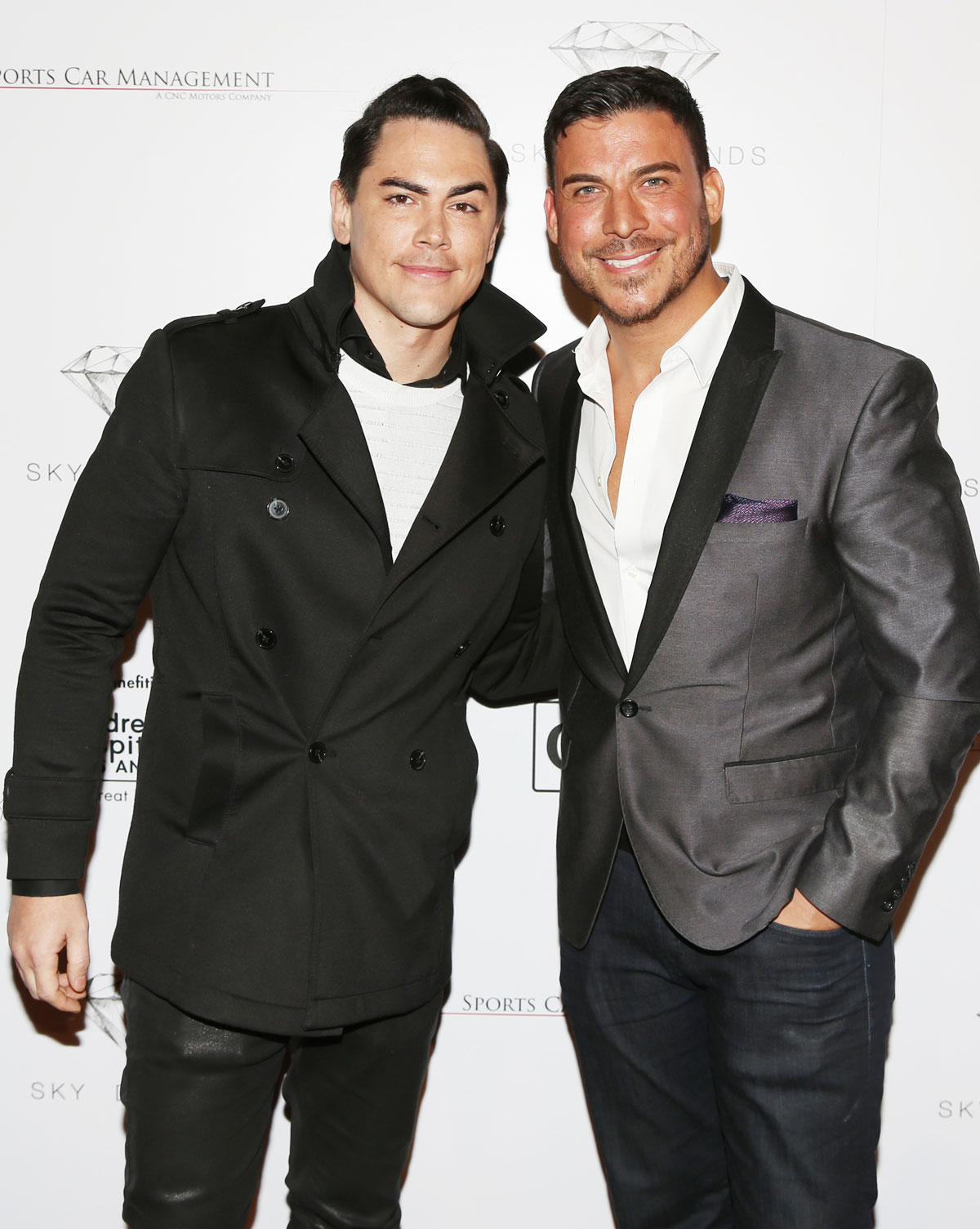 The Vanderpump Rules Scandoval is only going to get messier and more dramatic as the season airs. The main players have been somewhat quiet since their public statements. TMZ caught Ariana in a parking lot and she was like "who's Raquel?" And then TMZ caught Raquel outside a nail salon and she seemed… chatty and happy to see them. But as I said before, the chattiest of the bunch have been their friends and former/current castmates. Jax Taylor, who was fired from the show in 2020 when Bravo finally started to see being problematic as a liability, had a lot to say about the whole affair. He shaded Tom rather gleefully, speculated about why Tom had an affair in general and with Raquel in particular, and slammed Tom's self-involved apology.
Jax Taylor might have been one of the only people who wasn't surprised that Tom Sandoval cheated on his girlfriend of nine years, Ariana Madix, with costar Raquel Leviss.

"I got a text message. It said, 'You were right all along,'" Taylor, 43, tells PEOPLE of how he first heard the news. "It wasn't shocking to me. I've known Tom Sandoval for 20 years, we grew up together. I just know his lifestyle. I know who he is, and I've said it many times. No one wanted to believe me."

Taylor's wife and VPR alum Brittany Cartwright, however, didn't see it coming. "It was with Raquel, right under their noses — that's what's so shocking," Cartwright, who's launching the When Reality Hits podcast with Taylor on PodcastOne March 28, says.

Taylor acknowledges he doesn't "have a leg to stand on" when it comes to infidelity, but he has a theory about why Sandoval, 40, pursued a relationship with Leviss, 28.

"There's a reason why it's Raquel. [It's] because she can be controlled," he explains. "Ariana's a very strong, independent woman — that's how Brittany is — but you can't control her. And I think Raquel's very easily influenced. I think he likes to be able to tell her what to do. I think she's very codependent, and I think he preys on that. He can control her and she'll do whatever he says. And she's a fangirl a little bit. That wasn't happening with Ariana."

Taylor takes issue with the initial apology Sandoval issued on March 4, in which the musician wrote that he understands fans' "disappointment towards me" and asks them to leave friend and business partner Tom Schwartz, as well as "my friends and family out of this situation."

Says Taylor, "I've done my fair share of bad things, but where I have a problem is having your crisis PR team write you a message. You got to step down from your little pedestal for a minute. Stop making this about Tom Sandoval and making do better decisions. You should have called [Ariana] first. There's just no empathy there."

Days later, Sandoval posted an apology to Madix, calling himself "selfish" and expressing regret for the "reckless decisions that hurt somebody I love."

"Because he didn't say 'I'm sorry' to Ariana first, I think that's what was not a good look," Cartwright says.

Taylor thinks Sandoval carried on the affair because he felt invincible.

"When you get to a certain point, you think you have this diva mentality where you're just not going to get in trouble and you're not going to get caught," Taylor says. "He's gotten to that point where he's [thinking], 'I can't be touched. I can do whatever I want.' And it caught up with him."

Despite no longer appearing on Vanderpump Rules, the couple has stayed close with a lot of the cast and hangs out them often, including Sandoval and Leviss. "There's times and events where I saw them together and it just didn't even click until now," Taylor says. "We saw them Labor Day at our friend's house. They were together. But I wouldn't have thought anything until this came up."

Taylor questioned Sandoval's character for years, but now, "I don't want to say I told you so," he says. "I've been down this road. It's a scary, dark place where he is right now, but he put himself there. He's got to be man enough to own it and give Ariana her space."
It's funny how openly thrilled Jax is about his frenemy Tom's downfall. Petty and not afraid to admit it! I guess the fact that Jax is no better gives him particular insight, but at least Jax owns it and bad recognizes bad. And I have to admit, a lot of what he says about Tom seems right. They're similar and they've known each other for a long time. Jax is absolutely right about Tom's initial apology being completely self-serving and all about PR strategy — that's why they had to issue a second one that actually acknowledged his betrayal of his partner of 10 years! And it is likely that Tom did think he could get away with it. His actions were brazen — all the public time spent with Raquel, the matching necklaces, dressing up as her for Halloween. And maybe Tom did think he could control Raquel — after all, she is much younger and newer to the show than the rest of them — but I also think what Raquel said in her statement about codependence and validation was just as accurate for Tom as it was for her. Hm. They're filming the reunion this week, so it will be interesting to see how it all plays out. Though I don't think this scandal should be a way for cast members who were rightly fired for racism, like Jax and Kristen Doute, to come back permanently. Just because Tom and Raquel are awful doesn't mean the others should get their slates blanked to play supportive friend for the cameras.
Photos credit: Milla Cochran/startraksphoto.com, Getty