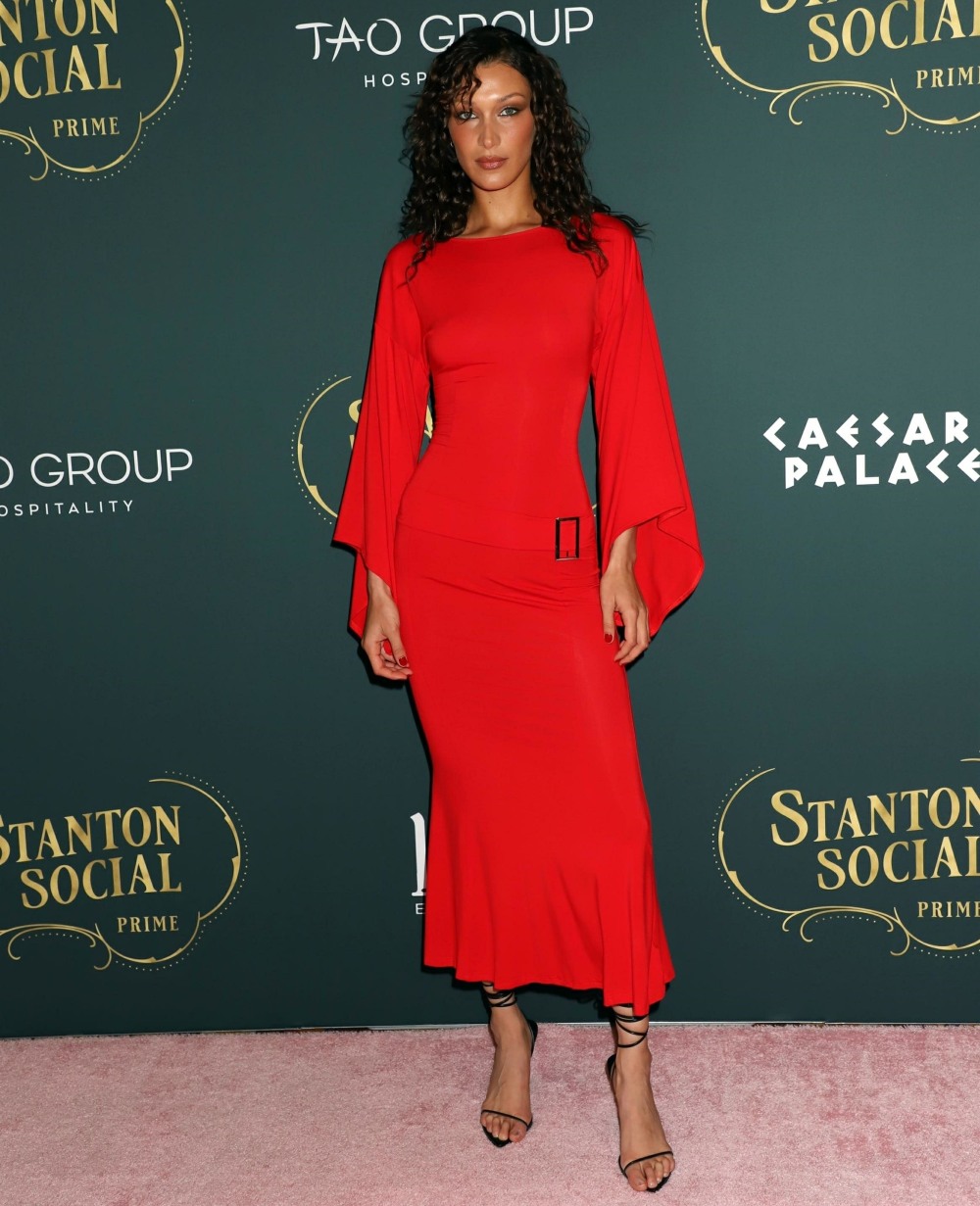 In late January 2022, Bella Hadid spoke about the hot new trend for 20-somethings: sobriety. It's something that happens to most generations, honestly – at some point in your 20s, you get all of the partying, drinking and drug-using out of your system, you're tired of waking up hungover and puffy, and so you start to experiment with sobriety or "California sober" (meaning, no alcohol or hard drugs but some marijuana use). Anyway, Bella did six months of no alcohol in 2021-2022. Then she was drinking again at some point in 2022. Then she went sober again. She recently took a trip to Las Vegas and declared herself "five months sober."
Bella Hadid has something to celebrate! The 26-year-old model proudly marked a new milestone over the weekend by taking an alcohol-free trip to Las Vegas in honor of reaching the fifth month in her sobriety journey.

"5 months alcohol free," proclaimed Hadid in a TikTok shared on Sunday as she smiled with a gal pal as they spent time inside a casino.

The model also gave a glimpse of her method of travel by sharing snaps from inside a flight that had a colorful bouquet of flowers and cans of her non-alcoholic beverage drink Kin Euphorics.
For Bella, she was getting to the point where her alcohol consumption was problematic – in previous interviews, she's talked about how she would cancel on friends because she knew she would just end up a drunk mess, and she wanted to start exerting some control over her life and her drinking. I think it's interesting that she did six months of sobriety last year, then gave it up for months, then went back to sobriety. Anyway, I'm proud of her, and I love that younger people have someone like Bella talking about sobriety and alcohol consumption in a real way.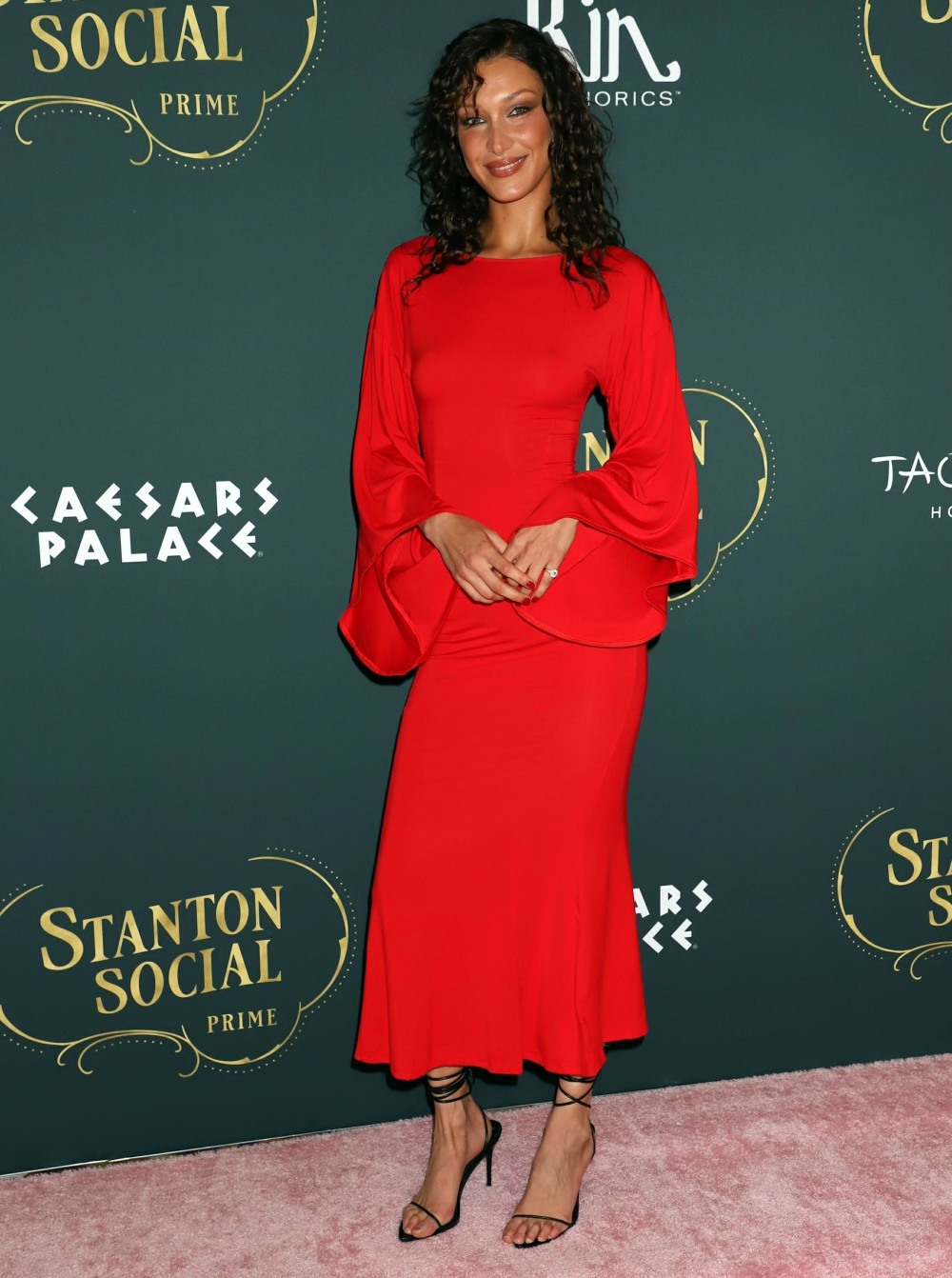 Photos courtesy of Backgrid.

Las Vegas, NV – Guests attend the grand opening of Stanton Social Prime at Caesars Palace in Las Vegas, Nevada. Pictured: Bella Hadid BACKGRID USA 18 MARCH 2023 BYLINE MUST READ: FPA / BACKGRID USA: +1 310 798 9111 / usasales@backgrid.com UK: +44 208 344 2007 / uksales@backgrid.com *UK Clients – Pictures Containing Children Please Pixelate Face Prior To Publication*
Las Vegas, NV – Guests attend the grand opening of Stanton Social Prime at Caesars Palace in Las Vegas, Nevada. Pictured: Bella Hadid BACKGRID USA 18 MARCH 2023 BYLINE MUST READ: FPA / BACKGRID USA: +1 310 798 9111 / usasales@backgrid.com UK: +44 208 344 2007 / uksales@backgrid.com *UK Clients – Pictures Containing Children Please Pixelate Face Prior To Publication*
Las Vegas, NV – Guests attend the grand opening of Stanton Social Prime at Caesars Palace in Las Vegas, Nevada. Pictured: Bella Hadid BACKGRID USA 18 MARCH 2023 BYLINE MUST READ: FPA / BACKGRID USA: +1 310 798 9111 / usasales@backgrid.com UK: +44 208 344 2007 / uksales@backgrid.com *UK Clients – Pictures Containing Children Please Pixelate Face Prior To Publication*