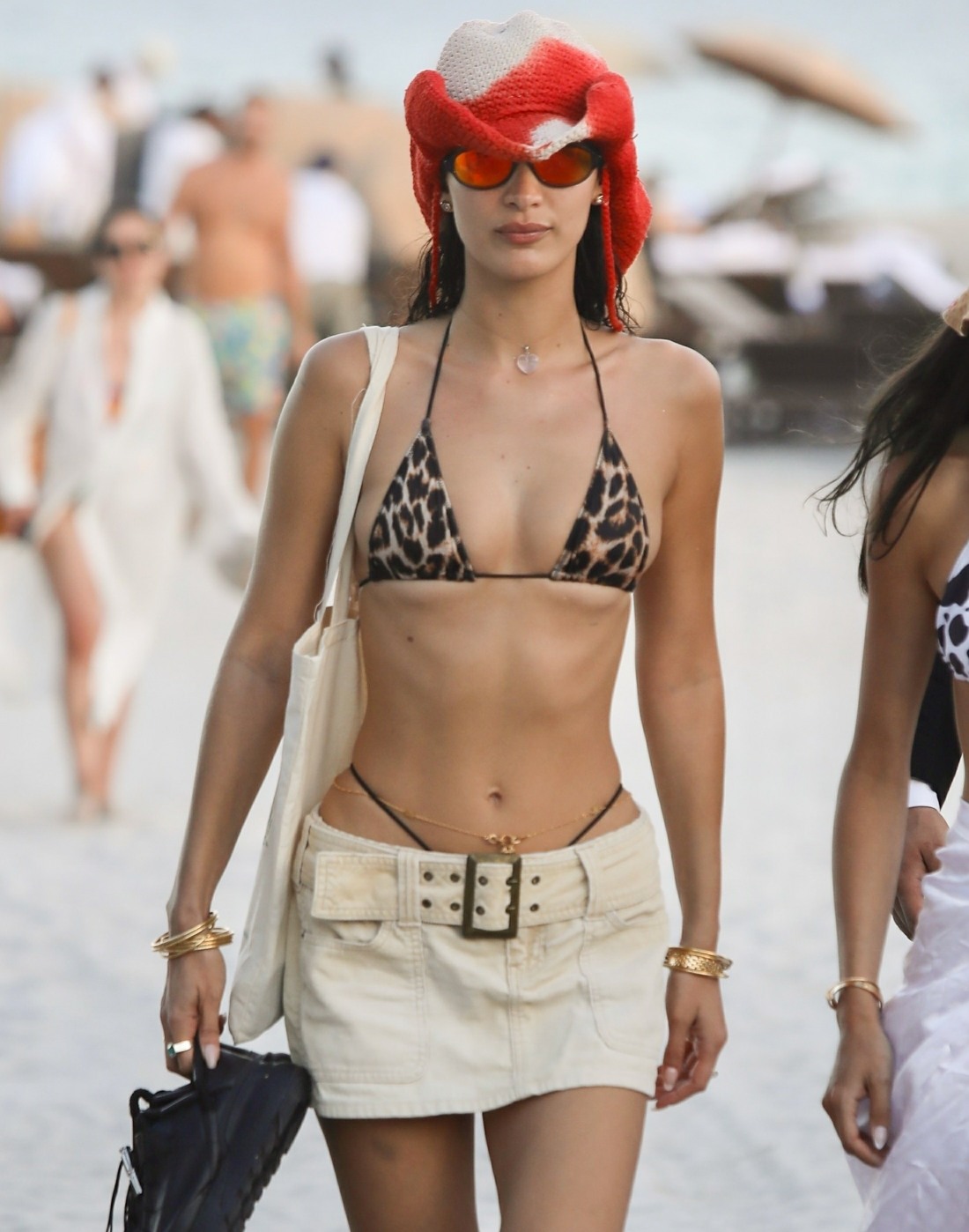 A few weeks ago, Bella Hadid mentioned in an interview that she was trying to do a Dry January, which is something that wasn't really done when I was younger. Like, a "stop drinking for a month" challenge seems to be a more recent development over the past decade or so. Anyway, lots of people do Dry January nowadays and I didn't even know that Bella was much of a drinker anyway. As it turns out, Bella didn't just stop boozing it up for January. She told InStyle that she's been dry for six months and she's doing it for health and control reasons. She spoke to InStyle about all of this and more to promote the energy-drink line Kin Euphorics, which she is "the face" of and in which she invested.
She loves wellness beverages: Hadid started by swapping Kin Spritz (infused with notes of ginger, bitters, and citrus) out for her morning coffee or matcha to get the same energy boost without the anxiety that came with it, she says. But it was the brand's Lightwave, a calming, stress-relieving alternative to an evening glass of wine (with sparking notes of lavender, vanilla, and passionflower) — that helped her to cut out drinking.

She loved alcohol: "I have done my fair share of drinking. I loved alcohol and it got to the point where even I started to, you know, cancel nights out that I felt like I wouldn't be able to control myself," she explains, adding that once brain scans from her doctor (one of Kin's medical advisors) showed her the effects of alcohol on her brain, it became "a lot harder to pick up the glass."

She drinks Kin Euphorics when she has anxiety too: "I drink this when I have crippling anxiety and I can't leave my house or when I'm not gonna drink alcohol but still want to loosen up and be able to speak to people and socialize," she explains. Both drinks have also helped relieve stress-related insomnia, Hadid says. "It doesn't put you slap on your butt, asleep for 15 hours, but it does really calm your brain, your nervous system, and those late-night thoughts. I drink it before bed and I sleep like a baby…It's kind of that moment where I have my ritual, where I'm able to just kind of be with myself. I don't take sleeping pills anymore. When I was flying so much, that was kind of the only way I would be able to not be jet-lagged. But now I really have something holistic and it's doing something for my body every day."

She's probably going to stop drinking forever: "I don't feel the need because I know how it will affect me at 3 in the morning when I wake up with horrible anxiety thinking about that one thing I said five years ago when I graduated high school. There's just this never-ending effect of, essentially, you know, pain and stress over those few drinks that didn't really do much, you know?"
I've long had the belief that some people have a "drinking problem" when they're younger (say, 19-22) and then they can "outgrow" it organically. If that makes any sense? I have zero science to back up what I'm saying, all I know is that the brain continues to develop and the anxiety/stress/hormones of those late teen/early 20s can even out, and it feels like many people just outgrow those binge-drinking triggers or what have you. It feels sort of like what Bella did too – she rationalized away her need/urge to social-drink and booze it up. Ultimately, she felt like she could control it and she has… so far. And I'll admit, she's a pretty good spokesperson for this wellness line? I kind of want to try this sh-t.
Photos courtesy of Backgrid, Avalon Red.