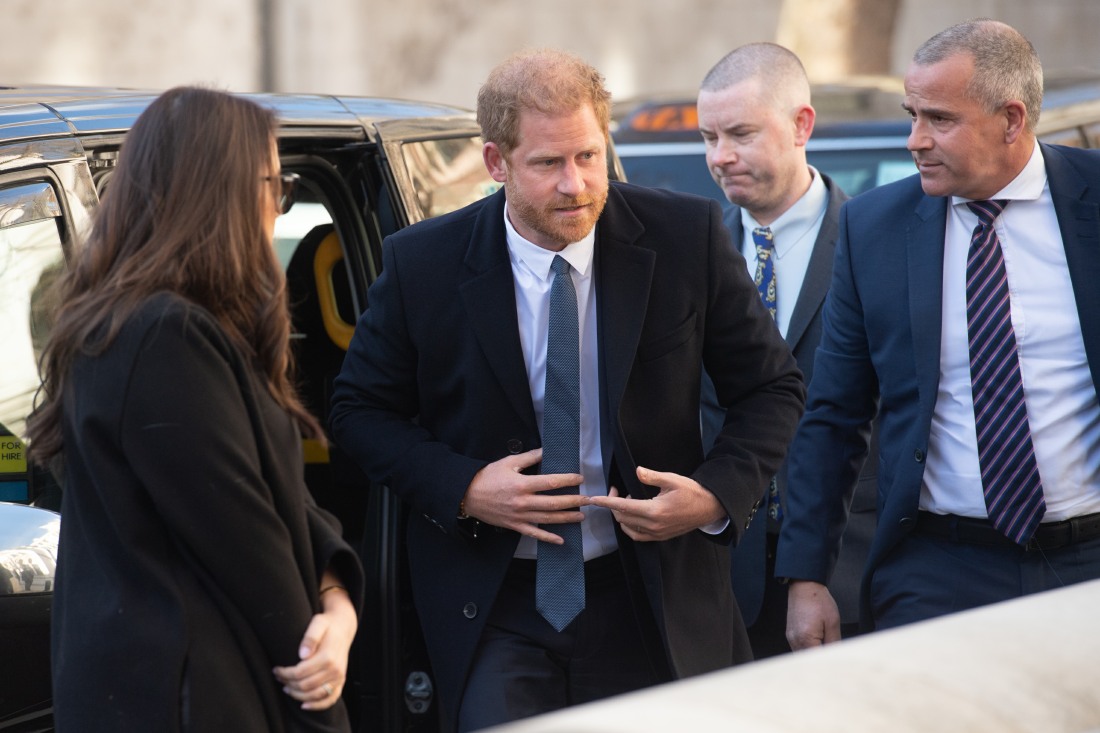 Everyone knew that the celebrity and royal case against the Mail's parent company, ANL, would have a significant four-day pre-trial hearing this week. It was widely reported… in the American media. The British media barely mentioned it, because Prince Harry is part of a high-profile group of people suing the Mail for phone-hacking, wiretapping, harassment and more. ANL is incredibly powerful, and the British media doesn't want any more attention on what they've been doing for decades. Today is the first day of the four-day hearing, which includes ANL's attempt to get the lawsuit thrown out. Guess who arrived for court???
Prince Harry stunned the entire British and American landscape here. There were zero leaks from Montecito, and no one in the British media got the heads up that Harry had flown into the UK. We don't even know when he arrived – all of a sudden, he just appeared outside the High Court in London. He wore a dark suit and a dark expression. Good for him.
Harry's co-plaintiffs include Sir Elton John, Liz Hurley, David Furnish, Sadie Frost, and Baroness Lawrence. They've all said that they "victims of abhorrent criminal activity and gross breaches of privacy".
Will Harry be in London for the full four days? Will he have time to pack up the last of the Sussexes' things at Frogmore Cottage? LMAO.
Daily Mail publisher ANL has worked hard to keep the full scale of the unlawful information gathering allegations from being made public, but Prince Harry and his 6 co-claimants are ready for their day in court. Clearly catching much of the UK media flat-footed. #PrinceHarryVsANL pic.twitter.com/fzWwcFNi1w

— R.S. Locke / Royal Suitor (@royal_suitor) March 27, 2023
Kay Burley "wasn't expecting" Prince Harry to be in London. That's because there are no leaks from Montecito; it's almost as if all the other previous leaks were coming from people in Blighty… pic.twitter.com/0Ov2zLTBOm

— Lorna_TVeditor (@Lorna_TVeditor) March 27, 2023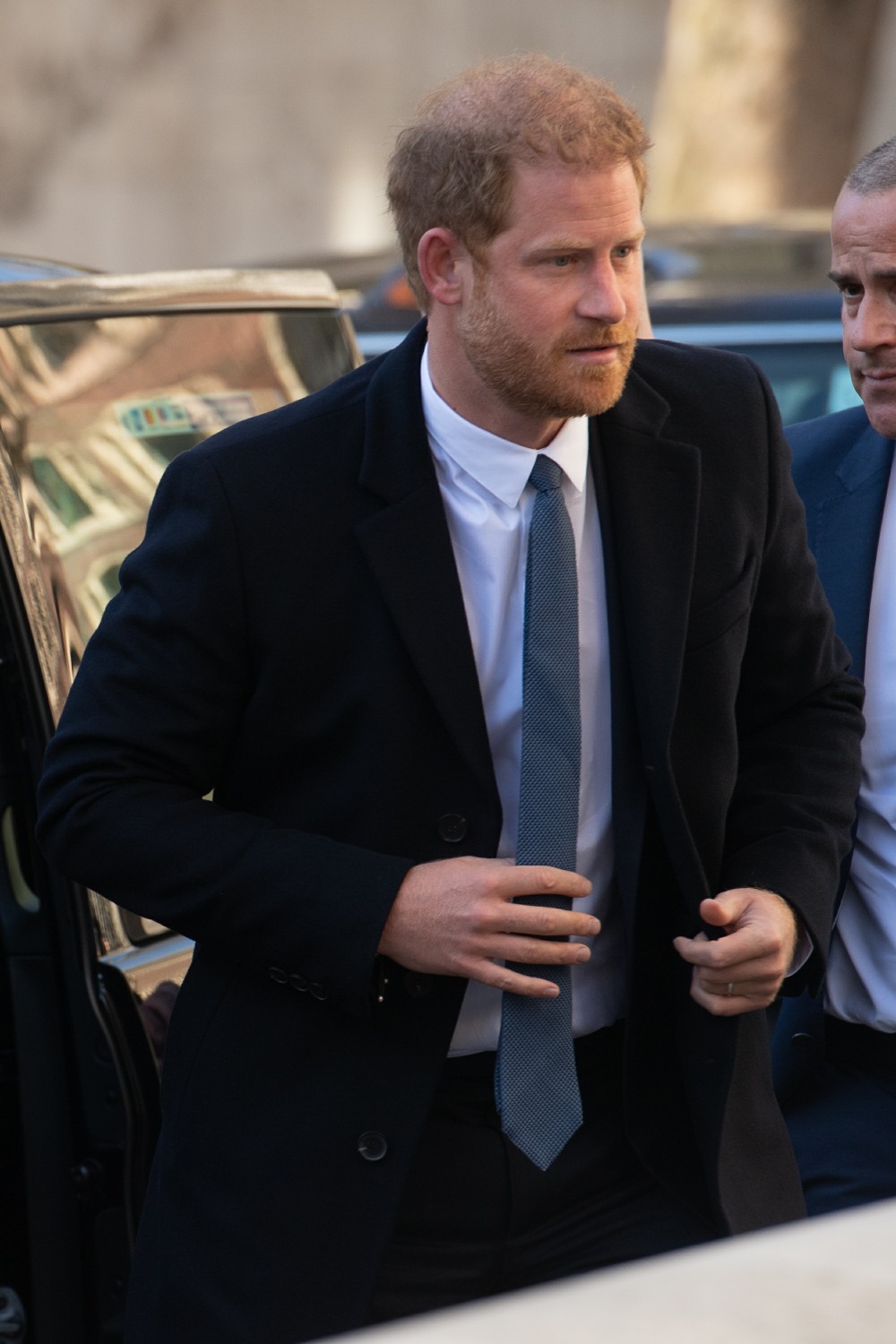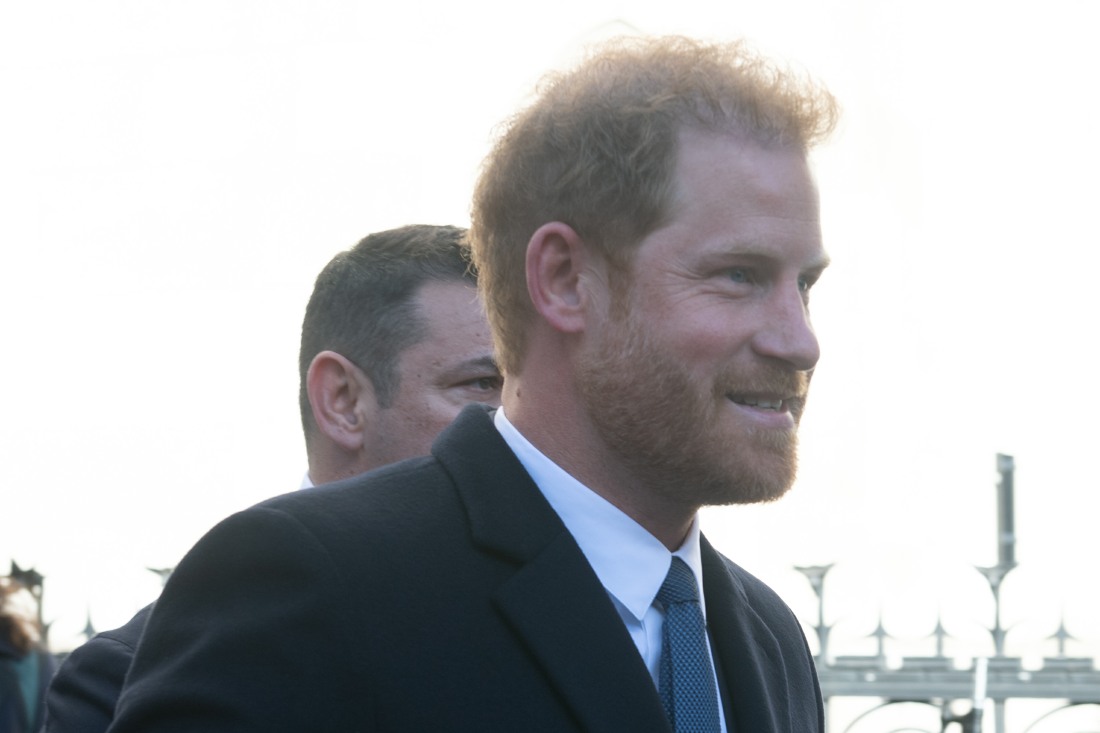 Photos courtesy of Avalon Red.

Prince Harry arrives at The Royal Courts Of Justice in London, England, UK on Monday 27 March, 2023. He is suing the Associated Newspapers Ltd (ANL) in the High Court over an article published in The Mail On Sunday in February 2022 about his security arrangements in the UK.,Image: 765422162, License: Rights-managed, Restrictions: Please credit photographer and agency when publishing as Justin Ng/UPPA/Avalon., Model Release: no, Credit line: Justin Ng / Avalon
Prince Harry arrives at The Royal Courts Of Justice in London, England, UK on Monday 27 March, 2023. He is suing the Associated Newspapers Ltd (ANL) in the High Court over an article published in The Mail On Sunday in February 2022 about his security arrangements in the UK.,Image: 765422192, License: Rights-managed, Restrictions: Please credit photographer and agency when publishing as Justin Ng/UPPA/Avalon., Model Release: no, Credit line: Justin Ng / Avalon
Prince Harry arrives at The Royal Courts Of Justice in London, England, UK on Monday 27 March, 2023. He is suing the Associated Newspapers Ltd (ANL) in the High Court over an article published in The Mail On Sunday in February 2022 about his security arrangements in the UK.,Image: 765422200, License: Rights-managed, Restrictions: Please credit photographer and agency when publishing as Justin Ng/UPPA/Avalon., Model Release: no, Credit line: Justin Ng / Avalon