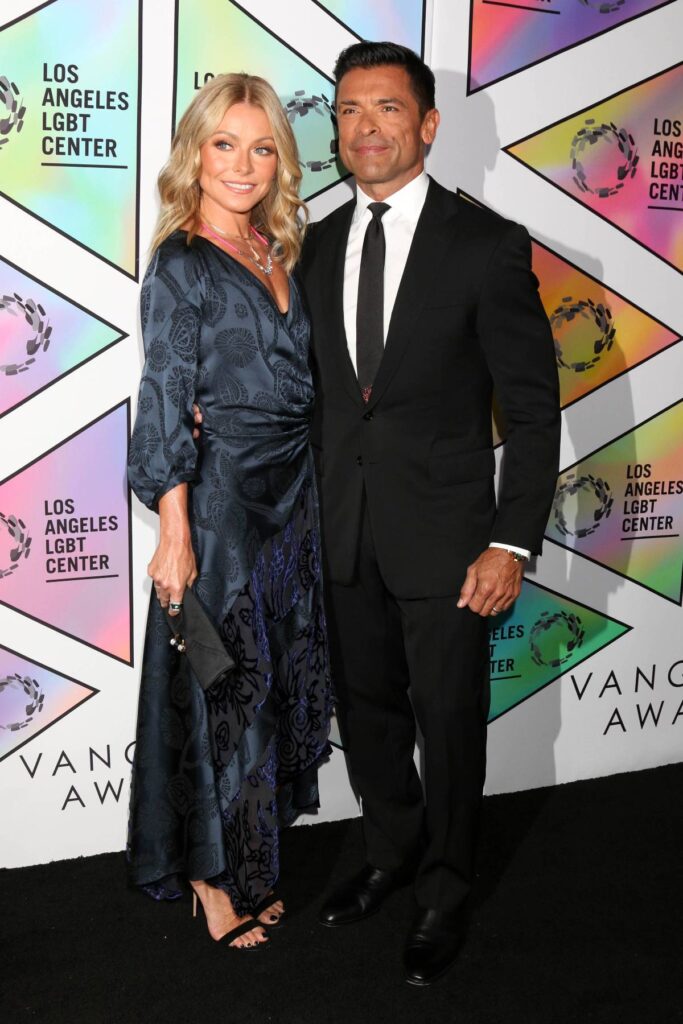 Monday marked the debut of Live with Kelly and Mark, the newly minted married co-hosts of the long-running morning talk show. Mark Conseulos officially took over for Ryan Seacrest to sit next to his wife of 26-years, Kelly Ripa, on the show she's hosted since 2001. Mark's frequently filled in as a guest host with Kelly so this transition was seamless and effortless. Or was it? Two days into the all KellyandMark, all the time experiment and things are not going well. They are getting what conservatively is being called mixed reviews and what most are calling "backlash" or "brutal" critique. Viewers feel the couple overshare about their bedroom activity, that their newlywed schtick is silly, and their PDA is cloying. Plus, they really wish Kelly would let Mark finish one of his sentences. All of this makes me wonder, have these people never watched Kelly or Mark before?!
Married couple Kelly Ripa and Mark Consuelos faced more social media criticism during their second day hosting "Live" together.

"Gosh I don't know with them together," tweeted one viewer. "I am not a fan. Loved Ryan and all his stories, he brought another layer to the show.

"Kelly and Mark look uncomfortable together, it's hard to watch. Mark as a fill in cohost was fun to watch. This isn't fun to watch anymore. Need Ryan back."

"Painful! When does Mark get to finish his own sentences??" noted one less-than-impressed fan. "Annoying, changed the channel. Bye-bye Live!

The "Riverdale" alum defended the first episode.

"This show today truly felt like home," the actor told Us Weekly Monday. "I always feel at home with Kelly, but [working] together this morning just felt so right."

He added that the couple has "always" felt at "ease" when they are together, and he feels "lucky we get to do that daily" as co-hosts.

"I can't wait to see where we can go from here," he added.
Ripa, also heaped praise on her husband's debut, telling the magazine that she thought he did an "amazing" job and "better than (she) ever thought possible. "He's a natural, and I have a good feeling this is going to be great for a while."
I've only seen clips of Kelly and Mark on the show. They seemed like all their other clips, which I don't love but I don't know why everyone hates them now. I do think Mark seems a little more nervous, but that's to be expected. And even though everything I thought would happen is happening, I still think they should be given longer than two days to prove themselves. Everyone needs to find their groove, even marrieds. Hopefully they will take the feedback and tweak their onscreen dynamic because seriously, right now it does feel like we're at dinner with the annoying neighbors who only talk to each other.
The part I want to focus on is Kelly not letting Mark finish his sentences. I've been curious ever since they announced his hire about what their work dynamic would be. She's been there 22 years, is she his boss? She definitely has seniority; does she get to make calls that he doesn't? If the audience ultimately responds better to Mark, will Kelly can get ousted? That would be a hard hurdle to get over at home. Even if Mark gets fired, that'll make for uncomfortable pillow-talk. I hope they thought this through because ABC is loyal only to their numbers. They don't care about how blowing up an online partnership affects the relationship offline, they've proven that time and again. So Kelly running roughshod over Mark isn't great. Not only does it establish her seniority, it kind of looks like she doesn't trust him, despite her glowing review above. Plus, it's annoying to watch. Again, I'll wait out the first week because they're probably both anxious. But I'd expect those kinds of nerves from two people just coming together. These are two people who have been together for 26 years and have worked together for many of those.
KELLY PLEASE LET MARK SPEAK
LET THE POOR GUY FINISH A SENTENCE. ITS PAINFUL TO WATCH. THIS IS A DIFFICULT TRANSITION FOR ALOT OF US..

— lori d. (@loridee07) April 18, 2023
Photo credit: Instagram, Martin Sloan and Getty Images/Avalon Red