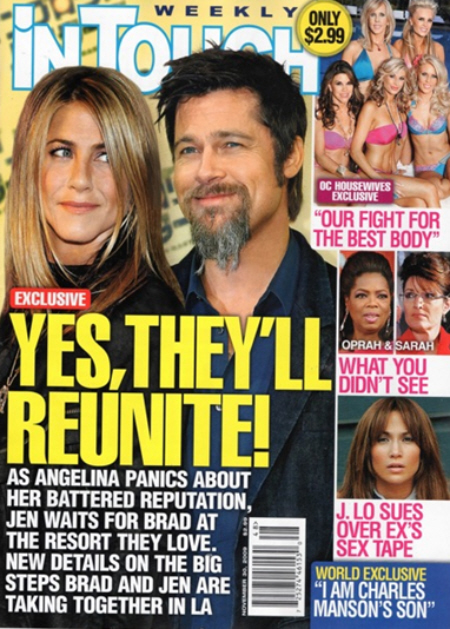 This is In Touch Weekly's cover this week. Yep. It's that… boring. Apparently, it's also false advertising. Considering that In Touch seems to have a vicious anti-Brangelina story every week, complete with quotes from "insiders" about their demise, et cetera, you would think that In Touch could just make up a good story to go along with this cover. Instead, it seems like Jennifer Aniston is "waiting" for Brad… to text her. Yeah. We don't have the complete cover story yet, but here are the highlights, courtesy of Jezebel:
In Touch's cover copy reads: "Jen waits for Brad at the resort they love." But inside, what they mean is: She went to a hotel in Mexico she'd been to with Brad and "waited" for him to text her.

"After a few glasses of wine on November 13, his pal reveals that Jen ducked away from her group of friends and exchanged a series of text messages with Brad that crossed the line from friendly to downright flirtatious."

Oh, and you know how two tell-all books about Brangelina are coming out? Angelina's "tarnished" image is driving Brad away, and he thinks she's brought this on herself because of her addiction to attention.

The copy reads: "Brad isn't worried about how the books will affect Angelina, but how they might hurt their children."

A source says: "Maddox is old enough to Google his mom now, and Brad is afraid he'll get hurt."

Jen's friend says: "Brad seems haggard. All Jen wants to to when she sees him is give him a big hug and tell him he'll be fine."

Oh, and Brad and Jen have reconnected over Norman, Jen's sick dog — who used to be Brad's dog, too.
[From Jezebel]
Meh. If you've read one In Touch Weekly anti-Brangelina story, you've read them all. Blah, blah, Angelina is horrible, blah, Brad looks horrible, blah, blah, "the last straw", blah, some fake doctor gives quotes about why Angelina is the devil, officially.
Now, the real dirt was in Us Weekly's cover story last week. We covered it partially, only the stuff that was online. Now, we've got even more of the story – almost all of which was based on Ian Halperin's "tell all" book about Brangelina. First, before I get into what Halperin's alleged, there was another named source who was quoted throughout the piece. That person was Nicholas Kristof, the New York Times columnist and Angelina's friend. Brad and Angelina recently attended Kristof's book party, and in return, Kristof supplied complimentary quotes to Us Weekly. Here are some of the highlights, via Public Road:
Their love was on display at an October 27 West Hollywood dinner with their friend, "Half the Sky" coauthor Nicholas Kristof. "They're attentive to each other. They listen, they're respectful and sometimes finish each other's sentences," Kristof tells Us. "When we walked into the restaurant, Brad kept turning around to make sure that Angie was OK."

"They're both proud of their kids and clearly care a lot about them," says Kristof. "Angie talks about how she and Brad juggle their schedules so somebody is always looking after them. She is incredibly attentive of how their careers will affect them."

While [author Ian] Halperin says he feels he's watching "a fairy tale in reverse," Kristof predicts a happy ending: "They're a great couple. They are both very down-to-earth and very funny. They like to just talk about their family. Every time I see them, they're just very close."
[From Us Weekly via Public Road]
Yes, Kristof is laying it on a bit thick. Yes, it comes across as overkill. But there might be some method to this madness when you consider the kind of crap Halperin is spinning. Here are some of those lowlights:
*Halperin… claims Jolie spread nasty rumors about [Jennifer Aniston]; that a tipster told him Jolie was recently taking crystal meth; and that she and Pitt are just one year away from splitting.

*Angelina was convinced that Brad was having an affair with a Sudanese model named Amma. Halperin claims Angelina "has accused Brad of cheating on her on more than one occasion."

*Angelina's former bodyguard, Mickey Brett, was once thought to be shopping a book about Brad and Angelina. Brett now denies that he's writing a book. But the rumors of Brett's book have convinced Halperin that Angelina is cheating on Brad, too.

*Halperin claims he "can't prove" any of the "secret meetings" between Jennifer Aniston and Brad: "I painstakingly traced each of these reports… I can say with a fair degree of certainty that Brad and Jennifer have not been together since the first week of January 2005."

*Jennifer's friends say: "Brad is nothing but a distant joke to Jen at this point."

*Halperin hedges his bets at the end: "It wouldn't surprise me in the least if [Brad and Angelina] are broken up by Christmas 2010."
[From Us Weekly, print edition, November 23]
The crystal meth is the thing that caught my eye at first. This isn't the first time Angelina has faced those kinds of rumors. When she was pregnant with the twins, Dr. Drew famously said in an interview that he's "never seen someone remit heroin completely. You're either still on heroin, Oxycontin or something else. Unless you're dead. Is she still using something?" While I know that Angelina was a drug user before she was a mother, I honestly believe she hasn't touched any illegal substance since adopting Maddox in 2002. And crystal meth is a pretty serious charge – it's not like Brad and the reefer. Gah… whatever. People didn't seem to pick up on this, so maybe people don't care. Hopefully.
In Touch Weekly cover courtesy of Cover Awards. Brad & Angelina at MoCA on November 14. Credit: PicApp/Getty.