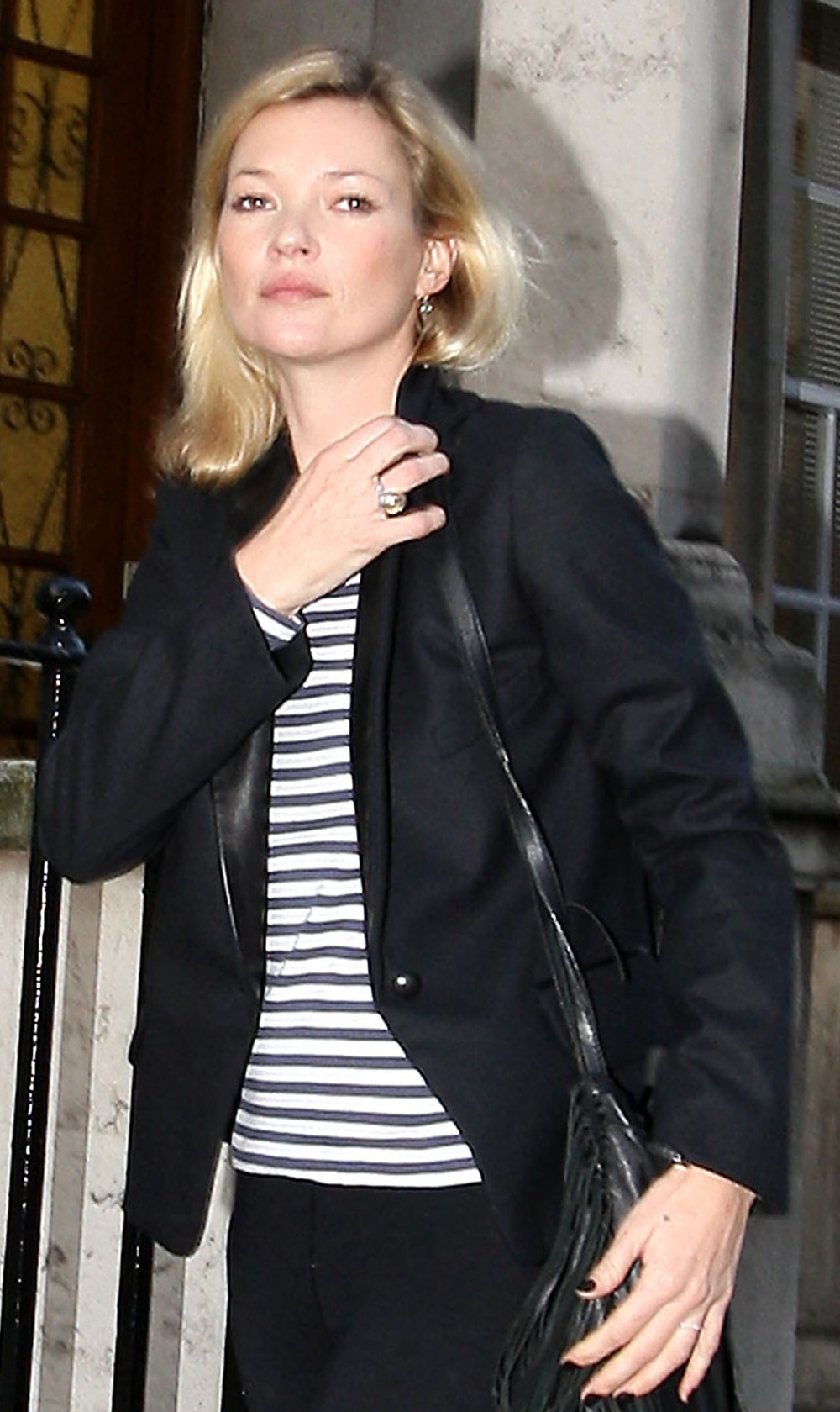 Kate Moss is getting into all sorts of trouble for saying that her motto is "nothing tastes as good as skinny feels." Critics are lambasting her, saying that she's promoting eating disorders. That's the same model that's often quoted on a lot of pro-anorexia websites. And considering she was the face of the "heroin chic" model movement in the 1990s, it's bringing up a lot of old issues. Kate's modeling agency has of course tried to amend her statement, but it doesn't appear to be doing much good.
Kate Moss needs a new motto. After she told Women's Wear Daily that she lived by the slogan, "nothing tastes as good as skinny feels," the model, 35, has been attacked by eating disorder groups for her "dangerous" viewpoint.

"Comments like this make it even more difficult for young people struggling with an eating disorder," said Mary George, a representative of a British eating disorder charity called Beat. "She probably doesn't realize how dangerous such comments can be."

In fact, that exact comment is a slogan posted on many Web sites that encourage girls not to eat and pushes those with anorexia or bulimia over the edge. Model Katie Green also considered her statement "shocking and irresponsible," especially because Moss has a seven-year-old daughter, Lila Grace.

"Kate is a mother herself and how would parents with children suffering from eating disorders feel reading something like this?" said Green, who has been campaigning to stop the use of ultra-thin models in runway shows. "[Kate] should really have thought before she spoke like most of us do before giving interviews."

Moss' modeling agency, Storm, however, said her words were misconstrued.

"This was part of a longer answer Kate gave during a wider-ranging interview, which has unfortunately been taken out of context and completely misrepresented," the agency said in a statement. "For the record, Kate does not support this as a lifestyle choice."
[From Us Weekly]
In the video below, British psychotherapist Lucy Beresford talks more about why Kate's motto is so dangerous. Importantly, she notes that the saying didn't originate with Kate, and is thought to have been coined by Weight Watchers. I swear to God I remember Oprah saying it after she lost all that weight in the 80s and toted that wagon full of fat on her show's stage. I've heard it for years – though with "thin" instead of "skinny," which does make it sound less unhealthy. I think the original point of the motto was to say it to yourself when you're an overweight person who's battling cravings and over-eating desires. It wasn't intended as a motto for skinny people to get even skinnier.
As Kaiser pointed out in her article about this, Kate's follow up comment is very important. She says, "'Nothing tastes as good as skinny feels.' That's one of them. You try and remember, but it never works." So while Kate's repeating the phrase – and still saying it's her motto, which is very dangerous – she did also say that she can't stick to it. It's not a great motto for a skinny model to have, but it's not surprising. And I absolutely see why it's dangerous. I'm just trying to point out that there's more to it, and others have said it as well.
Okay, I hope that's the last time I ever have to defend Kate Moss.
Here's Kate Moss and a friend arriving at a London Hotel on November 16th. Images thanks to WENN.com .