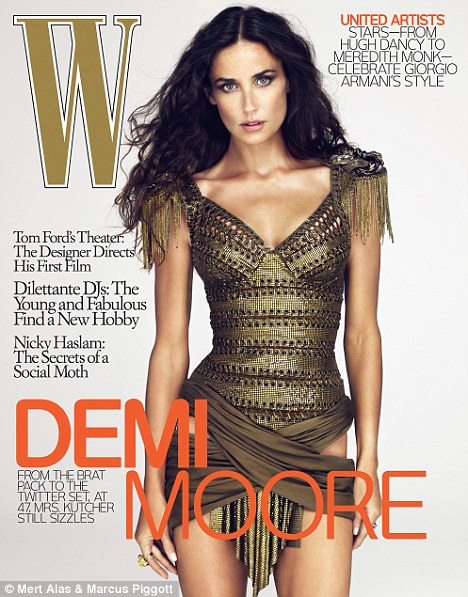 There was a lot of buzz over the fact that Demi Moore seemed to be missing a chunk of her thigh in her photo on the cover of W Magazine. Demi is a very thin woman, but her hip is probably not a few inches smaller than her thigh. In her defense, Moore posted a photo to Twitter that she claimed was the original, unretouched version used for W. It showed her hip pushed in like on the cover picture, and she wrote "Here is the original image people my hips were not touched don't let these people bullshit you!" Moore also retweeted a response from a fan that said "its just the way u have ur hip kinda swung to one side..y can noone see this!?"
W Magazine admitted the image was altered but said it was "nothing out of the ordinary." The photographer that shot Demi for W who first spotted the flub says that of course the photo is retouched, and calls it a "blooper" that belongs on the "art department wall of shame." Photographer Anthony Citrano was kind enough to e-mail us with his comments and says that he'll donate $5,000 to the charity of Demi's choice if she can prove that the photo she posted is the original.
I saw your article on the Demi Moore photoshop flub – I'm the photographer who started the whole thing – and after giving it a lot of thought (and being accused of "bullshit" by Demi overnight), I'm raising the stakes: http://twitter.com/acitrano/status/5894990728

While I really feel bad that Demi is on defense over this, I also don't like being accused of "bullshit." So, let's find out who's bullshitting. This isn't about her and it isn't about retouching (I've no problem with either). It's about a blooper, basically. The cover is a blooper; it goes on the art department's wall of shame. So what? We
all make mistakes. That's got *nothing* to do with Demi. She's a beautiful woman with or without retouching. And where the hell is W Magazine on this? Why are they forcing Demi to address it? It's not fair to her.
[From Anthony Citrano, received via e-mail]
In a follow-up e-mail, Citrano explained "I have no problem with Demi nor with Photoshopping – but I don't like her accusation of 'bullshit' toward me, and then posting what she claims is the original as if it's some kind of 'proof' – while most of her bazillion twitter fans take it as gospel." Demi probably isn't missing a piece of her thigh, then. Even if her thigh was somehow pushed in by the way she was standing to the side, it's not like that's her everyday face, and her body looks unnaturally thin. So why is she so defensive about the photo? Why doesn't she just admit she was retouched and be done with it? It's not like all the other celebrity cover photos aren't airbrushed into oblivion. This must be a sore spot for Demi, and seems to tie in with all the times she's denied any kind of plastic surgery. Demi is so naturally beautiful even her cover photos are all natural!
Update: Anthony Citrano is not the photographer who shot Demi for W, but his photos have run in W and he is the one who first noticed the blatant Photoshopping.
It appears as if Moore's entire body may have been replaced. Popculturemadness points out that Demi's body looks like it was replaced with a supermodel in that same dress and exact same pose on the catwalk. (Thanks taya for the tip!)