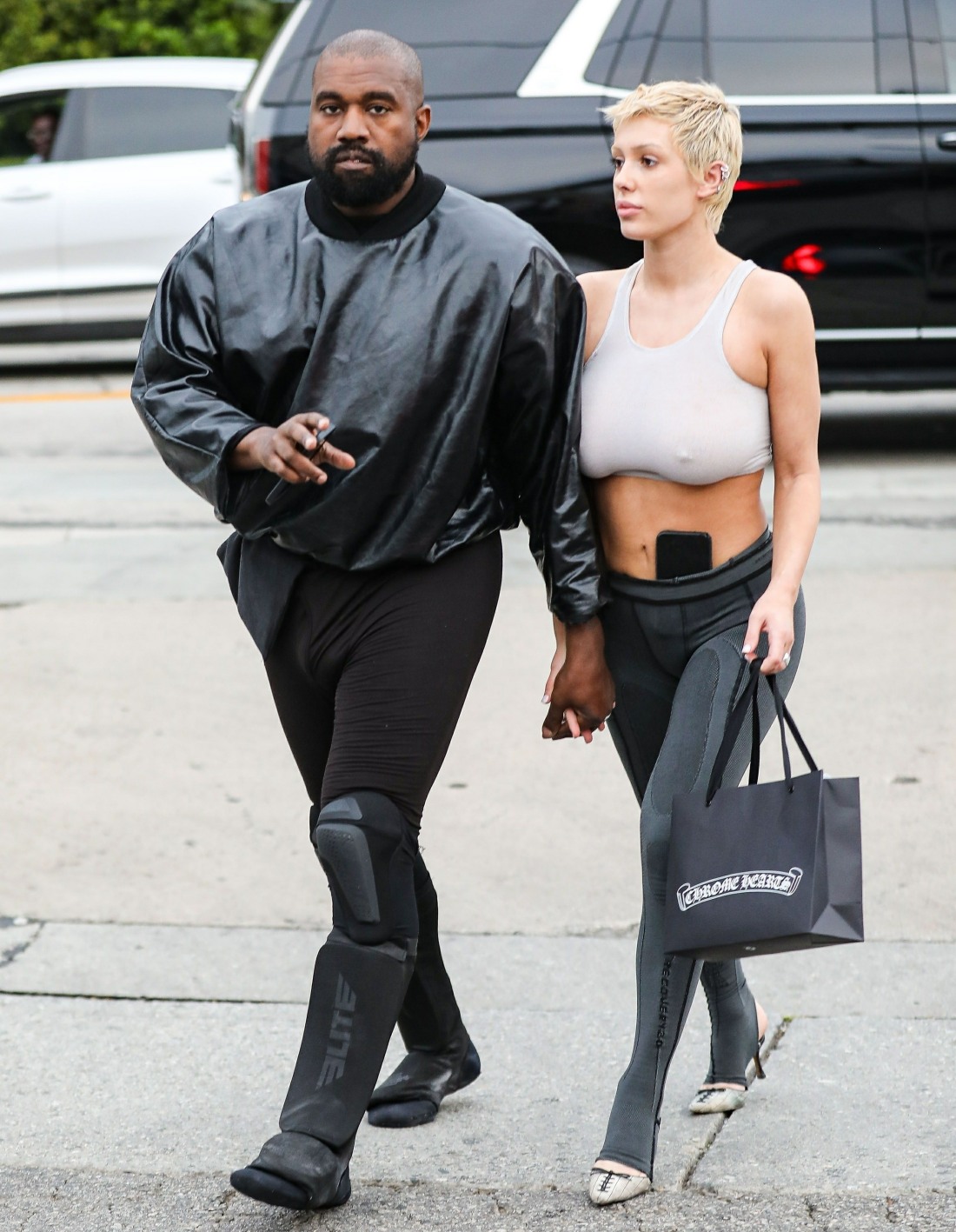 Here are some photos of Kanye "Ye" West and his "wife" Bianca Censori out and about in LA this weekend. They were photographed as they left Cecconi's in West Hollywood. Ye and Bianca had some kind of half-assed wedding back in January, but I am still not sure that any of it was legal. I guess Bianca will find out if it was legal when she tries to divorce him. Ye's outfit here is… interesting. Bianca's outfit is not interesting to me though – I absolutely loathe this trend of "sports bras as tops." It's happening a lot in women's tennis too – like, I'm glad your girls are being supported, but a sports bra is not a going-out top. Her leggings/tights are pretty awful too, I hate that low rise.
You might think, hey, who cares about Kanye and Bianca's clothes? Well, did you realize that Kanye likely designed all of these pieces? While Kanye's Yeezy line was canceled by Adidas, Kanye still wants to be involved with fashion, and he's filed trademarks for sh-t like "Yeezy Sock Shoes" and "Yeezy leggings." The thing is, I'm pretty sure that Kanye doesn't "own" the name Yeezy for any clothing/apparel line. When Adidas canceled Kanye last year during his antisemitic catastrophe, I thought we learned that Adidas owns the rights to the entire Yeezy line?
Meanwhile, Adidas is absolutely sticking with their Yeezy shutdown. They've lost money, but they don't want to be in business with Ye whatsoever and they're holding to that. Still, Adidas has approximately £1.05 billion worth of Yeezy products left in storage, and Adidas has been debating what to do about all of that. Adidas' CEO recently said that they'll likely sell it off and donate the proceeds to charities and NGOs involved with all of the groups Kanye offended.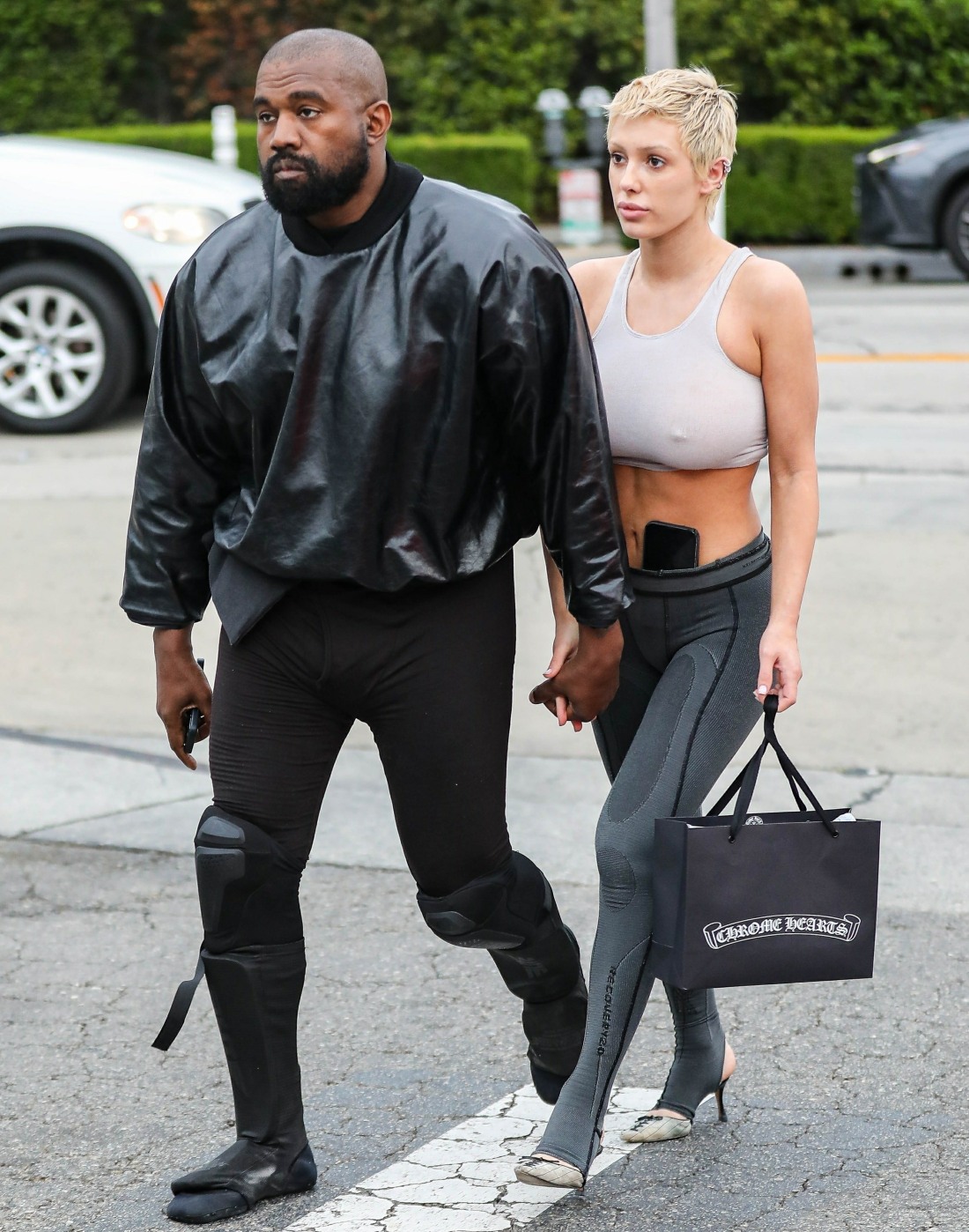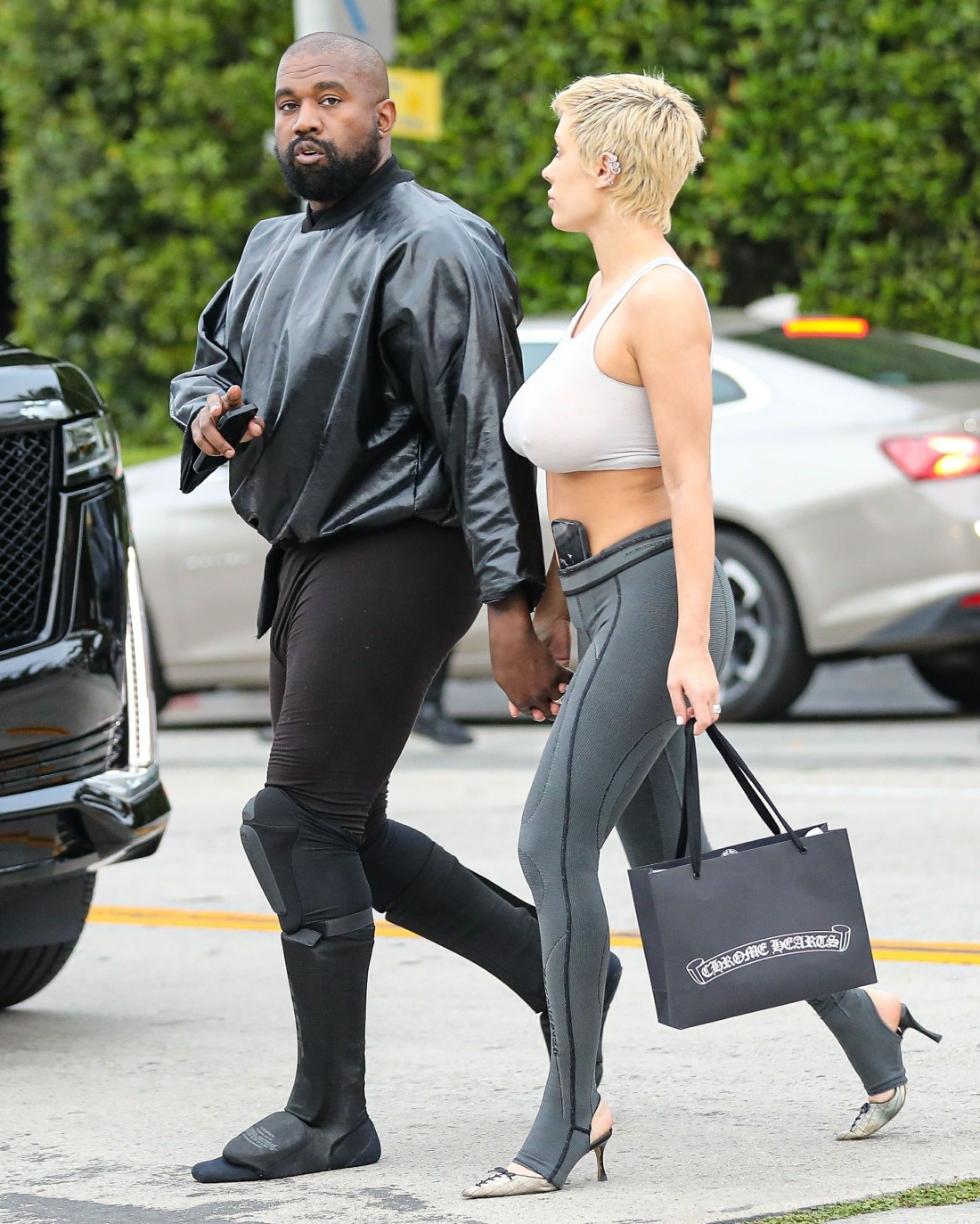 Photos courtesy of Backgrid.

West Hollywood, CA – Stylish couple Kanye West and Bianca Censori walk hand in hand after enjoying date night at Cecconi's in West Hollywood. After dinner Bianca was seen driving Kanye back home in their custom Hummer. Pictured: Kanye West, Bianca Censori BACKGRID USA 13 MAY 2023 BYLINE MUST READ: BACKGRID USA: +1 310 798 9111 / usasales@backgrid.com UK: +44 208 344 2007 / uksales@backgrid.com *UK Clients – Pictures Containing Children Please Pixelate Face Prior To Publication*
West Hollywood, CA – Stylish couple Kanye West and Bianca Censori walk hand in hand after enjoying date night at Cecconi's in West Hollywood. After dinner Bianca was seen driving Kanye back home in their custom Hummer. Pictured: Kanye West, Bianca Censori BACKGRID USA 13 MAY 2023 BYLINE MUST READ: BACKGRID USA: +1 310 798 9111 / usasales@backgrid.com UK: +44 208 344 2007 / uksales@backgrid.com *UK Clients – Pictures Containing Children Please Pixelate Face Prior To Publication*
West Hollywood, CA – Stylish couple Kanye West and Bianca Censori walk hand in hand after enjoying date night at Cecconi's in West Hollywood. After dinner Bianca was seen driving Kanye back home in their custom Hummer. Pictured: Kanye West, Bianca Censori BACKGRID USA 13 MAY 2023 BYLINE MUST READ: BACKGRID USA: +1 310 798 9111 / usasales@backgrid.com UK: +44 208 344 2007 / uksales@backgrid.com *UK Clients – Pictures Containing Children Please Pixelate Face Prior To Publication*