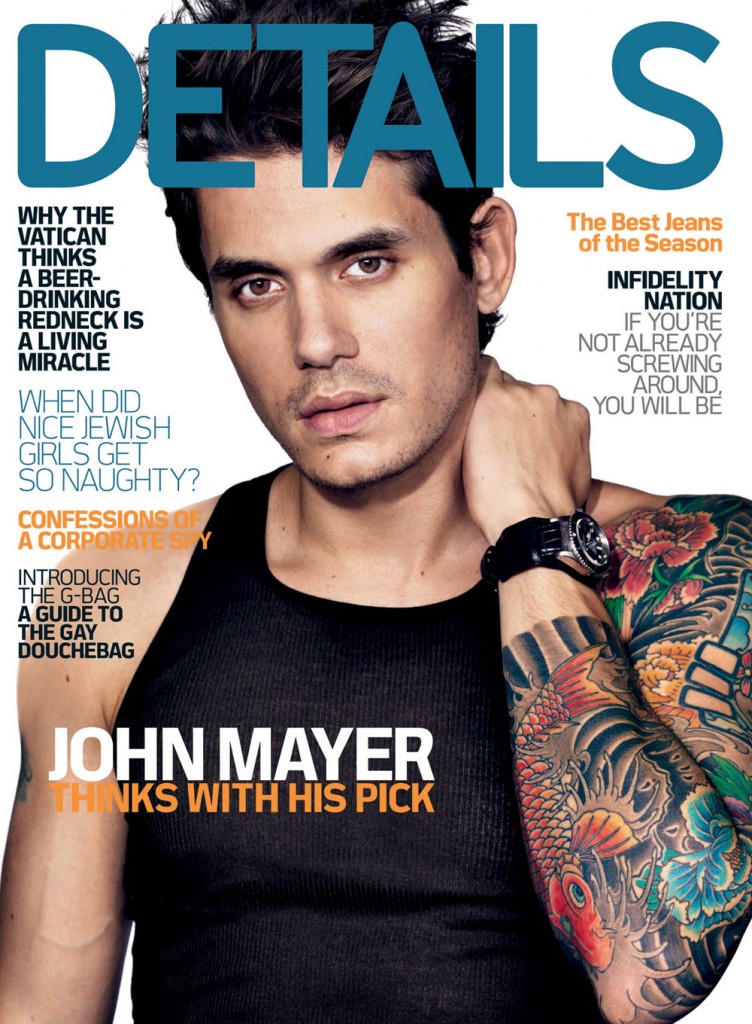 John Mayer is the cover boy for the December issue of Details Magazine. The full interview is here, but I'm only going to do the highlights, because if we let him, John Mayer will douchily pontificate our ears off. Some minor things first: John Mayer drinks Scotch! Damn, I drink Scotch. I need a new drink. I can't drink the same thing as Mayer. He also studies Krav Maga, the Israeli martial arts that's popular with Mossad. I know that from watching NCIS. Seriously. And LeRoy Jethro Gibbs drinks Scotch too… methinks Mayer's favorite show is NCIS. Anyway, what other gems are there? Mayer "drives sensibly" and he has a Porsche Cayenne. And his fourth album, Battle Studies, is about to be released. Here's more:
Mayer on his album: He wanted to tap into the "hazy, Sunset, rustic, California, Don Henley, Fleetwood Mac feel." Mayer credits much of the record's strength to the grooves laid down by his drummer and coproducer, onetime Keith Richards sideman Steve Jordan. "His muscle is so fantastic when you pair it with my very floral sensibility," Mayer says. "I love pretty. . . . I looove pretty."

Collections: Aesthetics are important to Mayer—to an extent that would probably give his business manager sleepless nights were the singer ever to make an album that merely went gold. Mayer's "voracious curiosity for things"—as he describes it—has led him to accumulate vast collections of watches, guitars, cars, Leica cameras, and women's leather bags. "I have the obsessiveness of someone who's a sober, recovering addict displacing his addiction," Mayer says. "Except I never had the addiction."

Mayer on his finances: "I'm in the place of greatest freedom right now—not giving a f-ck," he says, taking a seat in the Chateau Marmont's courtyard restaurant. "I have what I would consider artistic tenure, and I created it for myself. I don't have anybody telling me what to do." Despite the fact that he had already sold nearly 12.5 million albums, Mayer does not feel completely secure financially. "I don't have 'f-ck-you' money," he says. "I have 'that's my seat' money."

Mayer on why people think he's a douche: Mayer understands why he comes off a little, shall we say, brazen. "Yes, I'm a little jazz-hand-y," Mayer says. "But people forget that bands traditionally have been a little jazz-hand-y. If you have the propensity to be in show business, chances are you're a little jazz-hand-y."

Mayer on his musical cred: "I don't know if you know, but I'm not exactly Bob Dylan—I'm already a pop musician. I'm interested in being informed by all of this music while still meeting the requirements of what a pop song is. I don't mind compromising."

Mayer on using Twitter to keep in touch with his fans: "Celebrities are the world's worst data gatherers," Mayer says. "We're day-trading in a small sliver of a demographic: people who read a third-rate gossip website and just have to post comments. Why would I want to jockey for position intellectually with people who read Perez Hilton or X17online.com?"
[From Details]
Mayer goes on and on about being a douchebag and being perceived as a douchebag. Then… something happens in the interview that I wasn't expecting. Mayer notices that Gerard Butler is sitting at another table, and he goes over to talk to him. I just going to put the complete part of the interview now:
Mayer notices that Gerard Butler, Hollywood's latest British import, is also sitting at the table. The two men glance at each other in semi-recognition, and Mayer goes over to break the ice. For 20 minutes, the rest of the world disappears as the pair huddle together in what appears to be an intense discussion.

We are being afforded a rare and precious glimpse of what really occurs within the inner sanctums of the International Fraternity of Show Folk. An instant friendship between two celebrities who would appear to be connected only by the tax bracket they share.

"We talked about New York," Mayer explains when he returns. "We're in a bit of the same position of being branded womanizers." Appearing slightly flustered, the singer pulls out his iPhone for the first time in several hours and attends to some pressing business.

Since Gerard Butler has been "romantically linked" with Mayer's on-again, off-again paramour Jennifer Aniston (although both have denied these rumors), we must revisit the thorny topic of his relationships with famous women. There's a creeping suspicion in some quarters that Mayer dates celebrities in order to further his own career. Not surprisingly, he is quick to shoot down this notion.

"You just never know who's going to come into your life," he says. "To my mind, the only thing sicker than saying, 'Wow, you're a famous person and it would do a lot for my career to go out with you,' is to say, 'Wow, you're a famous person and I like you and all, but I can't do that to my career.' I don't think either of those is a good option."
[From Details]
Yeah, I think Mayer probably hit on Gerard. Because Mayer is a self-loathing closet case. Still, it makes me uncomfortable to think of Mayer and Gerard anywhere near each other. In any case, this was one of the better interviews I've ever read with Mayer. I'm not saying I like him or that he's growing on me or anything, just that he's coming across as less douchey for a moment.
Photo credit: Details